[dropcap1]2011[/dropcap1] was a great year for WordPress as a free content management system. During the year, three major have been released, WordPress 3.1, 3.2 and 3.3 and as a big WP enthusiast you can only say – Thanks a lot! to the developers of WordPress!
But the past year was also very beneficial for all WordPress Theme developers and particularly all the free themes that we saw in 2011.
So thanks to all of you who released all the wonderful, Free GPL WordPress Themes that anyone can use freely to their WordPress sites. Here is my list of best Free GPL WordPress Themes 2011. 
Download, Install and Enjoy.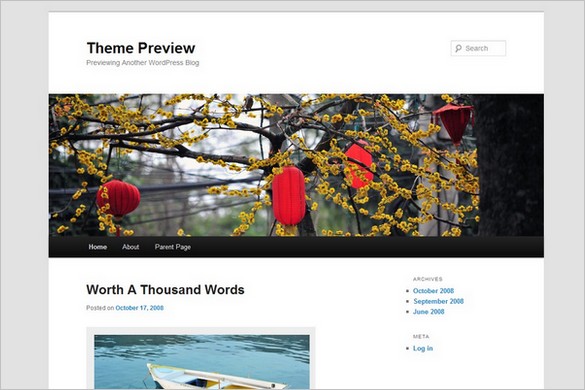 Twenty Eleven, the new default theme for WordPress is sophisticated, lightweight, and adaptable. You can easily make it yours with a custom menu, header image etc…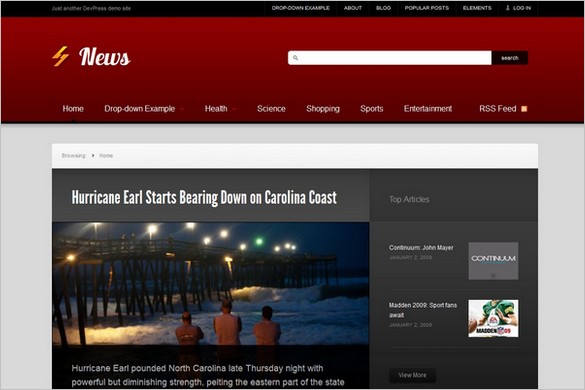 News is a great, powerful and free WordPress Theme by DevPress. It comes with an optional magazine layout for the home page and templates for showcasing videos and slideshows.
Bizz is a free WordPress Theme by WPExplorer.com. The design is clean and minimal and is ideal for business and portfolio websites.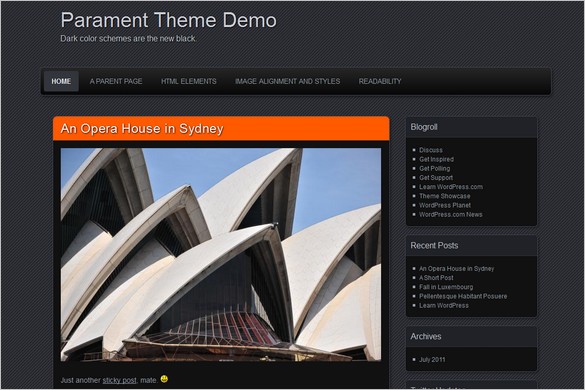 Parament is a dark beautiful free WordPress Theme by automattic with bright orange highlights and a textured background. The theme is suitable for all kind of blogging…
Basic is a great looking free WordPress Theme by Themify.me. The theme only contains the basic layout styling so you can customize the theme with your own preferences…

Dotos is a free awesome photoblog theme by DevPress. Dotos is a minimalistic theme that put complete focus on the photos and comes with support for the Jigoshop…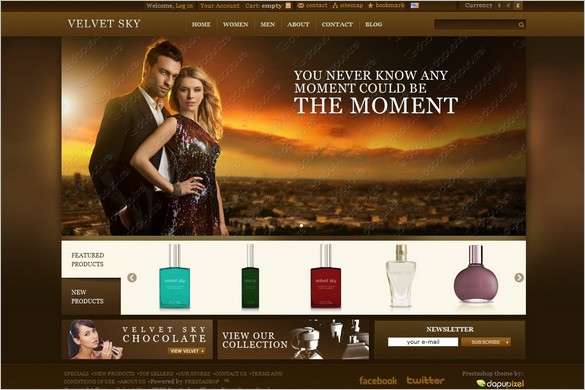 Velvet Sky is a a Prestashop and WordPress e-commerce theme and you is free to use for private as well as commercial projects. There are no restrictions…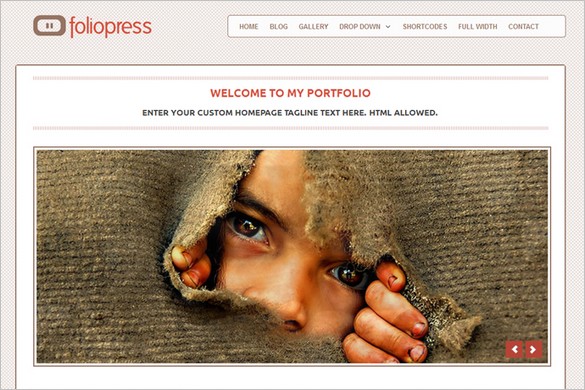 FolioPress is a very beautiful free WordPress Theme that comes with clean design and is suitable to showcase images or portfolios…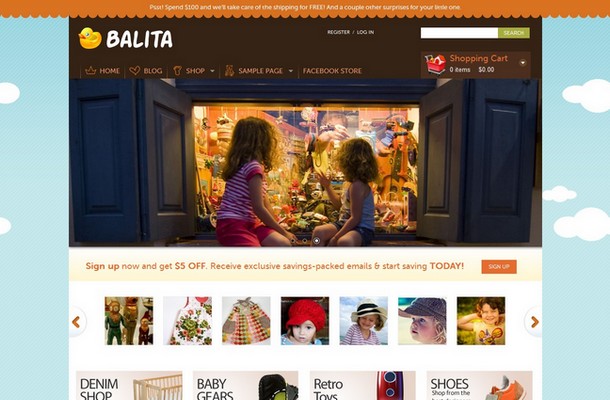 Balita is a free WordPress Theme that is dedicated to shops that sell products for children. The theme is designed by Tokokoo and is absolutely free to use…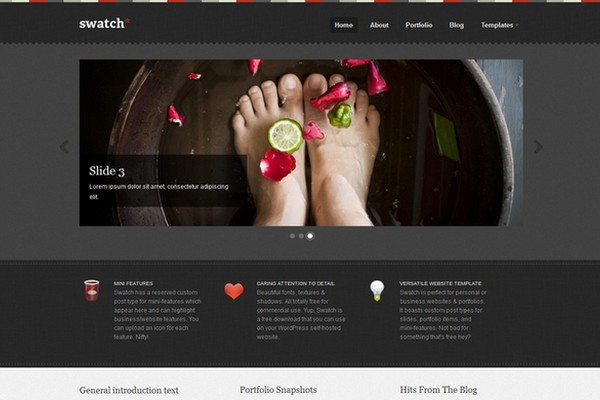 Swatch is a free WordPress Theme by WooThemes and it's a business WordPress Themes with a portfolio module that allows its usage to be completely diverse.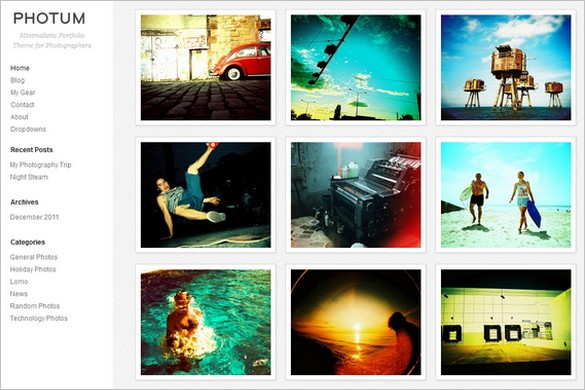 Photum is a free beautiful and elegant WordPress Theme by PhotographicBlog.com. The theme is built with HTML5 and it comes with a responsive design…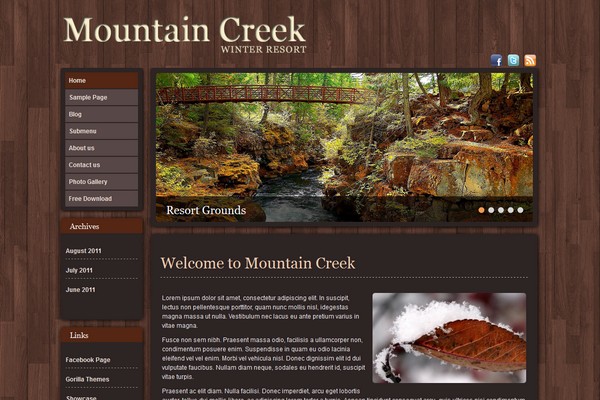 Mountain Creek is a really cool, beautiful and free WordPress Theme by Gorilla Themes. The theme comes with a clean layout, lightweight design, SEO optimized…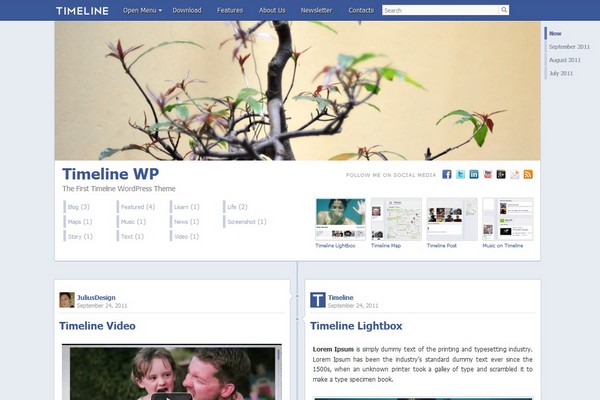 Timeline is a free WordPress Theme that is inspired by Timeline Facebook and based on the theme Twenty Eleven. Timeline in Facebook is new way of presenting…
Swift Basic is the free version of Swift, the fastest loading WordPress Theme measured. This theme is an advanced SEO WordPress theme with a lot of intuitive customization…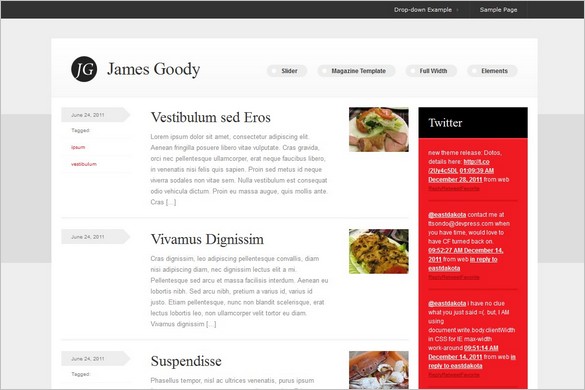 James Goody is made specifically for blogs/magazine sites. It features multiple menus, and pre-styling for selected plugins like the Twitter Widget Pro plugin…
Diary/Notebook is a free WordPress Theme by Site5 that is suitable for a Diary or Notebook. The theme comes loaded with a lot of WordPress goodies…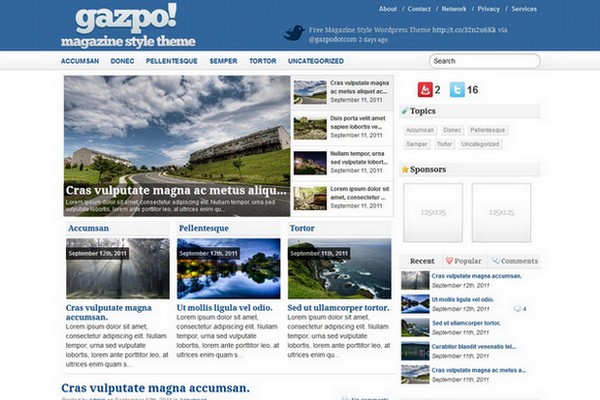 gazpoMag is a clean, featured-rich and free WordPress Theme. The theme is easy to customize and you can setup every detail of the theme to best suit your needs.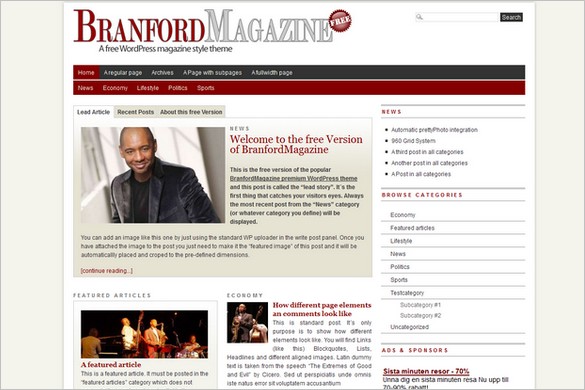 BranfordMagazine is a free WordPress Theme based on the popular premium WordPress theme BranfordMagazine. The theme is fully compatible with WordPress 3.3…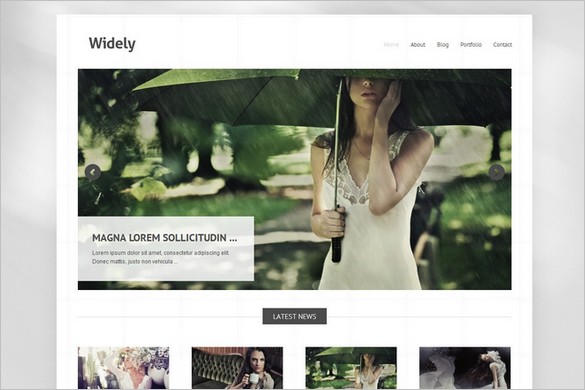 Widely is a free minimalistic WordPress Theme by Themes Kingdom. This theme is perfect for for businesses, creatives, and individuals who want to quickly…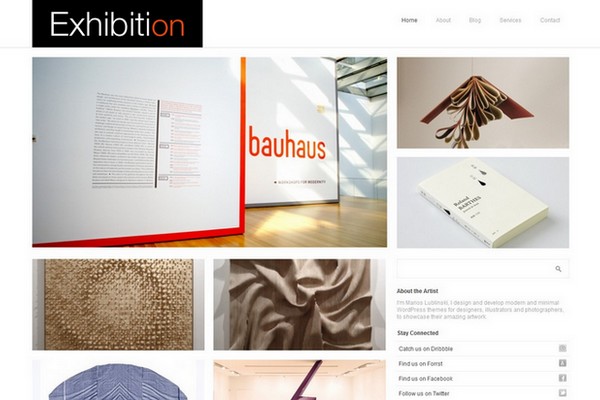 Exhibition is a free clean and modern WordPress Theme with a blog like design. This theme is perfect theme for any artist to showcase their portfolio images, project…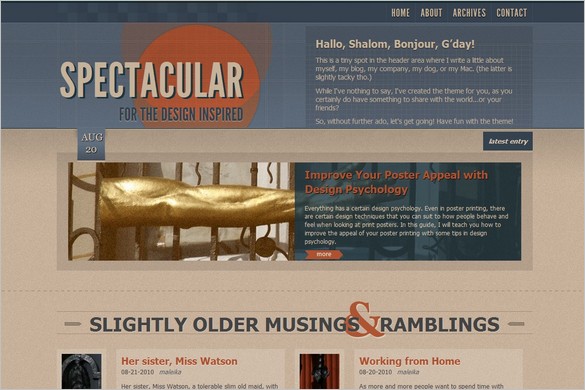 Spectacular is a free WordPress theme that aims to provide a warm and pleasurable atmosphere for personal musings and ramblings…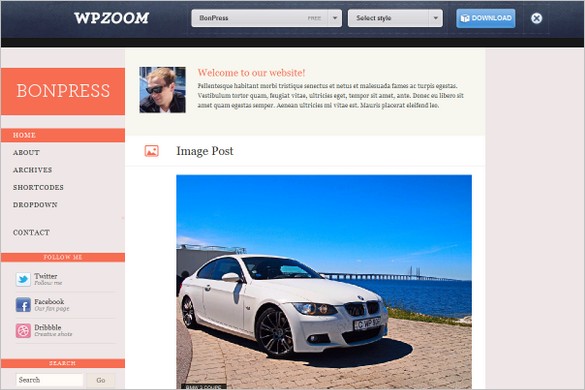 BonPress is a free WordPress theme with beautiful responsive design. It comes with features such as, post formats (audio, video), multiple custom widgets…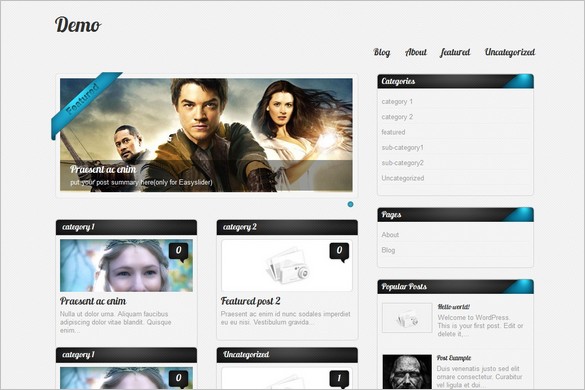 Amphion Lite is a free WordPress Theme with 2 gorgeous skins 2 fonts and a lot of other great features…
MiniFolio is a clean, simple, beautiful free WordPress Theme. You can easily set up an online portfolio and a very simple blog with this theme…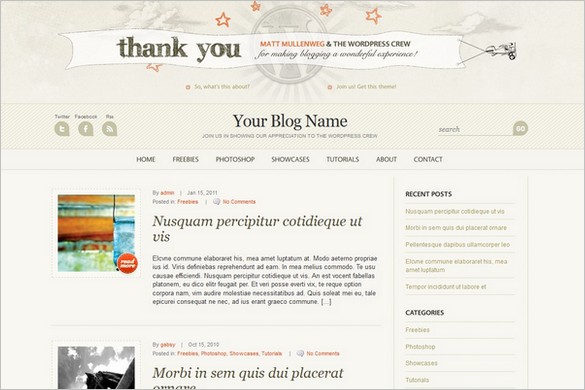 WordPress Anniversary Theme – On January 25th an idea was born. That idea has helped millions of people easily create websites! That idea became WordPress!
Launch Effect is an awesome free one-page WordPress Theme that lets you create a viral campaign in minutes…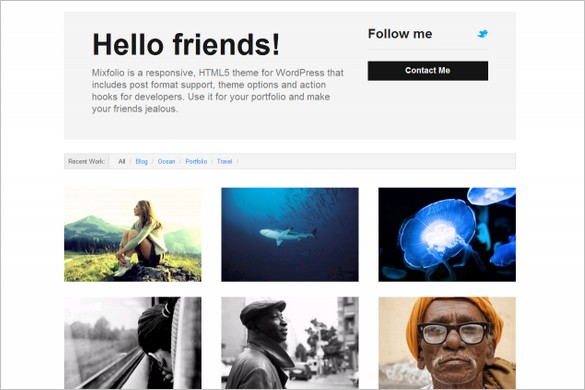 Mixfolio is a free responsive, HTML5 portfolio WordPress Theme by Graph Paper Press. It is a great theme to showcase images, portfolio or any kind of creative stuff…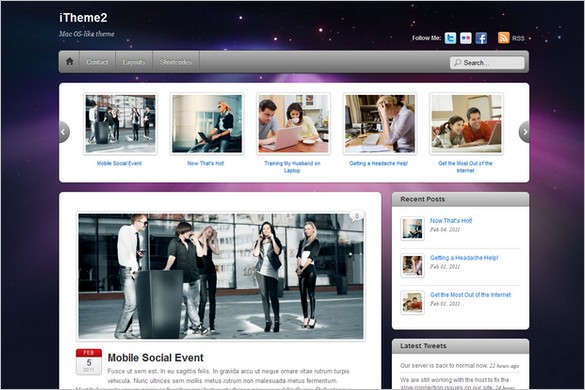 iTheme2 is a free WordPress Theme by Themify.me that is perfect for technology & Mac related blogs. The theme comes with a responsive layout, Themify framework…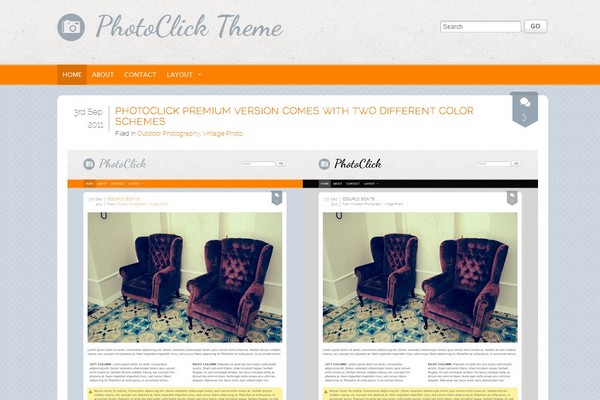 PhotoClick is a beautiful one column WordPress theme by SimplyWP for photography and personal blogs. PhotoClick comes in 2 version free and premium…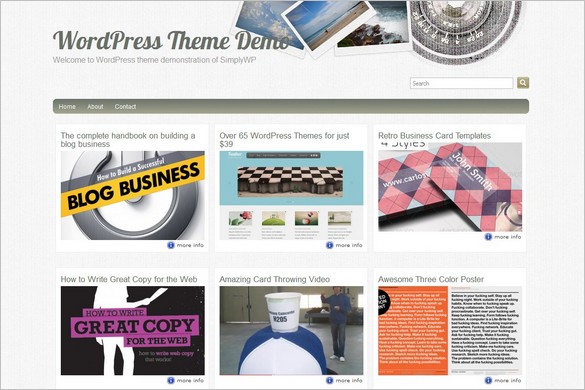 Fliphoto is a great free WordPress Theme suitable for for photoblogging. It comes with a flipping functionality for each post by clicking on "more info".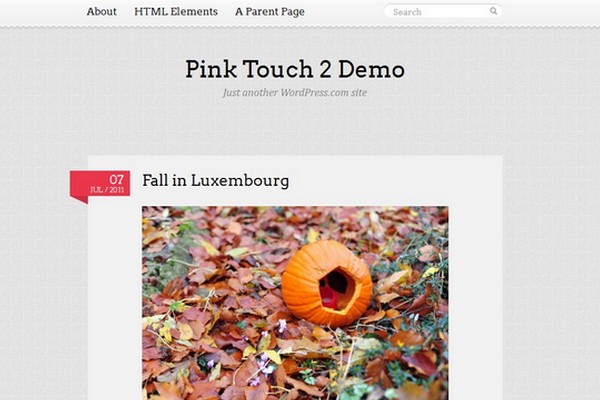 Pink Touch 2 is a free WordPress Theme from Automattic. It is design by Kcmr and has a stellar mix of color, texture and typography…
BlogoLife is a free WordPress Theme by wplook.com. The theme is a simple and perfect theme for personal blogging that supports post formats…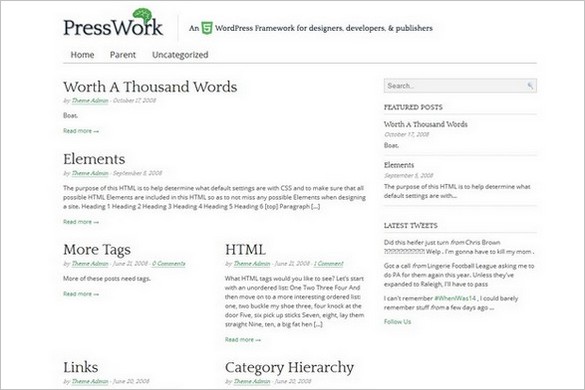 PressWork is a free WordPress Theme framework using HTML5 and CSS3 and built for WordPress 3.2. PressWork comes with the PressWork front-end toolbox…
Casual is a free and awesome WordPress tumblog theme with infinite color options and a friendly, personal layout. It comes with All the WordPress functionality…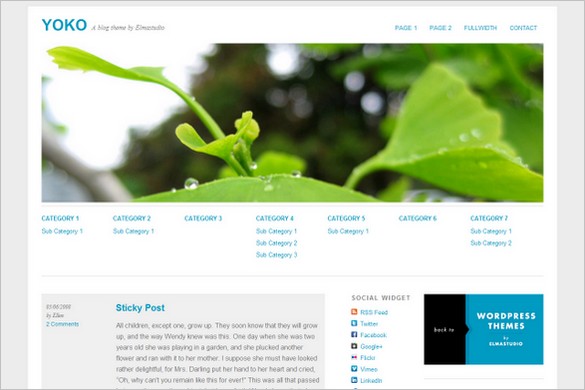 Yoko is a great looking and flexible WordPress theme. It comes with a responsive layout based on CSS3 media queries, and the theme adjusts to different screen sizes…
HTML5Press is a free CSS3 and HTML5 WordPress Theme . It comes with a lot of great features such as 40+ Font Choices from Google Web Fonts and much more…
Photoria is a free, simple and stylish WordPress Theme that is suitable for a Photoblog or Portfolio website…
Minimal Xpert is a very clean, professional and free WordPress Theme by WPExplorer that is perfect to use as a blog or business theme…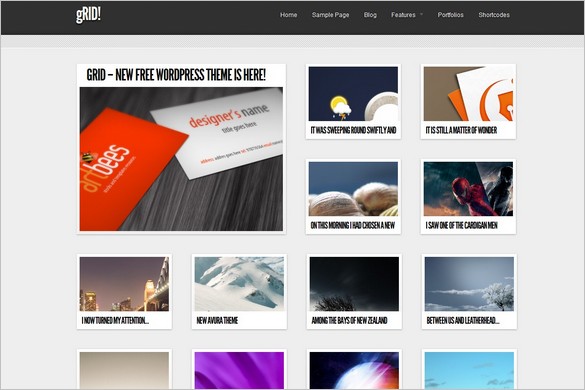 MYgRID2 is a elegant, clean and fast loading free WordPress Theme with a minimalistic approach. It comes with a bunch of great features…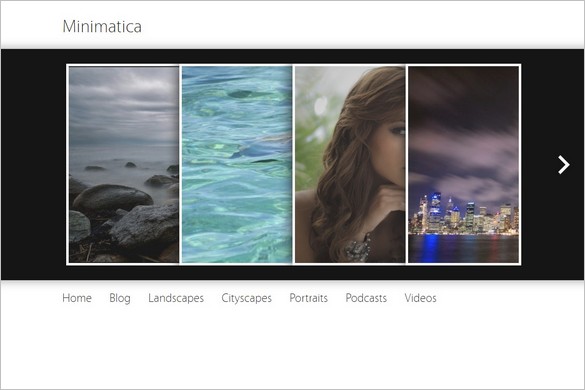 Minimatica is a free stylish and modern minimalist WordPress Theme with a beautiful image gallery slider and an optional blog view. It comes with support for post formats…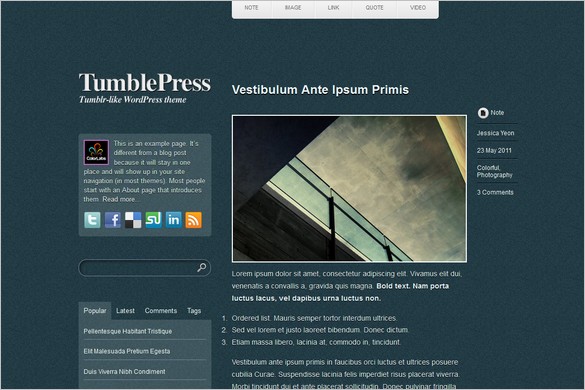 TumblePress is a great looking free Tumblr like WordPress Theme by ColorLabs. The theme comes with pre-enabled Post Format feature. Publish videos, links, images, audios…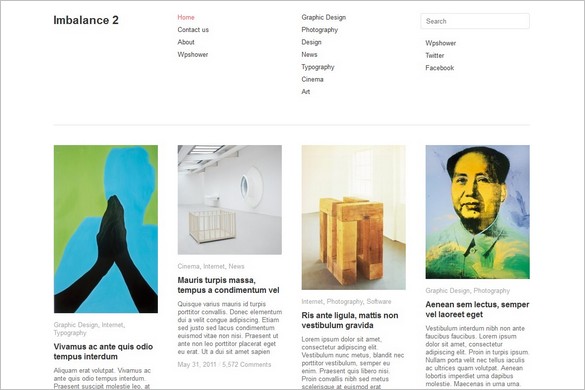 Imbalance 2 is a free WordPress Theme by WPShower with a minimalistic touch that is suitable for a blog, portfolio or even a online magazine…
Splendio is a free WordPress Theme to use in both private and commercial projects. The theme is based upon the Twenty Ten WordPress theme and requires WordPress 3.0 to run…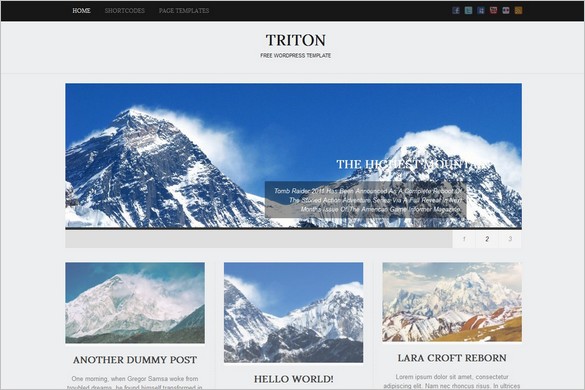 Triton Lite is a free all in one WordPress Theme with awesome 3 fonts, 1 slider, 1 layout & easy to use theme option panel…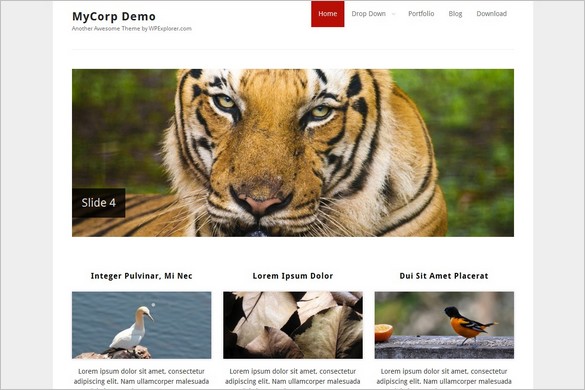 MyCorp is a free GPL WordPress Theme by WPExplorer that is suitable and perfect for minimalistic business and/or portfolio websites…
Zest Magazine WordPress Theme is a elegant free GPL theme that comes with great features and options you can set in the admin panel…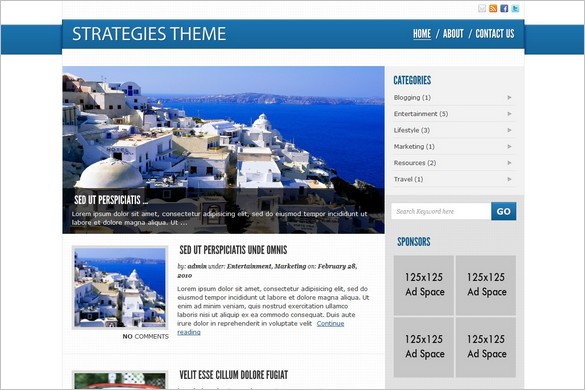 Strategies is a free and elegant WordPress Theme in Magazine Style Design. It is widget ready, advertisement ready and is an easily customizable theme to use…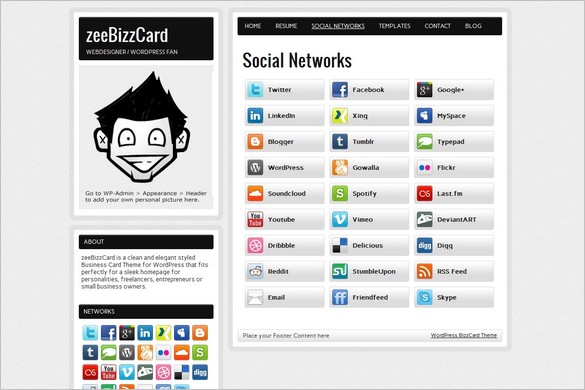 zeeBizzCard is a great, clean and free WordPress Business Card Theme that is suitable for a sleek homepage for personalities, freelancers…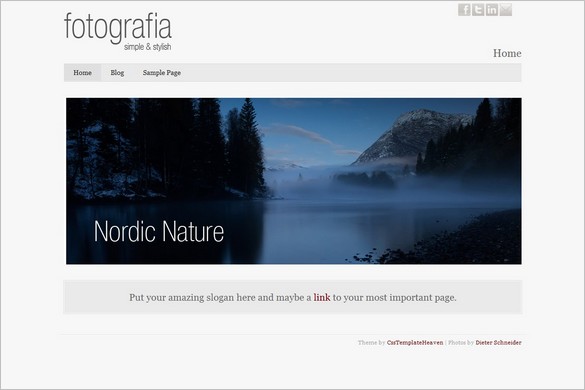 Fotografia is a free, beautiful, clean and professional looking WordPress Theme with a lot of great features…
Blog-O-Folio is a free colorful 2 column WordPress Theme suitable for any and all of your corporate, portfolio or personal blog needs…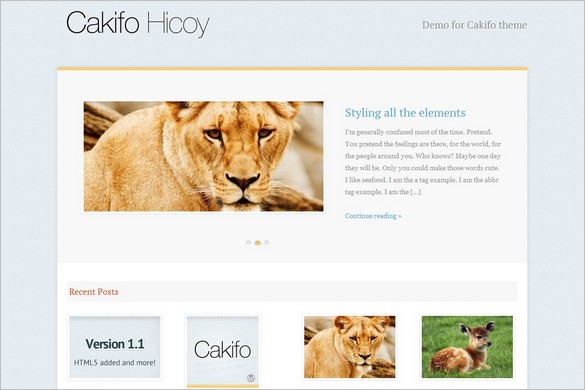 Cakifo is a free WordPress theme built with from the rock-solid Hybrid Core theme framework by Justin Tadlock. It is a great starting point with many useful features…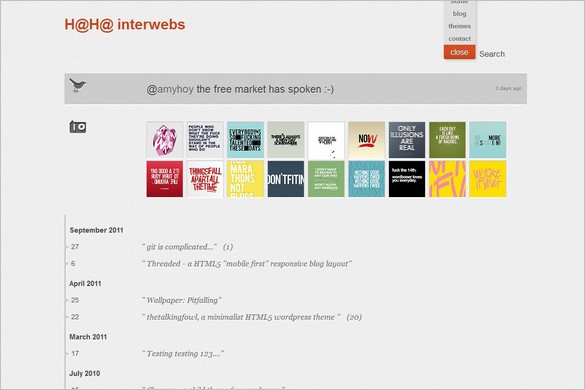 thetalkingfowl is a free minimal HTML5 WordPress Theme that integrates the HTML5 Boilerplate and the 960 grid css framework in a beautiful way…
Peter is the founder of WP Daily Themes. He is a big fan of WordPress and loves to write about WordPress, themes and plugins. You find him here at WP Daily Themes all the time! Cheers!