Are you looking for free WordPress themes? Look no further! Just read this article and I am sure you will like what you see! Themex is a great WordPress theme provider and designer who has many free themes of very high quality in their gallery. These themes are suitable for various niches such as agencies, photography, portfolios and blogging.
In today's article, we have eight awesome free WordPress themes from Themex that are stylish, cool, and is released under the GNU General Public License (GPL). Whether you want to use the themes as they are or customize theme, your website will have an elegant online presence, that's for sure! Cheers!
8 Beautiful Free WordPress Themes from Themex
Swag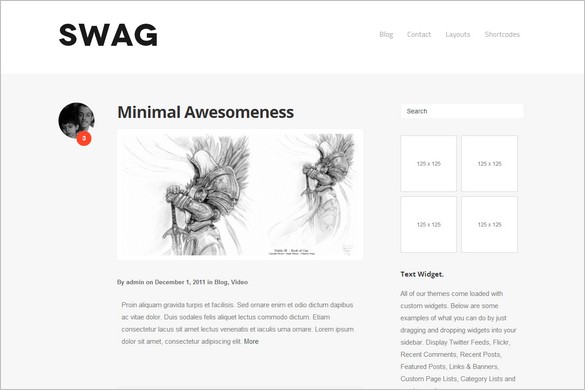 Swag is a beautiful free WordPress Theme from Themex. The theme comes with responsive design. This is a theme perfect writers who want the content to be the focus in a stylish way.
» Full Details & Download | Demo
OneShot
 OneShot is a WordPress theme for all creative out there! This is a free theme packed with features. OneShot is perfect to showcase and promote your work, images, art in style and class.
» Full Details & Download | Demo
Vanilla
 Vanilla is a free flexible WordPress theme that is perfect for all business and agency websites. The responsive design make your site look awesome in devices such as iPhones and iPads.
» Full Details & Download | Demo
Sphinx
Sphinx free WordPress theme comes with a minimal homepage with a beautiful full-page slider. This is an awesome theme for promote photos or other creative contest in best way possible.
» Full Details & Download | Demo
Guardian
Guardian is a creative free responsive WordPress theme perfect for all creatives out there. This theme is perfect to promote and display portfolio in a beautiful and stylish way.
» Full Details & Download | Demo
GoodChoice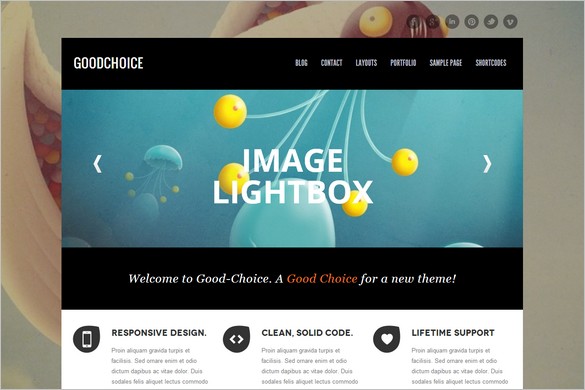 GoodChoice is a WordPress theme suitable for Creative Agency and Bloggers. The theme comes with a beautiful homepage slider, full-screen background and responsive design.
» Full Details & Download | Demo
OhSoFresh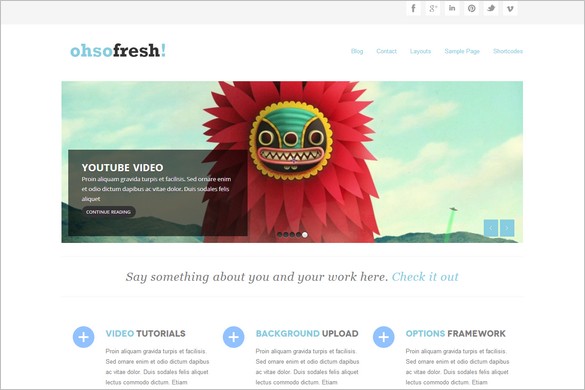 OhSoFresh is another elegant free WordPress Theme from Themex. This is a theme loaded with customization options and perfect to showcase portfolios and other creative work.
» Full Details & Download | Demo
Calipso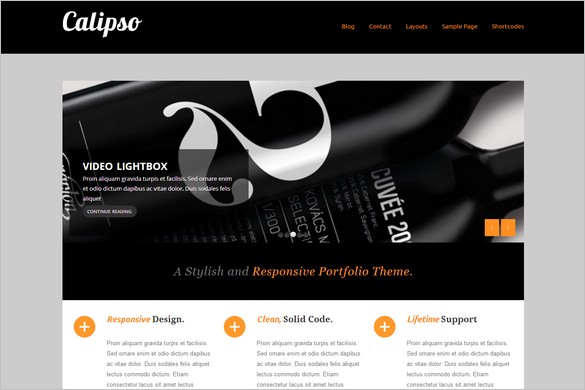 Calipso is great looking free WordPress theme with responsive and adaptable design. Showcase and promote you creative services, portfolios or work in style with this elegant theme.
» Full Details & Download | Demo
Peter is the founder of WP Daily Themes. He is a big fan of WordPress and loves to write about WordPress, themes and plugins. You find him here at WP Daily Themes all the time! Cheers!