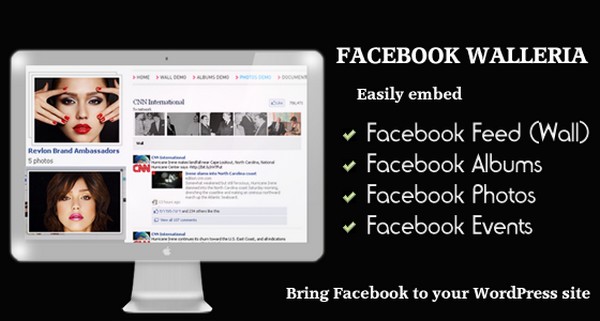 Facebook Walleria is a great WordPress Plugin that embeds several Facebook Objects into your website. It uses the Facebook Graph to pull information about Albums, Photos, Feed, Comments, Events and presents the information on your website in a sleek style. Instead of doing a double job of updating your site and Facebook profile you can update everything in real-time on your website with the plugin Facebook Walleria.
Facebook Wall – A realtime Facebook feed (Wall)
Facebook Album Gallery – A gallery of all your Facebook Albums
Facebook Photo Gallery – Display photos from page album, user album or friend's album
Facebook Events – Ordered events as they appear on Facebook
And much more..
Peter is the founder of WP Daily Themes. He is a big fan of WordPress and loves to write about WordPress, themes and plugins. You find him here at WP Daily Themes all the time! Cheers!