The Launchpad is an awesome free WordPress plugin by Obox that helps you to create a beautiful pre-launch landing page. If you are starting a new website or blog, this plugin is perfect for creating a stylish Coming Soon, Launching or landing page. Launchpad includes 3 amazing colorful themes, 11 unique wallpapers, responsive design and much more.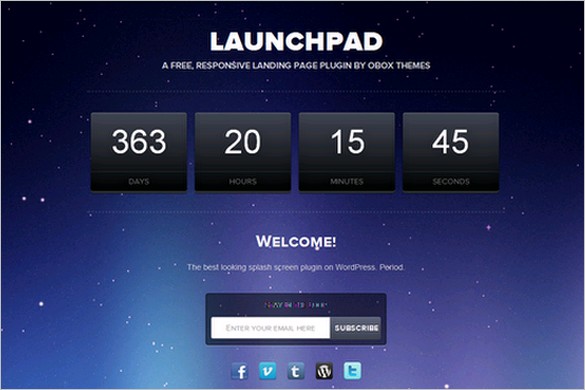 Launchpad is easy to install and use. Set your launch date, customize fonts, backgrounds, logos, custom CSS, and you are ready to rock. Launchpad comes with responsive design and lets your visitors see (in stylish look) when you're planning to launch your new website.
Responsive design
Auto launch functionality
3 unique themes
Customizable fonts, backgrounds & logos
Works with any WordPress theme
Download – LaunchpadDemo – Launchpad
Peter is the founder of WP Daily Themes. He is a big fan of WordPress and loves to write about WordPress, themes and plugins. You find him here at WP Daily Themes all the time! Cheers!