For all those WordPress designers as well as developers, who are often, work with WordPress, theme frameworks as well as starter theme can have a huge impact on competence. Using WordPress theme frameworks, they can reduce their some kind of repetitive work that they are doing with a custom theme. Today, WordPress designers and developers can find lots of frameworks that come with some extra features to make themes more powerful in terms of functionalities.
However, there are lots of ways how any designer can approach the entire process of developing custom WordPress-based websites as well as WordPress themes. Moreover, theme framework is a modern word for starter theme and it is also based on sturdy code foundation, which provides some common features like useful scripts, starter template files, meaningful CSS and more.
If you are looking for some excellent WordPress theme frameworks to download for your WordPress website, I have gathered 5 free yet effective WordPress theme frameworks that you download for your site to enjoy number of features: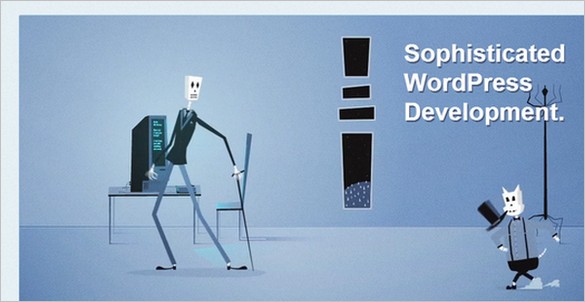 Bones is a sleek and flexible theme framework that built on HTML5 Boilerplate engine that used by Google, NASA, Microsoft and other various popular companies. This framework comes in two different variations such as classic as well as responsive.
When it comes to talk about the classic version of it, it is built on the 960 Grid, while the responsive version offers you some starting point to design for different devices. It is not one such framework on which you can develop child themes, but it can be used for project template.
Exclusive Features of Bones: 
Easy to add and remove features
Standards-compliant HTML5 and CSS3
WordPress header optimized for performance
Mobile-first Approach
Custom Tutorial on working with the theme
Custom dashboard functions included
Clean and well-commented code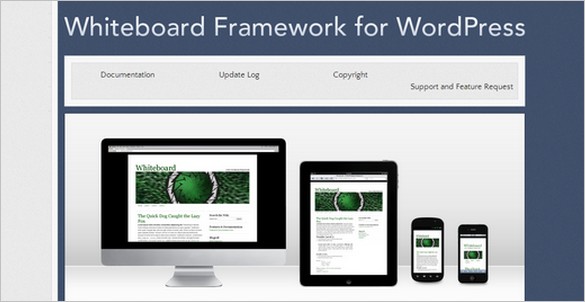 Whiteboard is another great theme framework that comes with core WordPress structure to keep it from being bloated, so there is no need to start each project by removing half of the code. WhiteBoard comes with excellent features including multilingual compatibility, HTML5, the Less Framework, CSS3 and more. It provides various excellent classes as well as IDs than compare to other frameworks.
Some Cool Features of it:
Lightweight and well-structured code
Easy to remove extra parts
Built-in Less framework for full mobile support
Widest choice of exclusive classes and IDs
Supports for header management, menu, several widget areas, background and more.
Gantry is a free yet effective theme framework by the RocketTheme dev that is known for its extensive range of theme-building into an effective theme framework. It is compatible with Joomla along with WordPress that expands the usability of this single CMS.
Possibly, it is the most powerful and feature-rich free framework that shows lots of features like built-in extendable AJAX, a configurable admin interface, lots of widgets and so on. If you are looking to get an excellent theme framework for your WordPress site, Gantry is a great option.
Dynamic Features to look:
Multiple built-in custom widgets
Completely responsive based on the 960 grid system
Obtainable for both Joomla and WordPress
38 Possible Layout combinations
Search Engine Optimized
Clear code optimized for performance and speed
When it comes to Thematic theme framework, it is a free yet versatile WordPress theme framework that stuffed with lots of features like grid-based layout samples, a whole community, 13 widget-ready areas, styling for popular plugins and more.
All the WordPress developers and designers can make use of this framework to get end-to-end features; however, this framework also comes with some additional features that mentioned below:
Free and commercially supported Child Themes are available for upgrading the theme
A wiki-editable guide to Thematic customization
Additional widget-ready areas and more in Child Theme
Ready for WordPress plugins such as Subscribe to Comments, Comment-license and more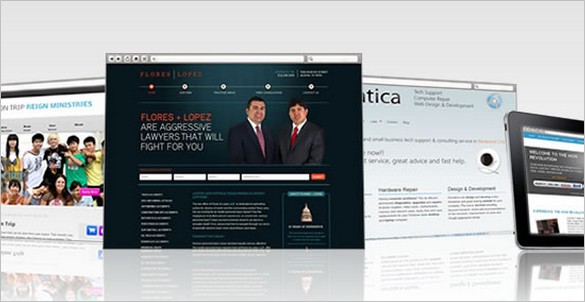 Last, but not least is Ashford framework, it is a flexible yet versatile theme framework that known for its quality and performance. Packed with numerous features, this theme framework is a great choice for all the WordPress designers and developers. When it comes to talk about talk about some additional features of this framework, mega-menus, mobile support and layout builder are great features. This theme framework is great for those people, who are looking to utilize with its premium features.
Some Wonderful Features of Ashford:
33 customizable theme options
Widget-ready
CMS framework enhancing the generic WordPress core
Search engine optimized
18 custom page templates
Advanced blogging features including social sharing, related posts, RSS comments
So, these are the best and wonderful WordPress theme frameworks that can be used by WordPress designers and developers. It is also possible for you to get your desired theme framework by hiring a professional WordPress framework developer.
Summary: "Are you looking to get some wonderful and feature-rich WordPress theme frameworks for your website? If yes, here I have listed 5 best and excellent WordPress themes frameworks that you can use in your site to give expand its capability".
Author Bio:
I am Joseph Herb, professional WordPress Developer, with Perception System since 5 years. I have an expertise in developing WP sites and blogs for various industries. While am not developing, I like to share my development knowledge through my articles and blogs. For more about WordPress development services click here.
Latest posts by Joseph Herb
(see all)