Worried your blog is not getting enough attention? It's time to take all that wonderful content, dress it up and bit and put in a nice display window on the net. In the real world, a display window can make all the difference. It tells the world that these are some of the wonderful goods you have, and that there is much more inside the store. Adding Google + to your WP blog is like creating and dressing up that very window. Simple, see!
It's all about the eyeballs
You may be a good writer but what if your posts aren't viewed by the right people? What if you don't get the recognition you deserve for your post? There are cases where people may not even be aware of your posts. Integrate Google+ with your WP blog and this helps you get the kind of marketing your blog may need. Google+ has given a new dimension to the way the posts can be publicized and since most of you are looking to market your blog to the virtual world, this is a good way to get it done.
The Google+ advantage
So, why Google+ ? Compared to Facebook and Twitter, the answer is two-pronged: Clean and Efficient marketing. Besides, linking Google plus to your WP blog gives you several advantages too.
1. Linking your profile picture or gravatar with your posts adds to the possibility of other people actually reading your posts. First link your photo followed by Google Authorship markup to your links. This is called 'rich snippet'. Statistics have shown that number of clicks or the traffic has increased by 150% once 'the rich snippet' was added. This is one of the benefits that Google provides that stands out as a clear advantage. Google allows you to see a photo of the author next to the link and this can be done by creating a Google+ profile.
2. Google+ plugin has features like the +1 button that can be added to posts that let visitors spread the word about your post. Also being a powerful Search Engine Optimization (SEO) tool, the +1 vote of approval is an important factor in Google's search rankings.
3. The Google+ plugin allows you to share your posts on G+ directly from your WordPress page. This adds to the benefit of fast marketing.
THE POINT IS…
Marketing your posts has become a lot easier with the integration of Google+ with your WordPress account. Google+ has quickly become an essential part of any business or social media marketing. With over 250+ million users, Google+ has become the ideal social networking site being used for marketing with the introduction of Google Authorship, Setting up authorship snippets is the best advantage till date that Google+ offers.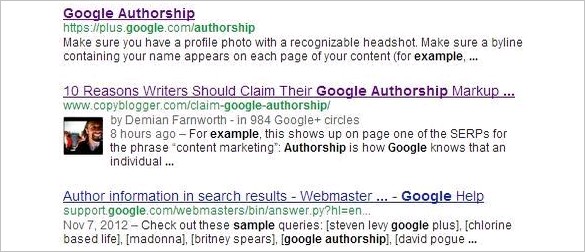 Adding Google authorship is easy,
Begin by creating a Google+ profile.

It's better to use your full name.
Update your profile picture. Whenever your content is searched through Google, your content would be displayed along with your picture which increases the chances of your link being clicked. This concept of integrating the image with the search results is called author headshot.
Fill out other social networks you are connected to.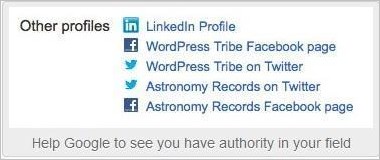 Add the sites you author into the contributor section.

Head over to your Google+ profile to get your profile link.

While in edit mode, click the +1 tab and tick the 'show this tab on your profile' box. Sign up for Google authorship by verifying your e-mail address. You can use the following link to sign up for the same. https://plus.google.com/authorship
Add your Google+ profile URL to the Google+ field in your WordPress profile.
Once you are done creating the authorship, you can drive the traffic to your blog giving better exposure and making it simple for visitors to your site too. The +1's are given heed to, while ranking your blog. Watch the number of hits grow after this. Auto posting to Google+ from WordPress can be done using the WPGPlus plugin. It is a free WordPress plugin that helps you cross-post articles from WordPress to your Google+ profile. The WPGPlus plugin can be downloaded from this link.
Why it gets a thumbs-up
Your blog posts are automatically published to your Google+ profile. The links and images in the posts will be automatically recognized. Posts are made to the public circle which is enhanced marketing. Many agree that marketing has been taken to new heights with the help of Google+.  It has been put together in a way that encourages, rewards, and protects content sharing. It therefore is an incentive for all the bloggers out there for publicity can now be done in minutes. It is hugely beneficial to a wide range of users who are seeking SEO – from writers trying to market their goods to businesses, to services, to shopping and to all other related industries. Now, didn't someone tell you it was easy!!!
Author bio:
Karthik is with blogVault, a Premium WordPress Backup Service. blogVault specializes in backups for WordPress users, and believes that best code is only as good as the customer service that goes with it.
Latest posts by Guest Author
(see all)