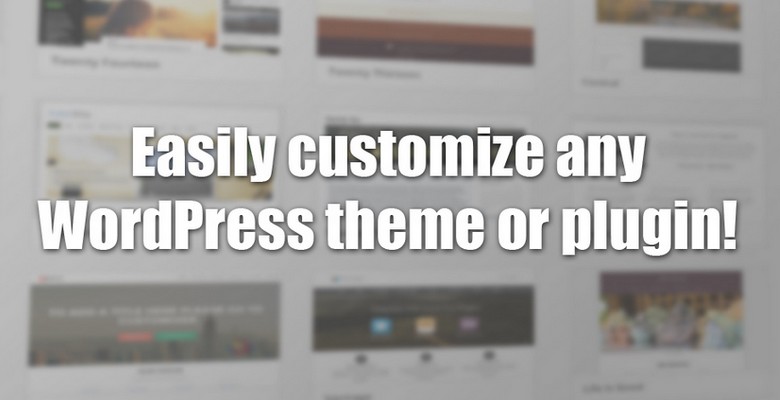 If you think it is easy to re-design or style your WordPress theme, think twice. If you don't have the skills needed to edit and work with HTML and PHP code on your website you're lost and it usually ends with chaos and you messed up the code beyond recognition.
But, wait..
We have a solution that allows everyone to easily customize any WordPress theme or plugin without any knowledge of web design.
Stylechanger is a WordPress plugin that completely changes the game for customizing CSS in an easy and near foolproof way.
If you've ever wanted to make adjustments to your WordPress theme but have avoided doing so due to a lack of skill with CSS or fear of breaking your theme, Stylechanger will put the power in your hands to make whatever changes you want.
Features included in the Stylechanger WordPress plugin
Live Style Editor
Of Stylechanger's two primary editors, the Live Style Editor is the simpler of the two. Users may edit each CSS property of every element. The Style Editor is organized by "type" and style group. Choose the selector you wish to edit with the "type" tool.
There are four notable tools in this editor; a light bulb button that indicates if changes have been made in a particular selector, an exclamation mark button indicates if an important declaration has been added to a given CSS property, a lock button allows you to change all 4 margin properties using the first of four sliders instead of making changes individually, and a highlight button highlights the elements that you are editing to eliminate searching.
Advanced Editor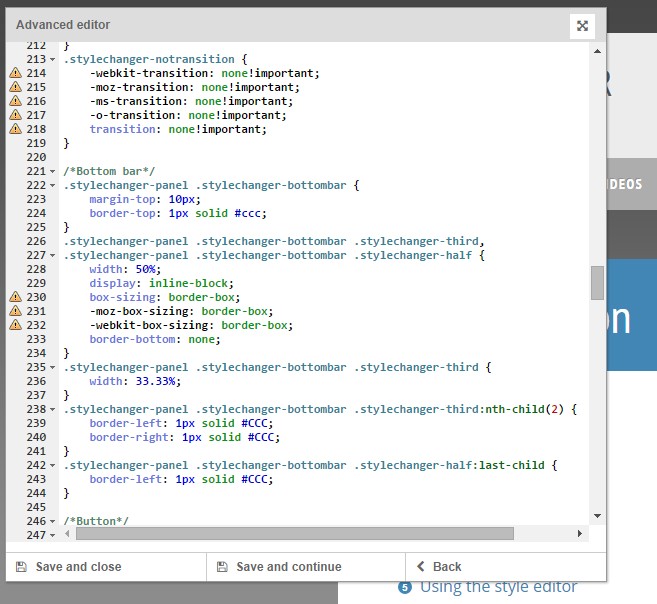 For those with more experience with CCS, this streamlined editor allows you to enter CSS and utilize code highlighting and code completion. Use advanced editor shortcuts to easily take advantage of options that make this an easier and more streamlined advanced editor than those offered elsewhere.
Media Queries
Make your site mobile friendly and compatible with a number of different devices with different media queries. Adjust and edit styles for each device type so that your website will be responsive and easy to view for each and every visitor.
Edit Your Whole Site – Or just a single page
Stylechanger has two editing scopes that you can use. If you choose to edit the entire website, you can utilize the Global Scope, and if you want to edit styles for a single page, you can select the Page Scope.
Element Selector and Custom Selectors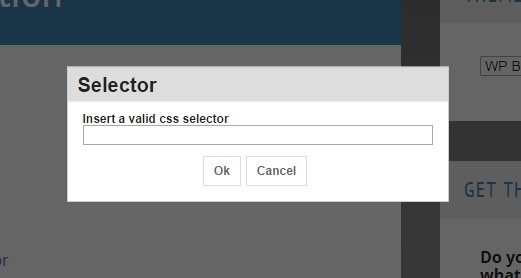 When you enable the Element Selector, you can see the outline of an element by simply hovering over it. This is a great learning tool for those who are inexperienced or simply want to quickly find the element that they want to edit. When the Element Selector fails to find the right selector tool, you may add a CSS rule, which will prompt you to add a new selector that will be saved for future use and ease.
Smart Color Picker
Quickly and easily select your desired colors, or allow Stylechanger to make a suggestion based upon existing page colors.
Benefits
Beginners and CSS masters alike will see the benefits of using Stylechanger over any other method. It is easy to master, saves time, and helps you to make changes to your style information efficiently.
Stylechanger makes it easy to manage themes and styles and allows you CSS changes to come together in a CSS file to keep your site's load time fast. Stylechanger allows your changes to have a small footprint, so your changes won't slow viewers down.
Worries of "breaking" your theme can be put to rest, since Stylechanger allows you to roll back a single change, multiple changes, or everything. It also makes it easier to identify what the result of each change will be, so you won't need additional forensic tools to help you figure out what went wrong.
The Stylechanger plugin is also available in multiple languages, currently allowing Dutch and Korean translation with more languages coming soon.
Save time, avoid developer fees and learn more about making CSS changes with tools that grow with your knowledge and experience.
Pricing
For $18, users can purchase a regular license with support and future updates offered by the creators of Stylechanger. The price for this plugin is a small price to pay to take full control of your WordPress themes and to make the whole process less time-consuming and cumbersome.
Stylechanger version 2.0 Video
Check out how easily you can customize WordPress themes or plugins with Stylechanger.
Support
There's a useful documentation, videos available and support if you run into any problems,
Conclusion
Whether you are a beginner or more advanced users when it comes to WordPress and web design, I am convinced you know it's not that easy to re-design or change your layout if you don't have the required knowledge. I know! I've been working with WordPress and themes for many years.
I'm really happy when I see solutions such as Stylechanger. It means anyone can easily style, themes and plugins without digging into .css files and test various things with varied results. Stylechanger is a time-saving and perfect solution to customize WordPress themes and plugins.