How much time do you spend while chatting with friends, watching videos and simply scrolling up and down your social media news feed every day? Do you get any revenue from this? I really doubt that … Now, let's suggest that you could gain rewards while doing the same. Social Stock program initiated by TemplateMonster will provide you such an opportunity. Intended for the true social media addicts like you and us, it lets you win such cool prizes as Tesla Model S and Harley Davidson Street. Interested? Then read further.
If your social media community is made up of web designers, developers, business owners or just users who keep track of the latest web trends, then you have great chances to win. As a participant of the program, you are provided with a unique 10% discount on all TemplateMonster's themes. In order to win, you will need to share this promo-code with your friends in social media and encourage them to save 10% on any theme they want. The number of the promo-code usages is not limited. The more times it is applied, the more chances to win valuable prizes you have. In fact, each promo-code usage equals one point on your Social Stock account. More points mean better prizes. Basically, here is what you can get:
As soon as you collect 10 points, you can get $100 on your PayPal account
20 sales will bring you Smartwatch Pebble
For 50 sales you will get iPad Mini
iPhone 6 for100 sales
Canon EOS  6D for250 sales
Macbook Pro for500 sales
Harley-Davidson Street for1,000 sales
Tesla Model S for10,000 sales
As you can see, the prizes are really diverse. According to the terms of the contest, you can win as many rewards as you wish. To track the general number of your points, just enter your promo-code in the tracking field and the system will show you which prizes you can already get. On top of that, you can choose which prizes you would like to receive. For example, you can get an iPad mini for 50 sales or get $100 on your PayPal account and 2 Pebble Smartwatches. Or you can keep on collecting sales to win Tesla or Harley Davidson.
Now, let's get to the terms and conditions of the Social Stock program.
It will not take you much time and effort to get registered in the contest. All that you need to do is:
Enter your valid email address in the corresponding field and check your email inbox for the unique 10% promo-code.
Provide your friends and followers with the promo-code.
There are several ways to inform the audience about the offer. You can spread the word about the campaign by means of memes, banners, and pre-written email texts. In order to free you from the necessity to design such promotion stuff on your own, TemplateMonster's team have prepared a pack of everything that might come in handy to you.
Thus, after the registration, you will receive an email with you login details, promo-code and direct lick to your Social Stock profile. Follow that link in order to be taken to your account with a collection of pre-designed memes. Funny, creative and catching, they are intended to captivate your social media followers. Here are just a few examples of what you can use.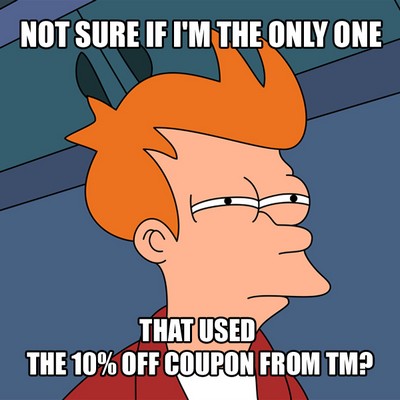 Also, you will be granted with a series of social media banners designed in bold, vivid colors. Each banner features a clear text, explaining the objective of sharing such content online. There is also a pre-written text accompanying each banner. Just replace the default content with your promo-code and share it all on Facebook, Twitter, Google+, and other popular social media platforms. Social sharing links were integrated into your account. So, just pick the banner that you'd like to share, add your discount and keep on sharing it online.
Several pre-written emails texts will be also available to you. All written in an easy-to-follow manner, the messages can be sent to your friends' email addresses right from your Social Stock profile.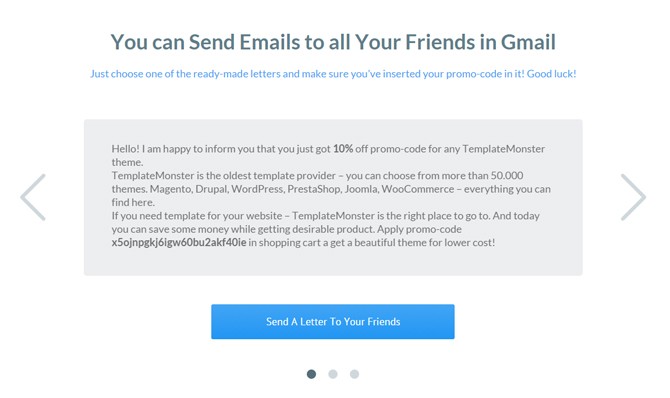 Basically, that's all that you need to know in order to participate in the program. Social Stock contest will be running through the end of 2016. The last prize will be given out on December 31st.
So, are you ready to take a step forward your dream? Go ahead, get registered and keep on sharing discounts with your friends. Don't miss an opportunity to gain great rewards while letting others save on the purchase of the top-quality website templates.
Even if you don't want to participate in TemplateMonster's Social Stock contest you can still get a 10% off with our promo-code wq2aw5sr5s030x7pcxpifmm4o for any theme from TemplateMonster .
Good luck!
Latest posts by Artem Pavlov
(see all)