Top 20 Cherry-Based Templates for WordPress



Are you looking for a fast and affordable way to redesign your old website or design a new web page? Well, you found it. No need to spend weeks working with a designer and then waiting for the coder to bring the ideas to life: just grab a predesigned theme, and your website will be ready for its first visitors within a few days.
Look through this collection of twenty out-of-the box design templates we have selected for you.
You'll find designs for virtually any industry, from car repair services to horse racing to photography, and if the one you have in mind is not there, you're welcome to visit the website of the provider. TemplateMonster.com offers the biggest collection of commercial designs out there, so you are sure to find the right one. Here's what you get when you buy one of the design themes:
A Great Look for a WordPress Website Overnight
All twenty themes are created for WordPress, one of the most popular content management systems in the world. They are easy and fast to install, so if you use the design as is, your website will look great virtually overnight.
Big Costs Savings, Compared with a Custom Design
As compared with a custom-created design, these themes are a very cost-effective solution. Instead of four-figure sums, you pay less than a hundred dollars – and a moderate extra fee if you need help with installation and customization. In the end, the cost savings are impressive!
A Customizable, Easy to Use, Mobile-Ready Design
All themes are based on Cherry framework, a framework that allows creating more flexible and simpler to use templates. Thanks to Cherry, your theme will be easy to customize, and you can achieve a unique look by playing with the images and elements of the design. The theme will also adapt to the screens of mobile devices for better usability, so the mobile audience will enjoy your website.
A License on the Images
All images in the design templates are licensed, so you don't have to worry about the copyright issues when you use them on your website.
24/7 Support
As a reputable provider that has been on the market for over a decade, TemplateMonster.com offers 24/7 professional support before and after you buy the template.
Now, let's move on to the designs we have selected – yours is probably waiting for you.
Architecture Projects – Light Architecture WordPress Theme
This responsive theme uses a lot of white and small fonts, which makes it look clean and crisp. The homepage features plenty of elements for both visual and textual information, and the design will be just right for an architecture firm.
Healthy Diet – Weight Loss Responsive WordPress Template
With several nice shades of green and prettily designed backgrounds, this template looks perfect for a website on weight loss and healthy eating.
Sleek & Clean – High Tech Business WordPress Design
This clean mobile-ready theme looks modern and sleek, and the unusual header menu gives it an original touch. It's a great design for a corporate website in technology industry.
Professional Attorneys – Law Firm Responsive WordPress Template
This big-resolution template with a classic color scheme and a nice textured background looks traditional, but modern. It's a good choice for a law firm's website.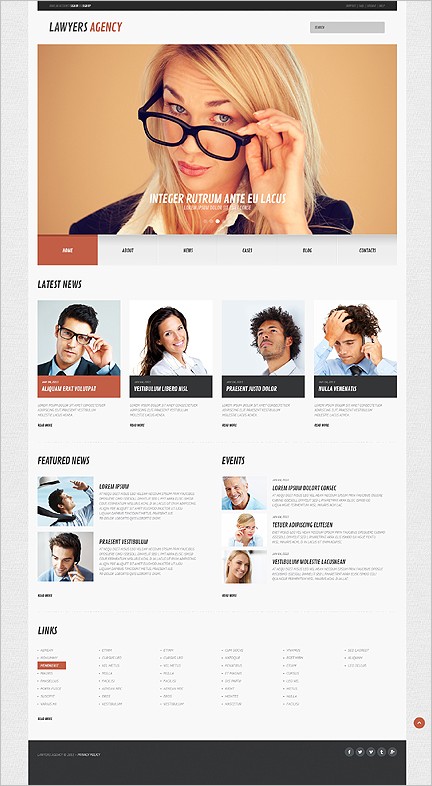 Original Gray – Light Art And Photography WordPress Theme
Even using a simple monochrome color scheme, this design looks original thanks to details like buttons and the lightbox. It's a perfect design for the website of a creative art, video, or photography professional.
Weight Loss Plan – Weight Loss Responsive WordPress Template
With a prominent lightbox and pretty fonts, this trendy big-resolution design looks very attractive. It will work well for a website on diets and weight loss.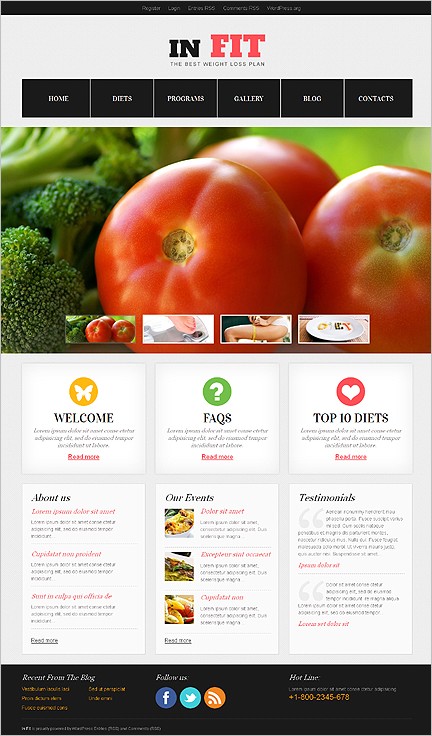 Confident Look – Insurance Responsive WordPress Design
Mostly monochrome, this stylish big design is brightened up with red details – both in the design and in the lightbox photos. It's a great choice for an insurance company's web page.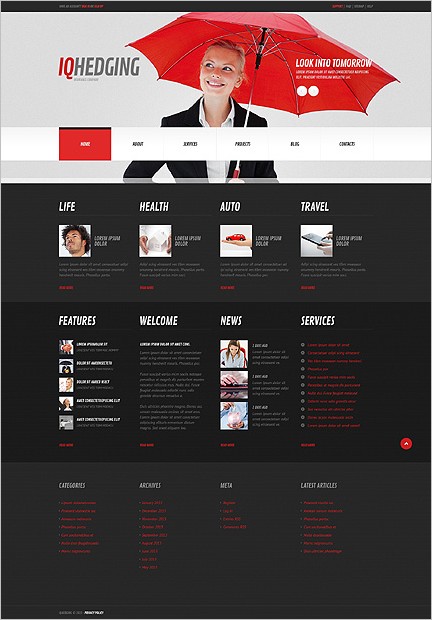 Stylish Cars – Car Tuning Responsive WordPress Theme
This big-resolution design with a classic color scheme and an original background will work well for a car tuning company's website.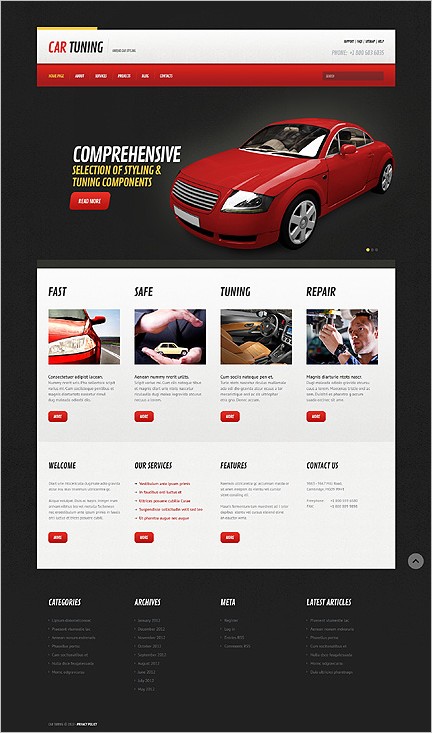 Stylish Corporate – Low Saturation Business WordPress Design
The unusual background and black-and-white photos combined with the light gray color scheme make this template stylish. It's a great choice for a corporate website – elegant, but not too conventional.
Luxury Architecture – Dark Architecture WordPress Template
With big and simply-formed elements, this design harmonizes with the images of modern architecture. It will make a great website for an architecture firm.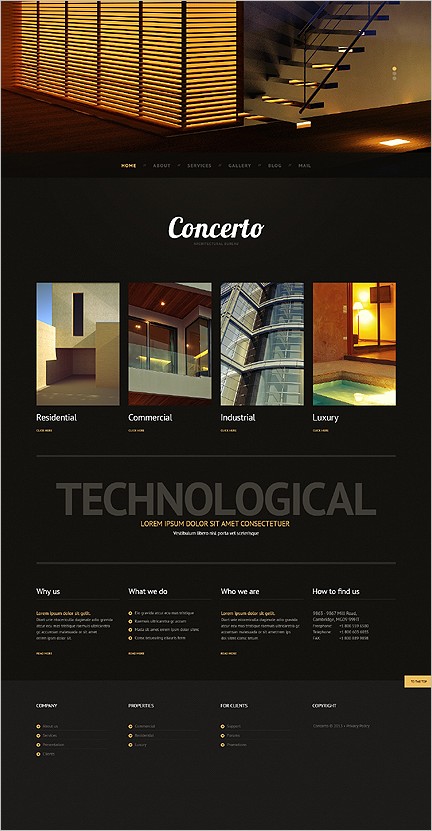 Innovative Software – Software Company WordPress Theme
This design has an interesting detail: the space image in the lightbox, which serves as the base for semi-transparent slides and the header menu. It's a great design for an innovative software development company.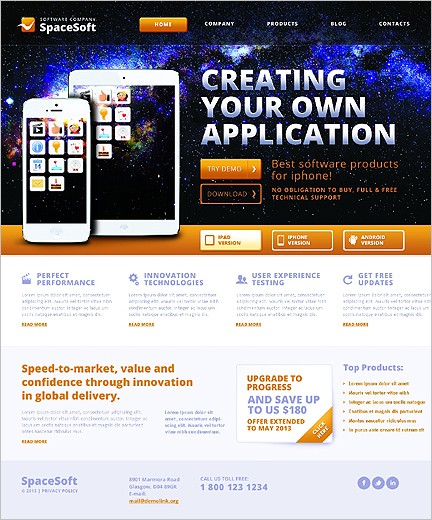 Minimalistic Business Website – Business Analytics WordPress Theme
This responsive template uses an originally designed background and transparent elements, which gives it a creative touch. It's minimalistic and clean, and will be perfect for a business that wants a professional-looking, but creative web page.
Flat Black – Consulting Agency WordPress Design
This responsive flat theme is pretty simple, but trendy. It will be a good choice for a consulting company's website.
Making Discoveries – Science Laboratory WordPress Template
This mobile-ready information-rich design has a professional look and will work well for the website of a science lab.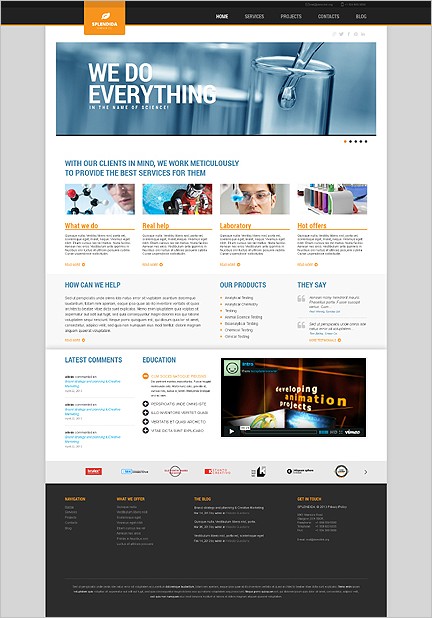 Stylish Photography – Photo Studio Responsive WordPress Theme
With an original header menu and bright green details, this darkly colored design looks pretty stylish. It's a good fit for the website of a photo studio.
Legal Advice – Law Firm Responsive WordPress Design
This big-resolution design with a reserved color scheme will be a good choice for the website of an attorney or a law firm.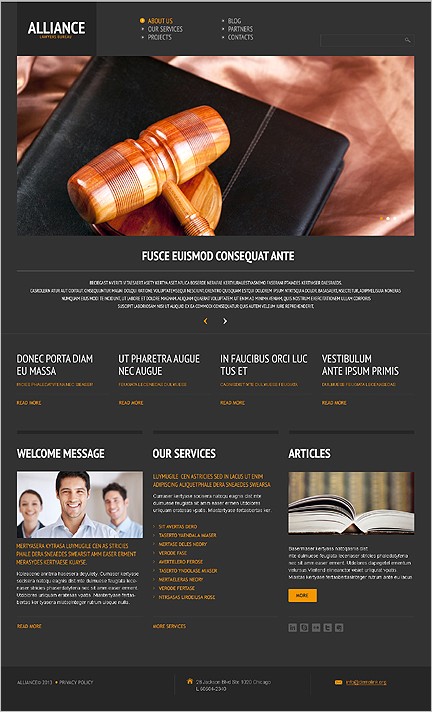 Sleek Cars – Car Repair Responsive WordPress Template
This simple, but sleek design will be great for the website of a car repair company.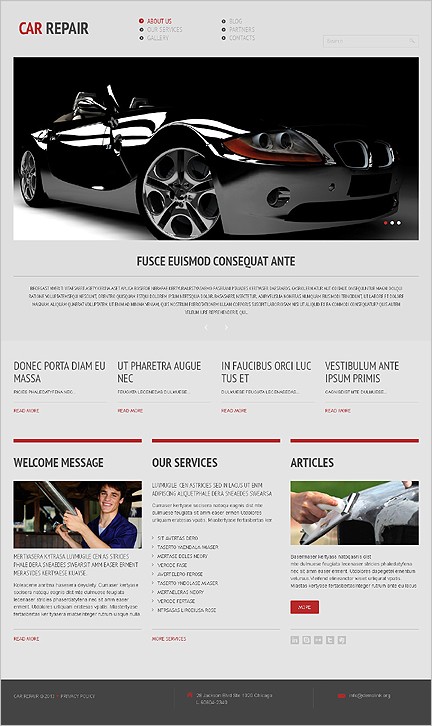 Horse Racing – Horse Responsive WordPress Theme
With its warm color scheme and the wood-imitating background, this big design looks pleasant and clean. It's a great match for a website on horses.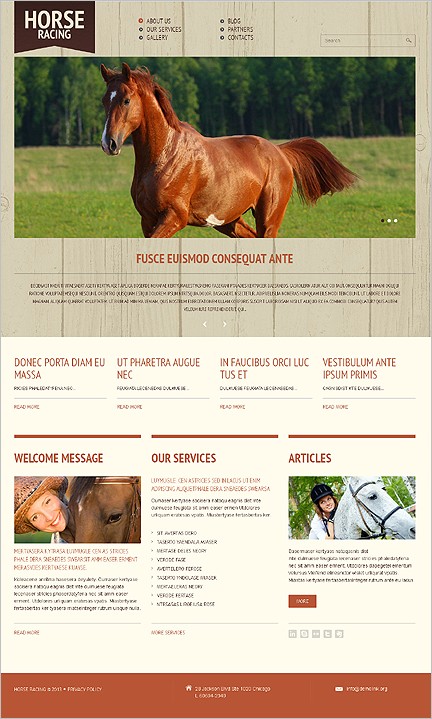 Ebony – Management Company WordPress Design
This responsive big-resolution design combines the dark wooden background with transparent elements, looking pretty stylish. It will work well for a management company.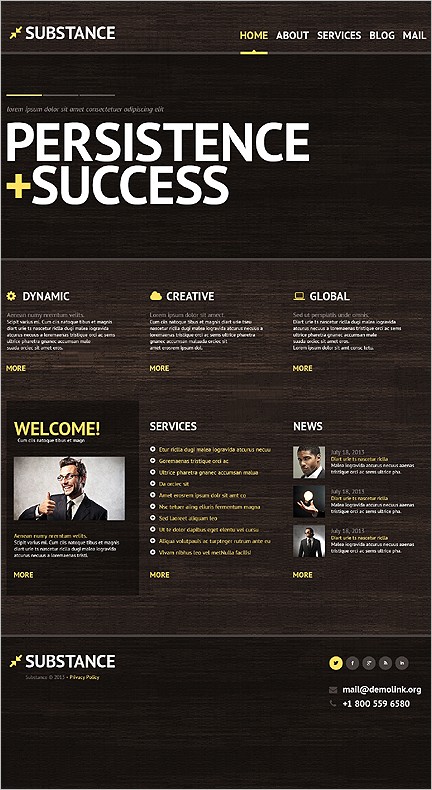 Natural Floors – Elegant Flooring WordPress Theme
This elegant mobile-friendly theme will be a great choice for a company that offers natural flooring materials.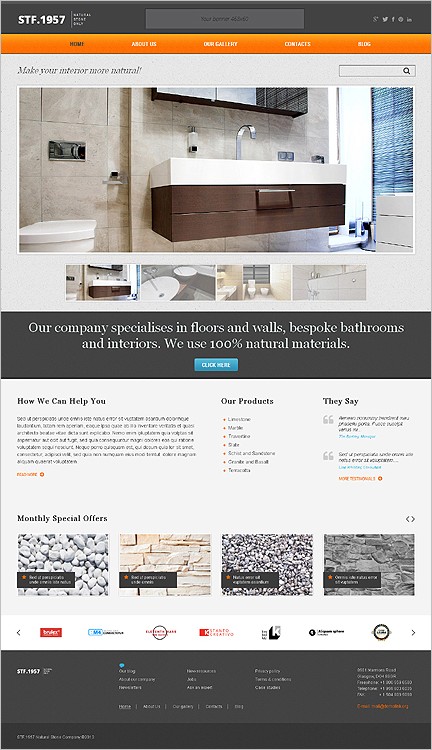 Latest posts by Artem Pavlov
(see all)