So many words and sayings have entered common usage over recent years, thanks in a large part to various technological advances. We all know what someone means if they need to Skype someone else, or tweet something, or add someone on Facebook. A few years ago, such terms would be meaningless gibberish, but nowadays we all use them.
One of the most common tech words to have entered the English (and most of the other) languages is to "Google" something.
The mother of all search engines, when we're looking for something, indeed, anything online, regardless of the search engine, we usually say we're going to "Google it." A number of these tech words and sayings have fallen by the wayside, depending entirely on the survival of the program or site from where they originated (when was the last time someone said they needed to add someone on Myspace?). Perhaps soon we'll be using "Google Hangout" as another word for Skype or even as a replacement for a phone call…
What Is It?
As the name would suggest, the Google Hangout allows participants to hang out with each other. It's essentially a web based video conferencing facility accessible by anyone with a Google+ account. The hangout can support up to 10 participants- whomever initiates the hangout is given a specially generated URL address which he or she then shares with the other intended participants. The group dynamic of the Google Hangout gives it a pronounced difference to Skype, which is primarily concerned with one on one interactions.
Google Hangout And Your Business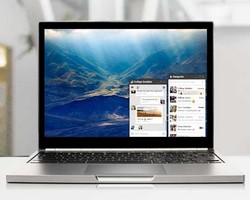 While the name "hangout" suggests an informal gathering- just a group of friends hanging out, the tool is being increasingly and successfully utilized by the business world. Google Hangout allows for a group meeting without the need for expensive video conferencing software, and the mobile version of the program means that participants don't even need to be in an actual office if they have an iPhone or Android equipped Smartphone.
While the limit of 10 participants might be a hindrance to some types of meetings, remember that the limit is in fact 10 individual computers or mobile devices, and there can be multiple persons at each computer or mobile device. Google Hangout also allows for a webcast, meaning that the meeting can be watched by as many people as the one who initiates the hangout chooses to share the URL address with.
Google Hangout And Marketing
The power of the Google Hangout as a marketing tool are quickly being realized, with a number of films using it as a way for a Q&A session with lucky fans, and those who are perhaps slightly less lucky being able to watch the proceedings via the webcast. Harrison Ford took part in a Google Hangout for the film Enders Game, and The Muppets were amongst the first to chat to their fans using the medium in 2011. German Chancellor Angela Merkel also recently used Google Hangout to field (no doubt carefully vetted) questions from voters. Perhaps The Muppets came across as more genuine than a politician?
About the author: This is a guest post by Samantha, who is an avid blogger and a freelance writer. She also loves creativity, so she educates herself on web design. Her dream is to learn graphic design in Los Angeles.
Latest posts by Guest Author
(see all)