WordPress began as a tool for blogs which on later stage evolved as one of the most influential open source content management system (CMS). It has been 9 long years since its first release to the world of internet and has come a long way covering each milestones and reaching new heights.
Configuring WordPress websites is very easy and you can learn it with minimal efforts, you can also find WordPress websites with a huge number of plugins and widgets.
You can witness million users, all accessing WordPress to create all types of websites like an ecommerce website, or sites that requires you to be its private member, websites for corporate sectors and likewise. Now it is worth asking to yourself why WordPress?
There are many other CMS similar like it but if you look at it closely you will find that it has a user friendly interface. There are many other reasons but below written are some key point as to why you must have a WordPress ecommerce site.
User Friendly CMS
WordPress is very easy to learn unlike other CMS. You can use its numerous plugins, themes which make configuring a really simple task while customizing your WordPress website.
WordPress website are liked by most search engines
Using search engine optimization has become an important aspect that can contribute a lot to the success of any website. Henceforth WordPress helps in creating codes which are easily found by search engines. There are several themes and plugins that can increase your SEO efforts.
WordPress takes personalization to a whole new level
It comes packed with exclusive themes, cool widgets and plugins which make your customization really easy in real time. These features are so versatile that you can almost use it on any kind of website for almost anything you want to do.
WordPress is everywhere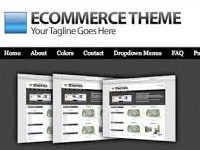 Millions of users are found of using WordPress for creating their blogs or sites. There are also a large number of people who are getting information on WordPress through many blogs and forums. Each month there is a sharp increase in the number of users.
WordPress can help you drive your business towards profits
You can experience flexibility and the ability to extend itself in WordPress. If you are planning to grow your business then choosing WordPress may be one of the wisest decisions in executing this strategy. The main reason is exclusive features that you can find in WordPress which can actually help you customize your website according to your requirements.
You may also have come across news about WordPress, it is predicted that WordPress is going to be the future of internet as it has brought in an ocean of changes in the way things get customized in the virtual world.
WordPress too has some of pros and cons but nevertheless it is the best CMS as of now as the requirement of sitting for long hours and learning the basic tools and requirements is completely eradicated with the help of WordPress.
Latest posts by Guest Author
(see all)