Whoa! New free WordPress themes releases! It's been a while since we featured fresh new free themes, so it's about time that we do it again, right? Today we have some exciting themes from WordPress Themes Directory that was recently released. The themes are suitable for personal blogs, portfolio sites, business websites, or whatever you want! It is simply up to you!
These five WordPress themes are free, GPL licensed, and really awesome! Unleash your imagination and create something really exciting and imaginative! We hope you enjoy these free themes just as much as we do and can use them on you own WordPress blog! Cheers!
impulse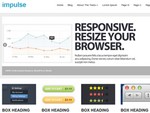 impulse is a free WordPress theme with a clean and elegant look. This is a theme that is perfect and suitable for all kind of business and corporate websites.
The theme comes with features such as theme options, widgets, multi-level dropdown menu etc. » Download | Demo
Orbit
Orbit is a feature-rich free WordPress theme with responsive design. It will adapt and look great and awesome in small mobile phones to large wide desktop screens.
Incuded features are theme options, slider, 6 widget areas, fonts options, social networking etc. » Download | Demo
 Prana
Prana is a free WordPress theme that can be used as a personal blog, for portfolio websites or perhaps a business site! The design is sleek, beautiful and elegant.
Prana comes with theme options, custom flexible header, Google web fonts and much more. » Download | Demo
tdSimple
tdSimple is a beautiful and stylish free WordPress theme. This is a one column theme that can be used as personal blogs, showcase photos or other creative content.
tdSimple is designed with responsive design so it will look perfect in any devices. » Download | Demo
Sillver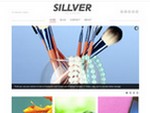 Sillver is a WordPress theme from MagicTheme. This is a theme with responsive design and it comes with a lot of advanced features that make ot easy to manage and customize.
Sillver is free and released under GNU General Public License (GPL license). » Download | Demo
Looking for more free WordPress theme? Check out our category – Free WordPress Themes.
Latest posts by Artem Pavlov
(see all)