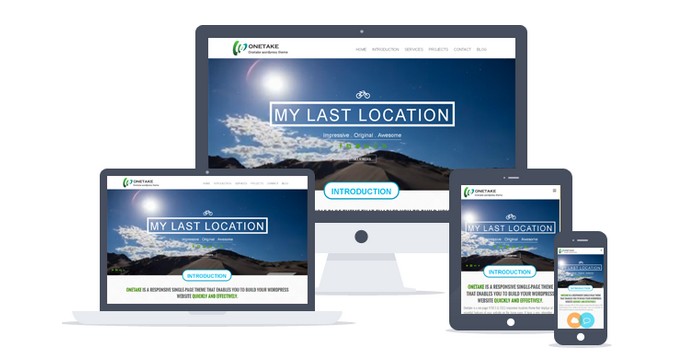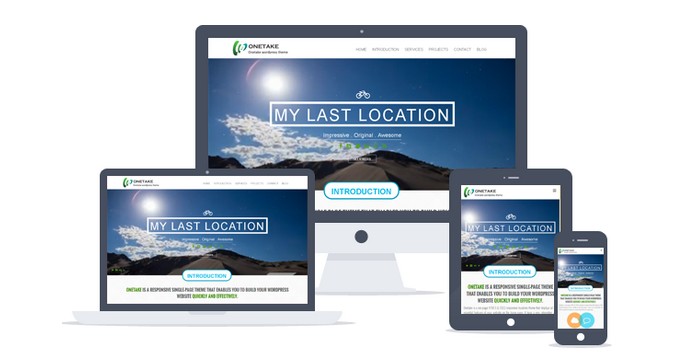 Onetake is an outstanding free one page WordPress full screen theme released by HooSoft WordPress Themes. The theme is beautifully designed with HTML5 & CSS3 and is based on Bootstrap.
Onetake is a professional theme with features that you usually only find in premium themes. The theme include all the essential features you need to create an awesome and beautiful website and online presence.
A striking feature is the full screen background with video support from YouTube. Meaning it is easy to create great looking video backgrounds with great slides effects. Check out the Onetake demo.
This is a very creative and inspiring one page theme with endless of possibilities. You can use the theme for business, corporate websites or just to showcase videos and products. The design is fully responsive and will look perfect in all browsers, mobile phones, tablets and computers.
Onetake is a theme with great flexibility and you can easily customize your front page layout, change the colors and much more via the theme options panel.
One page themes are perfect solutions if you want to display a lot of content on a single page. No reload of pages when click buttons and links that gets you to a page. Personally I think this is a free WordPress theme that you can use to create an unique website that really stands out from the crowd.
Onetake comes with numerous great features and options such as:
Theme options panel
Responsive and adaptable design
Full screen backgrounds with video support from YouTube
Single page design
Awesome slider
Custom background and header
Custom CSS to tweak the look and design
Cross-Browser compatibility for all major browsers
Flexibility with endless possibilities
Translation ready
Latest posts by Artem Pavlov
(see all)