Are you looking for an awesome one page WordPress theme for your website? 
Whether you are a freelancer, an e-commerce shop owner, an artist with an extensive portfolio, or a hobbyist that likes to share your ideas with the world, having a quality looking website is a must.
You should focus on eye-catching design, top notch user experience, engaging content or product copy, and how you are going to get your site visitors to reach out to you.
Today we will take a look at MachoThemes' scrolling one page theme Pixova Lite and see how it offers all of this and more to WordPress website owners of all kinds.
What is Pixova Lite?
Touted by its developers as the best free one page parallax theme on the market, Pixova Lite comes highly optimized with a modern and clean look. Though its built-in functionality has a lot to offer website owners, its minimal design does not overwhelm website visitors.
Let's take a quick glance at some of the cool things Pixova Lite provides:
One-click import and easy installation
Great typography with custom Google fonts
.po and .mo files included for translation into any language
CSS3 animation ability
Smooth parallax sections
WooCommerce integration
Cross browser compatibility
And so much more!
Main Features
This theme comes packed with some premium features, without all of the cost! Let's take a look at some of the main features of Pixova Lite.
Responsive Design
Pixova Lite is fully responsive and is designed to give your site visitors the ultimate viewing experience. Minimizing scrolling and resizing across all devices and providing perfectly crisp images no matter the screen size is the ultimate goal of Pixova Lite.
Parallax Effect
Mentioned earlier, but not to be understated, Pixova Lite gives you the opportunity to give your readers a unique viewpoint using the smooth scrolling parallax effect. They can scroll down and see each webpage element or hop to the category they wish to explore.
W3C Validated Code and HTML5 Markup
Pixova Lite was built following W3C web standards to ensure a compliant and functioning theme for your website. Browser compatibility and site usability will never be an issue because MachoThemes painstakingly validated every line of code.
In addition, your theme will support multimedia on all devices using HTML5 markup. In tune with the responsive design you are providing your website visitors, you can now also rest assured any video or audio you include on your website will be seen and heard properly, regardless of the device.
High Performance
Loading speed, breadcrumbs, and responsiveness are not sacrificed in this free theme. MachoThemes is dedicated to providing your site visitors the best experience ever, and that means making Pixova Lite SEO-friendly. Knowing that your site will be found by Google and will experience an influx of traffic is enough to inspire anyone to create high-quality content to meet viewer expectations.
User Experience
Now that you have an idea what kind of general features Pixova Lite offers, let's take a look at the Live Theme Customizer and how you can mold your theme into the perfect website.
Header
This section of your one page theme gives your site visitors their first impression; make it a good one!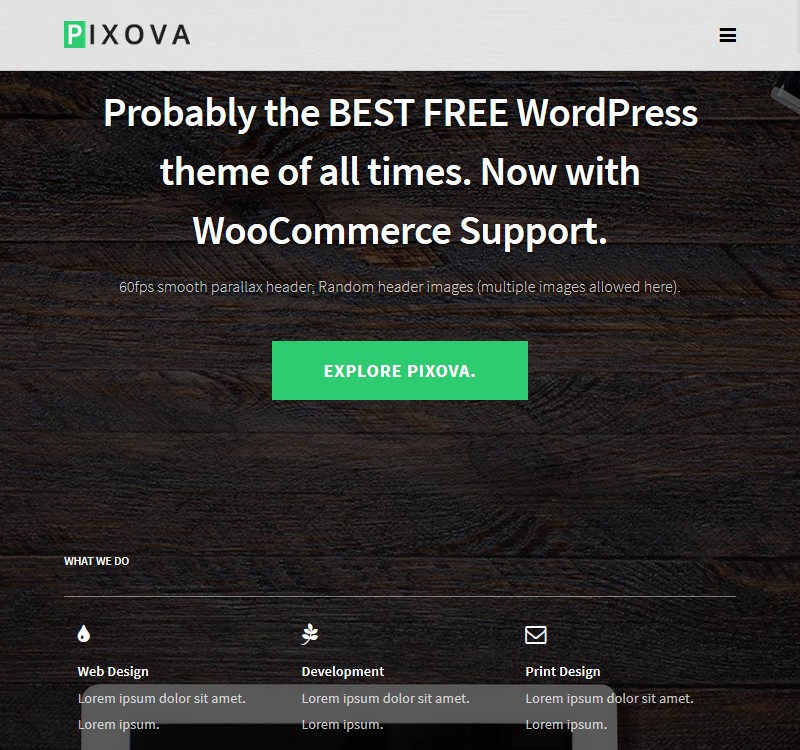 Use a large and bold statement image to kick your scroll off, customize with text and buttons linking to other sections of your website, and provide optional menu items for your viewers to jump categories easily.
Unique Pie Chart Ability
Display opinions, survey results, your top product sales, and more using Pixova Lite's pie chart feature.

Displaying as an animation that is color customized to match your website's look and feel, once your readers scroll to it they will quickly be able to see the data you want them to see.
Recent Works
Maybe you have a portfolio you want to showcase to your readers, or you have some top selling products that are on sale for a limited time. No matter what you want to draw your readers' attention to you, you can do it using the Recent Works section of Pixova Lite.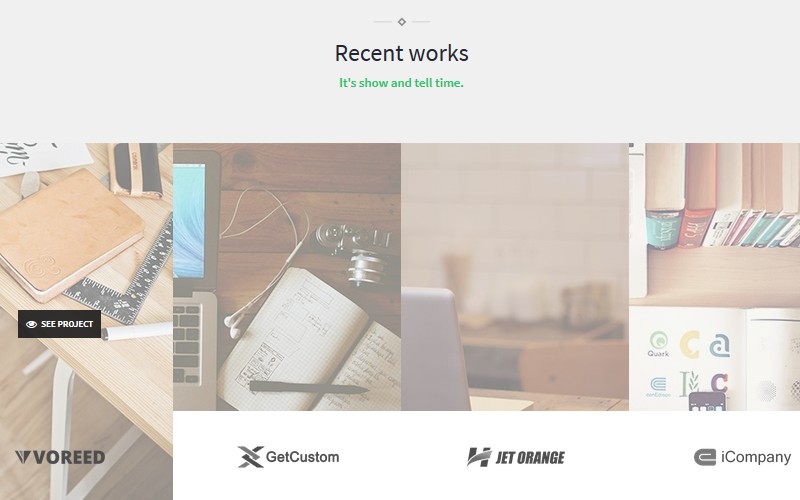 Beautiful images can add visual appeal and the hover feature will let your visitor click to see more. This is a great way to highlight important aspects of your website.
Scrolling Testimonials
The effect social proof can have on your company is astounding. With Pixova Lite not only can you put your best work forward for everyone to see right away, you can include objective and honest testimonials front and center to show site visitors you mean business.
By including a quote and an actual image of the person providing your company credibility helps to convince outsiders you are to be considered a trusted brand.
Latest News
Linking to your content from your one page theme is crucial to gaining loyal readers. Your goal should be to get site visitors to want to stick around and explore your site more, not just scroll through the page and leave.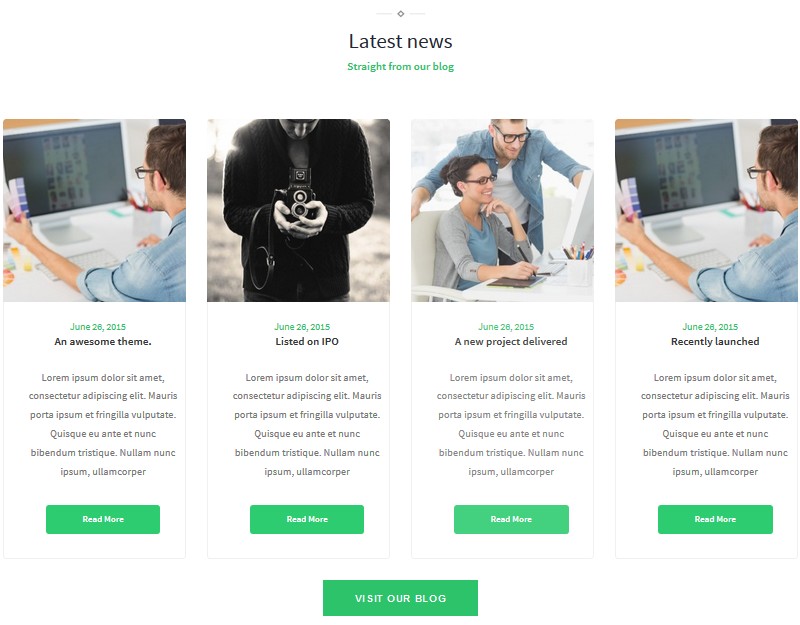 In the Latest News section of Pixova Lite, you have complete control. Determine how many blog posts to link to, what thumbnail images will be used to entice readers to click and read more, and of course, color customize it to make you site consistent.
Once a reader clicks on a link they will be brought to another part of your website. Perhaps it is your blog? Utilize the sidebar for things such as recent posts, comments, archives, and categories for easy navigation to the information your readers want.
With Pixova Lite, everything is in order and is super organized. Site visitors will never have to wonder how to navigate through your content making them more likely to come back for more!
Team Section
Don't forget to credit those who help you build your success using the Team Section.

Add that personal touch website viewers love to see: a name, and face, and ways to get in touch via email or social media.
Contact
Providing a way for your readers to reach and out get in touch is essential for good customer service and increased sales.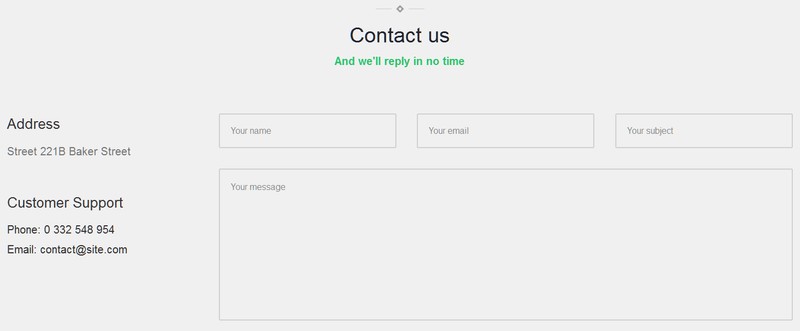 Pixova Lite offers a simple and effective way for you to display your brick-and-mortar address, email, phone number, and contact form.
Footer
Last but definitely not least is the footer of your one page theme. An often neglected area, Pixova Lite makes sure you get full use out of your entire page.

Using multiple widgets, you can create an optimized navigation area for your site visitors once they have scrolled to the bottom of your page.
Documentation and Support
MachoThemes is all about providing you detailed documentation and superior support. With FAQs addressed as well as theme specific details, rest assured you will know how to make the most out of your theme. And if that doesn't cut it, someone from MachoThemes will get back to you within 24 hours to help you with whatever issues you have. For a free theme, you can't beat that!
Final Thoughts
From head to toe, Pixova Lite is packed with awesome features so you can build a standout one page website.
With visual appeal and optimized functionality, Pixova Lite will give your readers a great viewing experience that really showcases what you are all about. No matter which industry you are in, no matter what type of website you are looking to create, Pixova Lite has something for everyone: exceptional visual appeal, great user experience, links to your high-quality content, and an easy way to keep in touch with your fans.
If you are looking for an awesome one page theme, without a price tag of any sort, consider using Pixova Lite.  I know you will not be disappointed.  Don't believe me?  Check out the demo here and see for yourself!
Have you ever used Pixova Lite?  What do you think about the parallax effect and all the cool sections you can build your site with?  I would love to hear all about it in the comments below!
Latest posts by Lindsay Liedke
(see all)