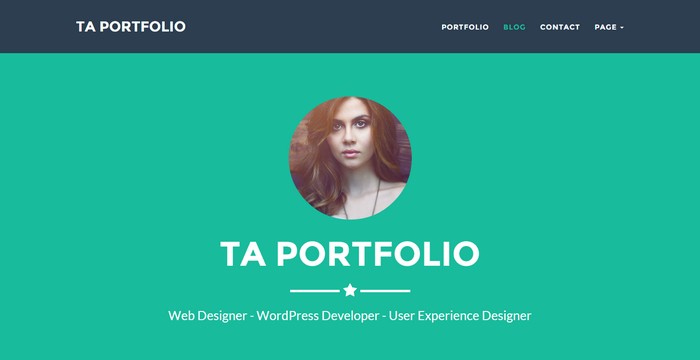 In my previous article I wrote about premium One Page WordPress themes. Today, I follow up with the TA Portfolio which is a free one-page theme created by ThemeArt.
If you don't want to spend a lot of money on a premium WordPress theme you can check out this beautiful and elegant free one-page theme that I try out today.
TA Portfolio is built with Bootstrap 3+, comes with responsive design and work great on a wide range of devices and screen resolutions. The layout will adjusts and look perfect in devices such as desktops, laptops, smart phones or tablets.
The theme options are powered by ReduxFramework and includes a lot of options for customization, such as edit portfolio filters, set of social icons, add custom CSS, and much more.
I wanted to create a personal website with the TA Portfolio theme and that's what I did and I'm really happy with the result. The final result can you  see at the end of the article. But there are few things that can be a little tricky to set up so I will show you in a small guide how to set up the TA Portfolio theme like in the demo. Otherwise I recommend you read and follow the well written documentation when setting up the theme and all features. Let's get started.
Install Theme Using WordPress Dashboard
Download the theme file

here

to your local machine.
Log in to the WordPress Dashboard.
Select Appearance, Themes. Upload Theme. Upload the zip file, install it.
Active the theme.
Front Page & Posts Page Settings
If you want to setup the home page with the one page layout like the theme demo, you must in the next stage setup the "Front Page" and "Post Page".
Go to: Pages → Add New.
Add a page title (ex. 'HomePage')
Go to: Page Attributes → Template just below the publish module to select the Portfolio template.
Publish the page.
Create a new page and name it (ex. 'Blog'). Select the Blog template.
Publish the page.
Go to: Settings → Reading → Front Page Displays and select the Static Page > Front Page as your newly created ('HomePage') (instead of the recent posts setting). Set Posts Page as ('Blog'). Save changes.
We are getting closer how the demo looks like, but we are not quite there yet. We need to create a navigation menu to point to different sections on our front page without reloading the page.
Navigation Menus
Go to: Appearance → Menus
Create a Primary Menu and save. Select Primary Menu to edit. The Primary Menu is only for front page.
I use Dividers – Simply add a Link menu item with a URL of # and a Link Text or Title Attribute of divider (case-insensitive so 'divider' or 'Divider' will both work ) and the class will do the rest. As in the picture.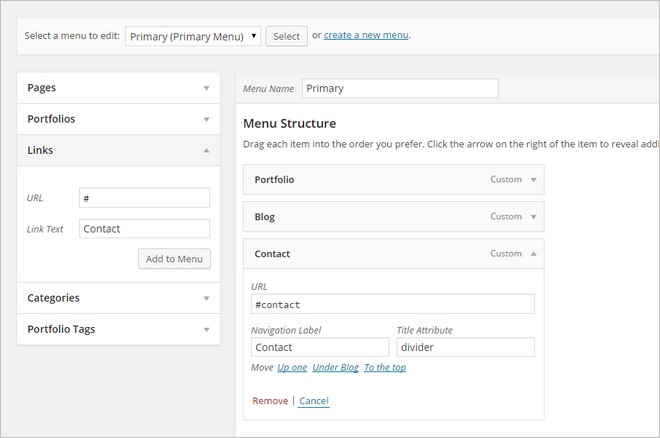 The navigation menu is ready. Looking good so far, right!
Add a Portfolio Post
Now we need to create some portfolio posts. The theme includes a portfolio custom post type which can showcase your projects on the front page of your site.
Go to: Portfolios → Add New.
Add a title.
Add text in the content area to describe your portfolio.
Add some tags in the Portfolio Tags area.
Add some additional information in the Portfolio Metabox area.
Click Set Featured Image and upload your image(s) and set one as the featured image.
Click Publish. (I created 3 Portfolio posts).
Blog Posts
You don't need to do much with your articles as you remember earlier we put Post's Page as (the 'Blog') and then your articles will appear on your front page. But in order to present the articles in the same way as in the demo I created circle-shaped images as featured images.
If you have done everything correctly, you now have a one page layout just like the TA Portfolio demo. But there are so many more features and setting that you can configure and customize as you wish. This is a very flexible and super cool theme with a lot of possibilities. I just showed the basics for you to get started.
Here is how my own layout turned out, with the title – I'm Peter Nilsson.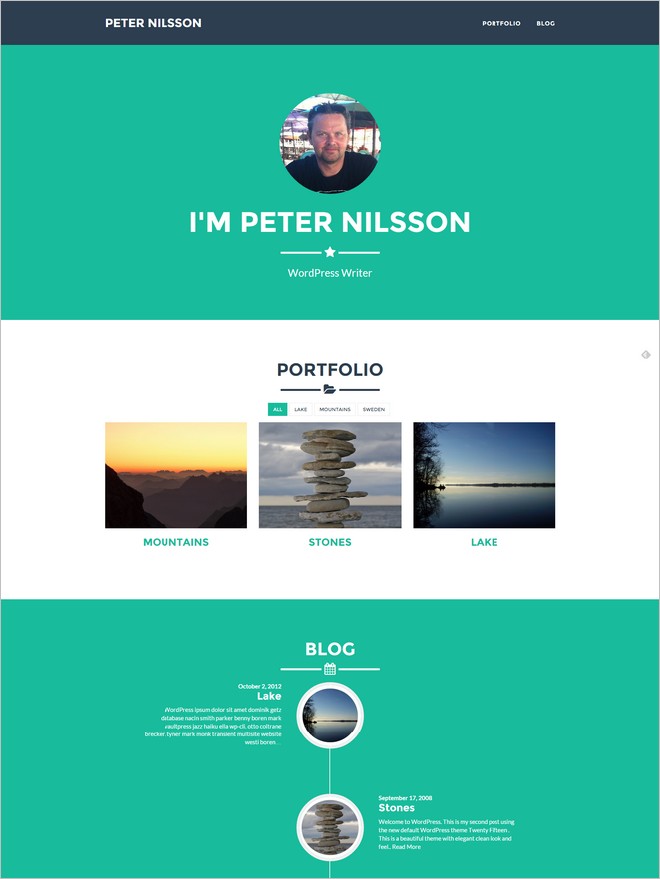 Conclusion
Personally I think this is a great free WordPress theme loaded with awesome features and options. But it is not the easiest theme to set up if you are a beginner or don't have much knowledge of WordPress themes. It takes a while to get a grip on how to build up the layout and how the different sections works. But with a little patience the result will be really awesome. Just follow the well written documentation
Why not give TA Portfolio a try!
Latest posts by Artem Pavlov
(see all)