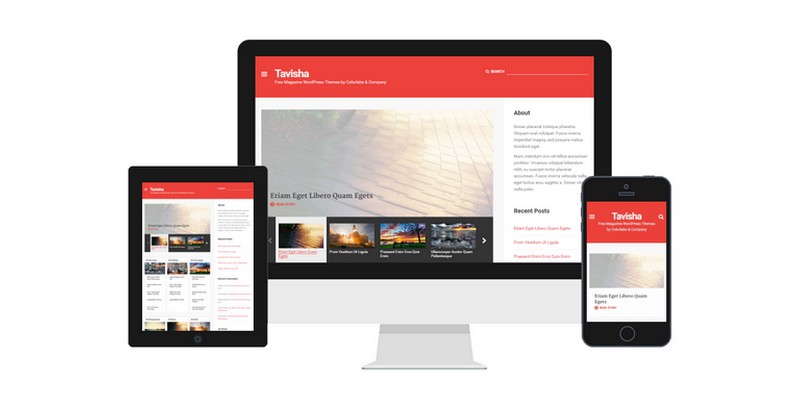 Tavisha is an exciting new free WordPress theme from the WordPress theme company Colorlabs.
The theme is created by Andre Septian, a designer that previously also designed both themes and plugins. He decided to make something really great, special and it should be free.
WordPress now already turn 12, yet many people around the world still can't get something good for free. I mean really free without any ads or anything, free to use. And i'm going to break that!
The final results became Tavisha.
Tavisha is a theme designed with a spacious, clean magazine style which allows you to display your content in an organized and structured manner. Is your website focused on magazines, portals or news then this is a theme that's perfect for you and can give your website a new great look and feel.
Tavisha includes a lot of great standard features, but also some custom features that can come in handy to customize the theme. Make use of custom color schemes and create your own color scheme and make your site unique and stand out from the crowd. Custom sidebar position allows you can choose to have your sidebar on either the left or right.
Auto-recognition Social Links, with this unique feature you create a new custom menu links on the footer section it will automatically converted into icons. Menu Description: With Tavisha you can easily create a description about your custom menu links without have to install a certain plugin.
Have a look at the layout and all features in the demo.
Tavisha is a responsive theme, meaning that the theme will adapt and adjust to look perfect in all devices such as mobile phones, tablets, and computers. No matter on what kind of device or screen size it's being viewed. You've got it all covered and your website will be delivered and displayed with ultimate focus.
More great features included in Tavisha that Colorlabs sees as standard features are these:
Responsive layout for all devices
Comprehensive SEO management system
Theme administration panel
Built on HTML 5 & CSS 3
Easy framework update
WordPress threaded comments
Custom shortcodes
Automatic thumbnail resizer
Cross-browser compatibility
Standard page templates
Social network integration
Sidebar and widget manager
Localization and translations
Custom menu
In other words, Tavisha a flexible theme with numerous of configuration options. Which enables you to easily create an awesome and perfect online presence. Maybe you're looking for a new WordPress theme but don't want to pay big bucks for a new theme! Let me say, then this theme is a great alternative.
I did mention that Tavisha is a free WordPress theme, didn't I? 😉
Latest posts by Artem Pavlov
(see all)