ThemeIsle has done it again. Offering a free theme with premium quality. Complete with exceptional support, regular updates, and a touted 5-minute theme installation, ThemeIsle presents Parallax One.
Boasting a clean interface, a bold heading complete with "hero" image for showing off your best work, and all in a one page setup, ThemeIsle's newest theme is sure to impress all of your readers.
Utilizing the parallax effect that is growing in popularity, Parallax One allows you to create stunning effects in depth and illusion while grabbing your website visitor's attention all at the same time.
Did I mention it's free?
For businesses and creatives alike, Parallax one is simple to use, simple in style, and completely customizable on your end giving your readers an experience like never before.
Parallax One
Parallax One is completely responsive for an optimal viewing experience, easy reading, and simple navigation. There is minimal need for resizing browsers, panning, and scrolling and is tested across a wide range of devices.
This theme is easily customized. You can upload images, add elements such as text or buttons, and rest assured that it will maintain that cool parallax effect that everyone loves. Also, with advanced theme options such as an unlimited color palette for your design needs, your website is sure to be unique and have that personal touch your readers have come to know about your business or services.
Some great additional features include the fact that Parallax One works well with just about any interface due to clean code and compatibility with WordPress and its associated plugins. It also claims flawless compatibility with all browsers allowing readers from all over the web view your site just as it was meant to look.
At ThemeIsle, dedication to their customers is obvious with 24 hour support on hand to answer all of your technical questions via email, support forums and chats, and even the FAQ page so that you may even be able to help yourself. This support is even made available to those downloading free themes such as Parallax One; there is no need to spend money on a premium theme to access support when you use ThemeIsle.
Parallax One Specific Features
Much like a premium theme might offer, Parallax One has a feature packed customization on the back end so that you can achieve what you desire on the front end.
Theme Installation
Before installing Parallax One onto your WordPress website, you will be prompted to register for an account in order to access the theme download.
After installing Parallax One, you will also be prompted to install the WordPress plugin Intergeo Maps – Google Maps Plugin. This plugin will play a later role in integrating Google Maps onto your site during customization, giving readers a more accurate account of where you are located.
The cool thing about Parallax One's installation is that the theme demo looks exactly the same on your WordPress website once activated. Should you download the theme onto your site and take a look at its live view, your website will look the exact same as the demo, complete with all the images and demo content in place. There are no surprises about what the theme will look like once activated on your website adding to the ease of the installation process.
Customization Features
Once the theme is downloaded onto your website all the customization will happen within the Customizer section. Here you will design your website to meet your site's specific needs
Appearance – Here you will upload your own logo, have the ability to change colors, and set a background image.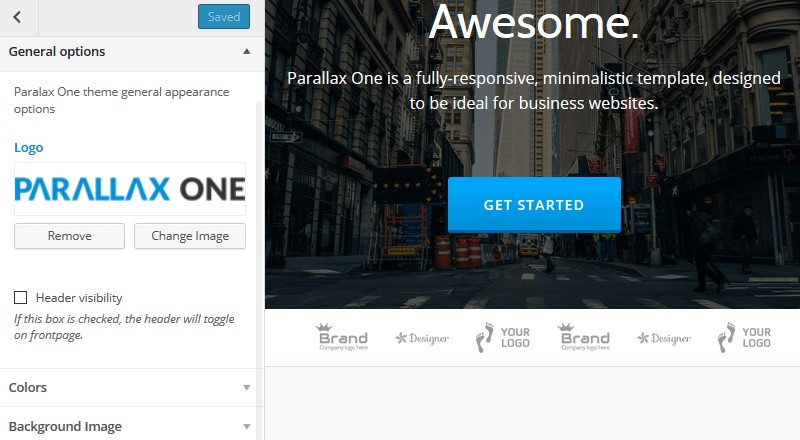 Header – This section allows you to setup the large image at the top of your website. Here you have the choice to add layers to your header image adding to the stunning effect Parallax One can provide your website. You can complete this portion with another logo, text, or button. You can also upload customer icons or use this for social icons.
Services – As your visitors scroll down your website page, there is an area where you can create boxes complete with icons and text describing some of the main products or services you provide, or even just highlight important information you want to draw your readers' attention to.
About – This section allows you to upload an image and add text describing your company or what your website is all about.
Team – If you employ others or work with a team, this is the place to highlight them. Upload images and incorporate excerpts about each person, links, and titles held so that you can add that personal touch to your website.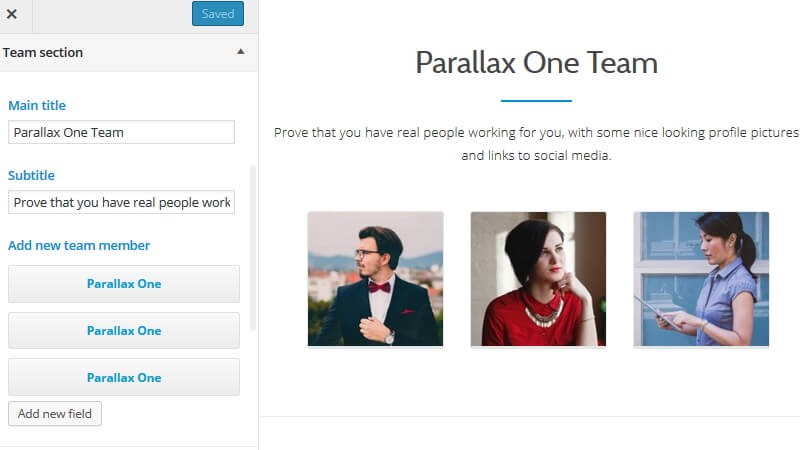 Testimonials – Whether you sell products, offer services, or just do great things, in general, testimonials are social proof you are as exceptional as you want your readers to believe you are. Adding as many testimonials as you like, this is an integral part of achieving trust and loyalty from your customers as well as a surefire way to strengthen your online reputation and credibility.
Ribbon – This is the area near the bottom of your website where a call to action button can be placed. Pairing some actionable text with a button leading your readers to "do something" is a great way to collect emails, navigate readers to important content or products, or get them to download something. The possibilities are endless and crucial to building your website traffic and loyalty.
Latest News – This reader update feature provides your visitors with updated information much like a blog would. Part of running a successful website includes keeping your customers informed on a consistent basis whether that be with latest news updates, product releases, reviews, new services offered, etc. If you want people to keep coming back, provide them with content to satisfy them.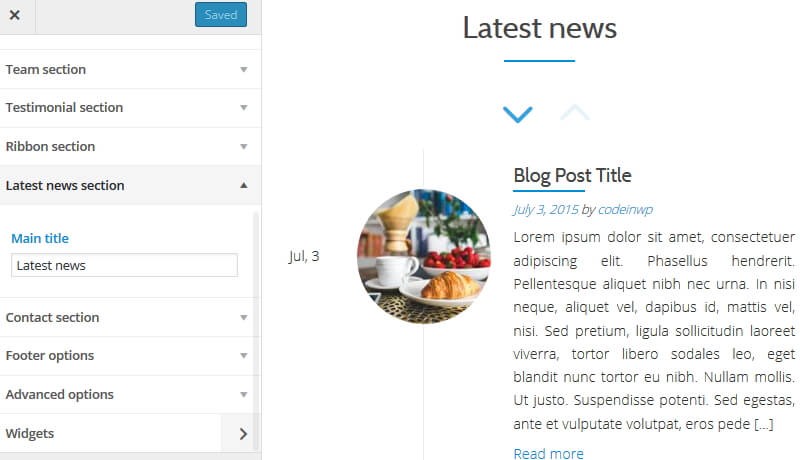 Contact – Adding your contact details along with icons is key to convincing customers you are reliable and legitimate. This theme utilizes Google Maps (as mentioned earlier) using the WordPress plugin Intergeo Maps – Google Maps Plugin. Activating this plugin and adding the shortcode allows your readers to find everything needed for contacting you: location, phone numbers, email contact, and more via the integrated Google Maps function. This function works especially well for people on the go who find you and want to contact you right away from their mobile devices.
Footer – This section allows for the input of copyright information and even social media icons to link to your various profiles. There is no need to install an additional social media plugin as Parallax One offers clear, well-branded social media buttons that readers can easily click on. You even have the options to place these social media buttons in other areas of your website should you choose to do so.

Notable Mention – With WordPress becoming a great platform for running an online shop, it is worth mentioning that Parallax One offers the chance to integrate plugins such as WooCommerce onto your website to sell products online. Supporting such plugins is a fancy feature that is oftentimes only available in premium themes. Did I mention Parallax One is free? Well, it is, and providing such a valuable feature is one ThemeIsle should be proud of.
Final Thoughts
Parallax One is the ultimate premium theme (but it's free!). Offering everything a business website owner or creative blogger may need in a theme, Parallax One really outdoes the one page themes that are out there right now in terms of simplicity, minimalism, effect and wow factor, and price. Check out the live demo here or download it now and give it a whirl on your website.
Have you used Parallax One on your website yet?  If so we would love to hear your thoughts in the comments below!
Latest posts by Lindsay Liedke
(see all)