News websites having the style of Newspapers and Magazines have become very popular in the recent past because they are very good at providing loads of information in a highly structured way. With the help of a good WordPress theme for Newspapers and Magazines, you can turn your site into a powerful publishing source. It is possible for one man to start running a commercial standard news website. Below are the top 5 WordPress themes for Newspapers and Magazines:
Instant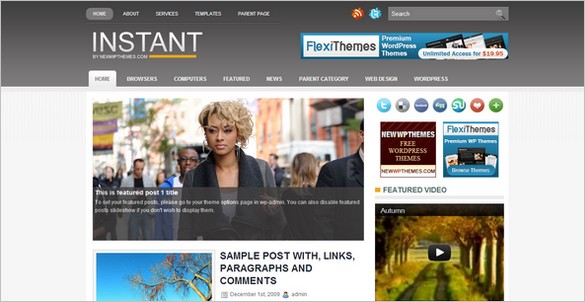 Instant is a free WordPress theme which comes with a free lifetime upgrade. This theme can support any niche and the sidebars of this theme are widget ready allowing your to attach any widget to them. Another important feature of this theme is that is its advertisement management capability. You can easily manage advertisements posted on your website and the revenues generated by them through this theme. Unlike some other WordPress themes which are not updated regularly, this theme is updated regularly and supports all the latest versions of WordPress.
Permanent
Permanent is a free WordPress theme with featured content. Permanent theme is SEO optimized and is compatible with all major browsers like Internet Explorer, Firefox, and Safari. The theme also has support for posting thumbnails easily. 125*125 banners and 468*60 Header Banners are readily available to be edited from admin options.
Iso Therm News Magazine WordPress Theme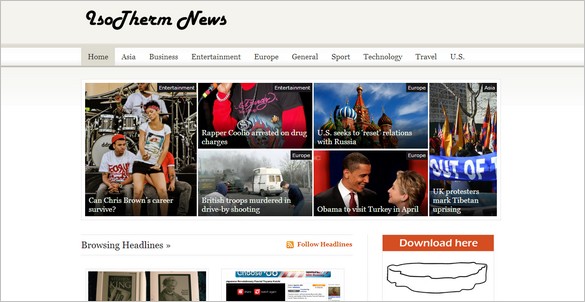 Iso Therm is a magazine styled theme which is fit for professional use. This theme offers everything you need to start publishing your own online journal. Iso Therm has support for video widget so that you can post videos on your blog easily. Iso Therm theme also supports RSS feeds for all blog areas. Other key features of this theme are: features posts box, footer widget spot, and popular posts widget.
Kazza WordPress Theme
Kazza is a premium but yet free theme for WordPress. It has an elegant design which is good for any niche website. This theme comes with 5 color styles, theme options page, and featured posts option. Kazza WordPress can be easily customized depending upon your needs. This theme is ready for Google Adsense and Google Analytics ready making it ideal to manage the advertisements on your site.
Magazeen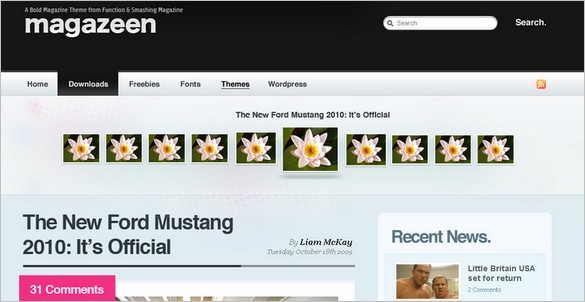 Magazeen is a free and advanced WordPress theme with a magazine look created by the WeFunction Design Agency. This is a 2-col-theme which was developed with the main focus on typography, grids, and magazine-look. Magazeen has big title fonts and a very stylish color scheme. One of the most innovative features of this WordPress theme is the posts drop down effect. Using this feature you can click on the category of full posts and a drop down menu will appear with some related posts from the same category. The side bar area of this theme gives you a good control over the featured posts and recent posts of your website.
With the decline of paper Newspapers and Magazines, everyone has a chance to start a news website. Pick one or many of the above WordPress themes for Newspapers and Magazines to start your online news website in a jiffy.
About the Author:
Brianne is a blogger by profession. She believes in the power of SEO over Social Media, and consults people with SEO services. These days she can be found preparing for New York Marathon.
Latest posts by Guest Author
(see all)