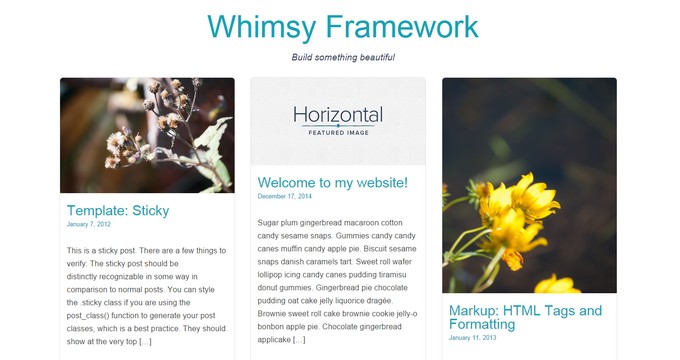 It's always great fun to discover and try new WordPress themes and today I test a free theme with the name Whimsy Framework. This is a theme with a lot of great baked-in extras so you can easily create a really nice and attractive online presence without any problems.
Whimsy Framework is created by Natasha K. Cross over their website the Fanciful, but is available for download at WordPress right here. When I saw the theme, I thought this is a theme I have to test asap. It looked really amazing.
It is created with a clean look and feel. The design is responsive and built on a fluid grid and uses media queries. This is a theme that will look great on all devices. No matter if your visitors using a mobile phone, tablets or computer.
The theme is easy to setup and work with. Using the Customizer you can edit and customize the theme with features such as  site title and tagline, choose sidebar to the left, right or full width. Colors, background images, navigation, widgets and static front page. Create a beautiful website and colorize it with your favorite colors.
I really like this theme for its minimalist layout, plus it's very easy to customize and the result is really great. Check out how my test site became.
Whimsy Framework has been tested with popular plugins like WooCommerce, Gravity Forms and Jetpack. And it work perfectly with their own plugin Whimsy+Shortcodes. Which is a lightweight plugin that includes pretty buttons, info boxes, an accordion, dividers, and more.
Page templates included are:
The Whimsy Framework is a parent theme and child themes coming soon. Whimsy features plenty of baked-in extras and is easy to customize via the WordPress customizer. More awesome and useful features included in the theme are:
Responsive and adaptable design
Customization control
Page templates
HTML5 & CSS3
Several page layout options
Widgets and widget areas
Need some help with Whimsy Framework? No worries. There is an informative and well written documentation if you run into any problems. It covers how to : Installing the Whimsy Framework, using the customizer, background image, navigation, widgets & widget areas, aligning elements and more.
Latest posts by Artem Pavlov
(see all)