Finding out what your readers want to see is imperative to the success of your website, but not only that – it is also a wonderful way of connecting with your audience in an interactive way. By adding surveys you are able to ask specific questions, guide your audience and ultimately, improve your credibility. Gaining people's insights should not be underestimated, as it is a very important part of your online presence, so here are the details of our top WP survey plugin to get you started!
Which Plugin?
There are any number of plugins out there that might be perfectly suited to your WordPress site needs, but when it comes to choosing just one, who's the daddy? Well, we think that there is always only ever one daddy that can do the job right and that would lead us to pick Polldaddy Polls and Ratings.
Why we think this one is King
Choosing a King does not always come down to, 'well he can do this' or 'he can do that', it also comes down to personality: How well are you going to get along, how easy is it going to be to work through a tricky situation and how much give is there going to be and of course, is he easy on the eye?
Well, we think that Polldaddy Polls and Ratings has everything you could need to immediately start running successful surveys from your WordPress website that are intricate, relevant and attractive to look at. So it's not just the great functionality that leads us to choose it as King, but also that it's very easy to use and incorporate into your website.
What can Polldaddy Polls and Ratings do for you?
OK, so you have to sign up to Polldaddy for an account, but the fact that they are the same company as the one behind WordPress.com, and that you are able to create and manage the surveys direct from your WordPress dashboard, certainly makes this a safe and user-friendly option for your site.
One of the great things about Polldaddy is that there are 20 different styles to choose from, not just relating to the design of your surveys either, but also for how you can view your results as they arrive. The attractiveness of how information is laid out should not be underestimated; for yourself but also for your readership who will feel more ready to engage with an appealing design.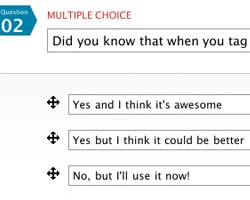 Of course, surveys need to react sufficiently to your requirements and with Polldaddy you can customize everything from close date as well as what kind of questions: multiple choice, free text etc. not to mention that the amount of polls you create and number of votes you collect, are unlimited.
Another great thing that we love about Polldaddy is that it's perfect for street or trade show surveys. Conduct your survey using your iPhone or iPad, or ask potential clients to do so on your stand and the data will automatically upload to your Polldaddy.com account!
Embedding and sharing survey results is another selling point and with easy ways to share on Twitter, Facebook and of course, WordPress  this is a great and simple way to spread the word about your reports.
Similar plugins and why you should avoid them
There are lots of survey plugins out there, but don't be fooled into thinking they are all as easy to use as they say. For instance, some think that WordPress Simple Survey has a name that belies its usability, requiring a fair bit of time to set it up successfully. And Sodahead Polls has some design usability issues making it potentially difficult for a non-designer to create something that will entice readers to partake.
However, of course, there are pros and cons to each plugin and you just have to work out what your needs are and which can best suit them, which is why we think that Polldaddy is a good all-rounder.
How to install Polldaddy
You will find it on your plugins page where you can upload it to your blog and activate it. You then need to go to the Polls page, enter your polldaddy.com email and password to sync your account and pull in any existing polls. Easy peasy!
About the author: This article was contributed by Martina Simon, of a wordpress enthusiast and keen blogger, sharing techie tips online.
Latest posts by Guest Author
(see all)