The availability of the most effective marketing options in the WooCommerce stores helps it easier to run successful affiliate programs for WooCommerce stores. WooCommerce is a very effective and strong platform for affiliate marketing and there are many affiliate plugins available to set up and run a fully compatible and customizable affiliate program. Specifically, an affiliate plugin helps to add referral tracking to your online store, membership site, or special lead forms.
There are many WooCommerce plugins available for merchants based on your business need and can choose the best WooCommerce affiliate plugin to expand your brand's reach and earn quickly through these affiliate sales. Affiliates for WooCommerce can manage affiliates and track their performance; get to know your sales, payouts, and leaderboards all in one place and this is the best way to increase your brands' outreach and gain more customers.
Further, affiliate marketing is the best process in which you can earn marketing commissions and you can sell any third-party products on your WooCommerce or eCommerce online stores.
This blog explains the best WooCommerce affiliate plugins for merchants and affiliates while also letting you know about the important features of these plugins along with what features you should choose while picking affiliate plugins.
6 Features to Look in for the Best WooCommerce Affiliate Plugins
Look for such plugins without much coding involvement to ensure easy usage
The plugin should easily integrate into your WooCommerceproducts
Should support easy management and automation
Should have some great tools to push your business to a higher level
Should be easy to integrate with eCommerce sites and have an intuitive user interface
Should be easily customizable and integrate seamlessly with payment gateways
Top 5 WooCommerce Affiliate Plugins
It is one of the effective WooCommerce affiliate plugins that can be used to create, manage, move, and scale your affiliate program. This plugin helps to drive traffic and increase your sales and this plugin seamlessly integrates with your online stores. Small businesses with flexible budgets can choose from available plugins and choose options with a reachable customer support team.
Features
This is an effective affiliate tracking software for eCommerce and SaaS businesses that integrates seamlessly with the merchant's site in a few minutes.
Incredibly easy to grow your social reach across the web with engaging content.
You can design shareable and convincing social media posts.
You can give personal affiliate links and share coupon codes.
Expand your brand on your affiliate links and also referral links.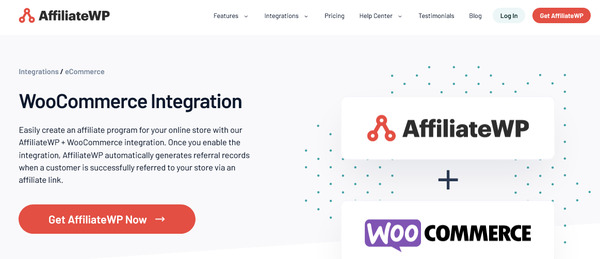 This is a powerful and the best self-hosted WordPress affiliate plugin available. It can be easily set up and quickly launch your affiliate program with just a one-click integration for WooCommerce and nearly 28+ eCommerce and other plugins.
Features:
It has a custom affiliate dashboard that shows all important information to your affiliates in a well-driven manner.
It has readily tracked referral links, affiliate coupon codes, and custom landing pages to build up your cross-domain promotions in an altogether new manner.
It shows detailed affiliate reports to know what is working for you and what is not working to help you grow your sales.
You can quickly set up commission structures that typically work for your business.
The plugin is fully customizable with unlimited creative.
You can leverage different growth tools such as email marketing, affiliate leader-board for contests, and more.
Smart fraud detection technology helps to detect and prevent affiliate fraud.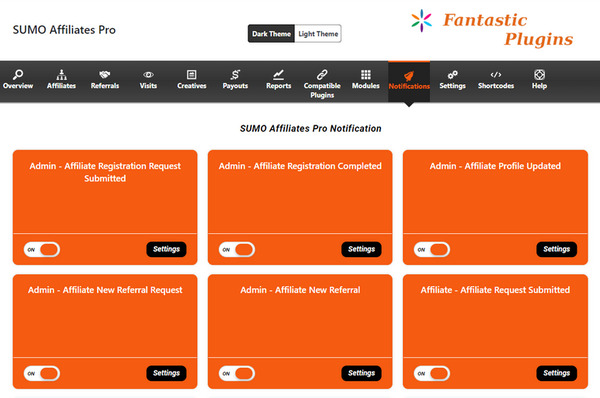 This is a comprehensive WordPress affiliate plugin that helps to run easily affiliate programs for affiliate signup, form submission, product purchases, etc. It has more than 50 modules and many compatible plugins.
Features:
It has advanced account management to manage the affiliate account on your site.
Facility to charge your affiliates a one-time fee or a recurring fee.
Your affiliates can earn a commission if they get referrals from WooCommerce account signup or WooCommerce product purchase
You can impose signup restrictions on your users
Quick and easy notifications through email and SMS.
You can assign a sign-up bonus commission for becoming an affiliate on your site.
Affiliate slug customization and has a facility for pretty affiliate links.
Affiliate links can be generated by QR codes.
You can directly promote on all social channels.
You can create multiple and additional dashboard tabs for displaying the shortcodes.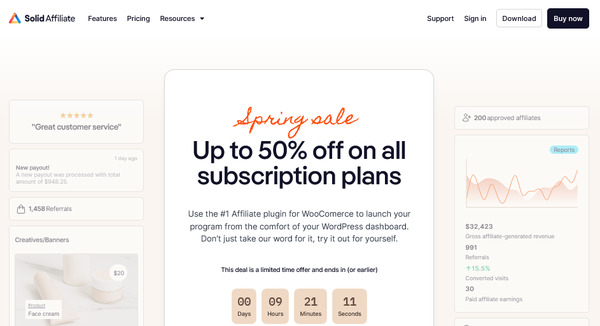 This is the most commonly used WordPress plugin with which you can build, manage, and grow your affiliate program, and is best suited for WooCommerce businesses.
Features:
It integrates seamlessly with WooCommerce and WooCommerce subscriptions.
No separate installation is required and everything is included in the plugin as there is a built-in page to handle the add-ons.
It supports only one currency and does not support multi-currency WooCommerce stores.
It adds an affiliate registration page to your site and simply converts all your existing customers into affiliates.
It is fully translatable and supports a few languages but the entire plugin can be easily translated using common tools such as Poedit or Loco Translate.
It can be tried with a 7-day free trial option with no email or credit card requirement.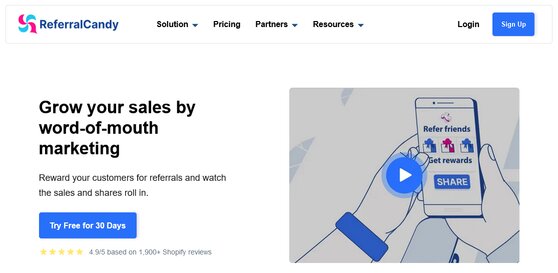 This plugin is commonly named as one solution to cover all your referral marketing needs. It instantly gets connected with your Shopify or BigCommerce stores and you can easily get started.
Features:
This plugin supports advanced options such as JS integration and API integration to gain more flexibility.
It can be easily connected to third-party apps such as ReCharge, PayWhirl, and Bold.
It helps to boost your email performance with a referral addon to your newsletters.
It sends the best analytics insights.
You can quickly detect and automatically invite your customers at chosen times such as at checkout.
You can easily detect successful referrals and distribute rewards to your customers.
Track new sales from referrals and also from your top leading traffic sources.
Conclusion
There are many WooCommerce affiliate plugins that can be leveraged by merchants to create, commission, and track affiliate links. Typically, most of the WooCommerece affiliate plugins offer a range of features with multiple options and merchants can opt for the best ones based on their business needs and can improve your sales with more customers.
Latest posts by Artem Pavlov
(see all)