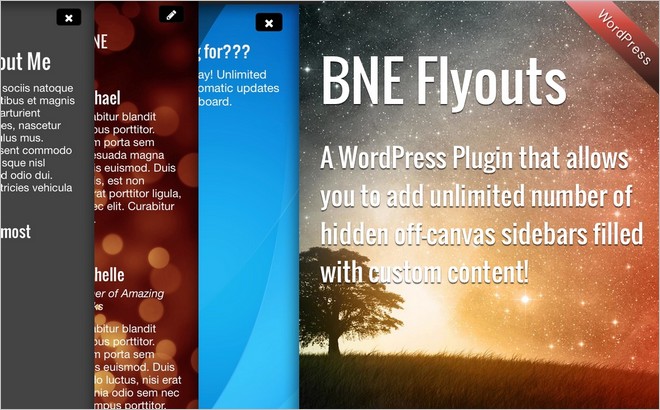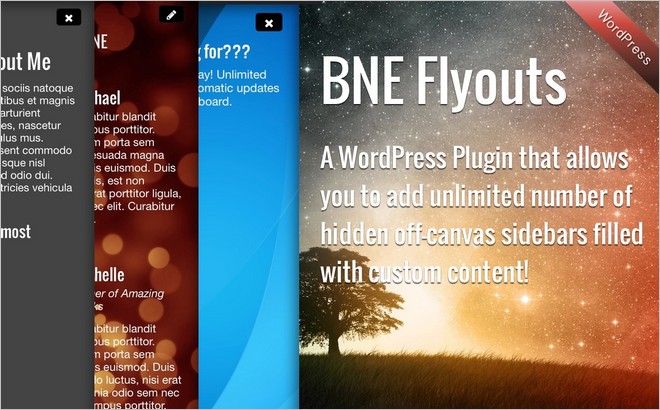 If you don't want to show everything on your WordPress website, and instead hide it until the visitors themselves triggers a side button, image or a link from your page content. Then BNE Flyouts is a WordPress plugin for you.
With BNE Flyouts you can create unlimited number of beautiful and creative flyouts in style. It is easy to manage and you can use this plug-in so many ways such as for contact forms, social links, testimonials, images plus much more. There are no limits to what you can do.
BNE Flyouts includes a lot of great features and options. You can use it to display banners, offer a subscription of some kind or other similar services. This is a cool and affordable plugin (just $15) to add off-canvas hidden sidebars with your own custom content. Check out the demo and you will understand what I talking about.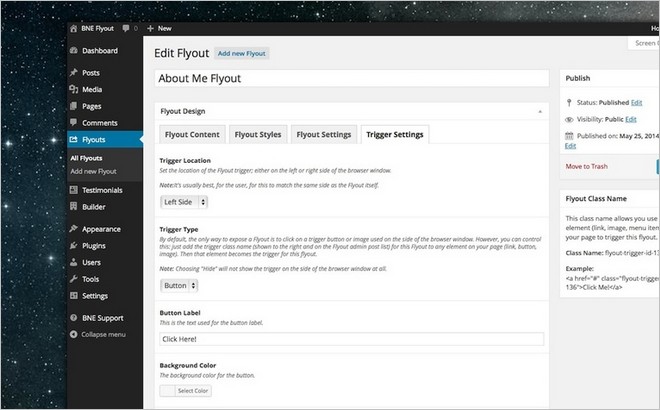 With BNE Flyouts, you can create as many flyouts you want with different content. Pretty great, right! You can style and customize each flyout individually with different backgrounds, text, color, etc. You can choose to trigger a flyout from any page with a link, image, button, or menu item and it can either push the page content or slide on top. More features and options included in the awesome WordPress plugin BNE Flyouts are;
Unlimited number of flyouts
Each flyout background and font color can be styled individually
Add any type of content, HTML, text, images, and most shortcodes
Hide flyout trigger buttons/images based on screen size
Trigger a flyout from any page link, image, button, or menu item
Default Triggers are either Buttons or Images and float on the left / right edge of the browser window
Automatic Updates from the WordPress Dashboard
Latest posts by Artem Pavlov
(see all)