One thing that we often do not think about is the menus on a web page! They are just there. But how about if you can style and build beautiful, dynamic navigation on your WordPress website in a simple way!
It can give your site a boost and add an extra stylish functionality to any website.
There is a great tool named MenuMaker available for WordPress and Dreamweaver. With MenuMaker you can easily create beautiful responsive drop down, flyout, and accordion menus plus much more.
MenuMaker is available in two versions. First we have the free MenuMaker Lite and then the premium MenuMaker Pro. MenuMaker Lite includes basic but great functions. The lite version can be used to create professional and attractive menus but with limited features. It is great to start with, and maybe you don't need more features than this.
If there is a need for more flexibility, power and features! Then why not choose the premium version. Which is really not that expensive. I think the pro version is very affordable. The price tag is only $14. Let's check out what's included in premium version.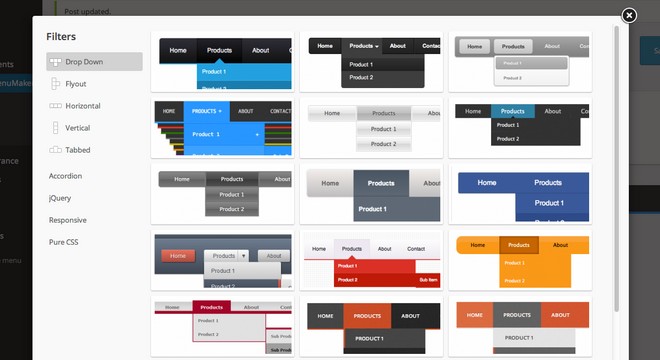 MenuMaker premium includes over 100 professional designed menu themes ready to customize.
Design a responsive, dynamic navigation with themes such as dropdown, flyout, horizontal, vertical, jQuery, tabbed, Pure CSS plus much more.
Key feature in MenuMaker Pro are:
Integrates with your existing WordPress menu system
Support for horizontal and vertical menus
Fully responsive menu themes
Every menu theme is customizable
Support for up to 3 levels of submenus
Use pure CSS or jQuery enhancements
Menus integrate with WordPress widget system
WordPress shortcodes supported
Both MenuMaker Lite and MenuMaker Pro is fully responsive. They have been tested on iPhone, iPad, iPod, and Android devices. Your menus will adapt to any screen size and look just beautiful on any devices.
Latest posts by Artem Pavlov
(see all)