Reading articles online is engrossing and quite addictive as well. You keep clicking on links starting with the latest Premier League results and you find yourself reading about Malala Yousafzai an hour later. Have you ever wondered how you are caught in this web of article hopping? Often you click links in the content of the article, but sometimes, when you are in the mood to read a lot on what you came for, you tend to look for related posts and read in-depth about the same. If your favourite Premier League club has won against their rivals, wouldn't you be tempted to read the excerpts of interviews with your favourite players after that match? Of course, yes! Enter Related Posts Plugins.
Your site may have heaps of articles getting published through time but what happens to the old posts after some time? They get buried under the new posts and stay there until someone searches for that specific keyword. Won't it be better to display your earlier posts to your readers? Related posts plugins gather meta tags and display similar posts at the end to lure the reader into reading another of your posts, thereby increasing traffic and viewership as well.
Quite impressed with the way these plugins work, we tried out some of the best in the market and pitted them against each other.
Yet Another Related Posts Plugin
This plugin with a whacky name is certainly among the best in the business. It is sleek, easy-to-use and remarkably efficient. What I really liked about YARPP is its accuracy and sensible algorithm. It only links to "related" posts, unlike Related Posts – which is discussed below in this article – which gave 'X' posts in the Related Posts section just because I had given the "Number of Related Posts to be displayed" as 'X' which is nonsense.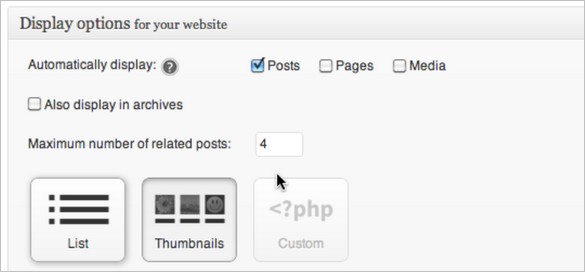 YARPP profusely gushes out awesomeness with the little features it adds to the posts. You can choose to throw the visitors who are reading the post on their RSS reader a sample of the related posts, thereby ensuring they don't miss out on older posts either. Other modifications like the text to be displayed to the reader are customizable indeed. Thumbnail management is brilliant with custom thumbnail image if your post does not have any image embedded.
Rating: 7.5/10
WordPress Related Posts by Zemanta
Although this plugin is feature-packed and marvelously designed, it just fails to impress us with its efficiency on 'Low' relevance mode. Related Posts from Zemanta offers you a plethora of options to customize and even has 7 pre-installed themes and 3 Mobile Themes to display related posts. The featured image option allows you to have a featured image for your thumbnails and default images in case your post does not have any image. This plugin also digs stats and presents it to you on the plugin dashboard enabling you to analyze the effectiveness of the plugin on your site.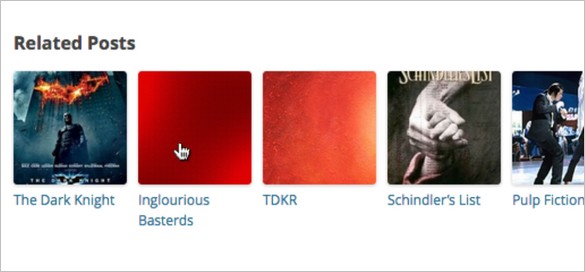 The most striking feature of this plugin is — you decide the number of characters you want to display from the post to the reader. If at all the reader is drawn to the article by the excerpt, you have got yourself another hit. But as we mentioned earlier, the plugin's inefficiencies are plenty. If you wanted 5 related posts to be displayed, 5 posts are displayed, no matter what they are about – even under 'Medium' relevance. A post on tennis will somehow be related to Quentin Tarantino – according to this plugin! It is not as accurate as YARPP, but the features like statistics offered save this plugin the blushes.
Rating : 7/10
WP Thumbie
A plugin that claims to analyze content in your site and give out related posts at the end of a post as thumbnails – failing quite miserably. We faced many problems configuring the thumbnails and getting the thumbnails at the end of the posts was an uphill task. Nevertheless, when up and running, WP Thumbie is a good choice, but if fuss-free plugin is what you are looking for, this is definitely not the one we'd recommend. Like other thumbnail plugins, WP Thumbie too has pretty features, but just doesn't appeal to this user, due to so many technical glitches and vapid results.
Rating : 5/10
nRelate Related Posts Plugin
If at all I should be giving out a Best Plugin Award, it should go to nRelate. With almost 200,000 downloads nRelate is definitely one of the most popular plugins that offers top-notch service. Just like every other Related Posts plugin, nRelate has thumbnail display too. But, what separates is the flexibility it has to offer. You can choose to insert the plugin as a shortcode or as a widget in the widget area, or even insert as a function in your theme's code.
And, the relevance is highly accurate too. The plugin plunges deep into the site and scrapes out every bit of content to give you excellent results in the related posts field. Hassle-free and seamless. Styling the results is quite an effortless job too, rather self-explanatory interface providing the user a brilliant experience and if at all you have doubts, ping them and their response are quite impressive.
Rating : 9/10
nRelate Related Posts Flyout
If you feel linking the reader to older posts at the end of the article is just too mainstream, check this beauty out. This plugin customizes a box that is more or less like a pop-up window alerting the reader about a related post on your site. You can customize the animation entry & exit of the Flyout. The time has come to ape the news sites like the Guardian and the NYTimes and bring in Flyouts that let the reader know about related posts and also the latest posts that you don't want the reader to miss.
Just like nRelate's thumbnail plugin, this plugin has thumbnail customization on the flyout and lets you toggle the number of posts to be displayed to the reader. If you want some splendid stuff on your site, install this plugin right away and ensure your reader stays put on your site. Just like nRelate its accuracy isn't as good as we'd like it to be, but on 'High', it does a fantastic job. Go grab this and catch your readers in the wide web of posts.
Rating : 9/10
Related Posts plugins may not make sense to a user who has very few posts, but for users who have a wide range of posts these plugins are next to best friends when it comes to enrapturing the reader.
G Veda Vyass is with blogVault, a Premium WordPress Backup Service.
Latest posts by Guest Author
(see all)