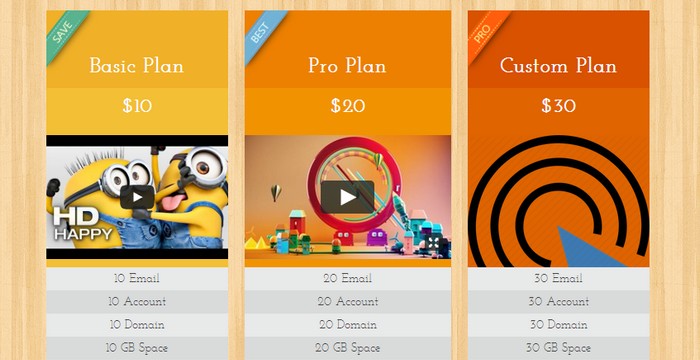 If you run an online shop or have any kind of business online, you need to show your price plans so your customers can see your plans in a structured and organized manner. Then price tables can be a very helpful and useful feature.
There are a few different ways to create price tables, but the most common way when you use WordPress is of course plugins. We have written about free pricing tables plugin before, and there are plenty to choose from in the WordPress plugin directory. Today I try a new free plugin called Price Table. I wanted to try to see if it was difficult or easy to create a stylish and attractive price table.
First time for me, and it took me about 15 minutes, but I created images as well. I was pleased with the result and I must say it was easy and fairly straightforward to use the plugin.
So let's get started!
Installation of Price Table
In your WordPress admin dashboard – Go your plugin page, add new, search for Price Table, install and activate the plugin.
You find the Price Table menu at left side in your WordPress dashboard – Click "New Price Table"
Now we're talking!
Let's be creative and create an attractive price table. When you have chosen to create a new price table, type in a name, save your price table and we are ready to start. A small tip is that you first copy the generated shortcode, creates a page or post and insert the code. By making this you can switch and preview your price table while you are editing it. You have a good overview in the admin page with many options and settings as you can see in the picture below.
From here you can add your table data, add column and rows. You can also drag and drop row and columns. Under the More tab, you can specify custom width, add ribbons, add video or images.
Under the Even More tab, you can select background image and different fonts. In the Themes tab are some predefined color packs for the styling of you price table.
When you're done with your settings, copy the shortcode (if you not already done so) and insert it into a page or post. Or if you prefer to insert the generated PHP code in your themes files of choice. My own web hosting price table turned out like this. And I think it looks great, right?
Price Table Plugin features
Use Via Short-codes
Unlimited row columns
Drag & drop row, columns
Add new row, column
Any Google fonts
Column custom width
19 ready column ribbons
Column video or images(Youtube & vimeo)
Background image for table area
Different themes
12 ready background color pack
7 ready text color pack
Custom price duration text
Conclusion
The Price Table plugin is free, functional and works well for creating stylish and attractive price tables without any difficulties. But I think it lack some features to customize tables a bit more. But there is a premium version with an affordable price that comes with several more features and settings. Overall I think this is a easy-to-use plugin that is worth trying if you want to use price tables on your WordPress website. Are you using price tables on your website?
Latest posts by Artem Pavlov
(see all)