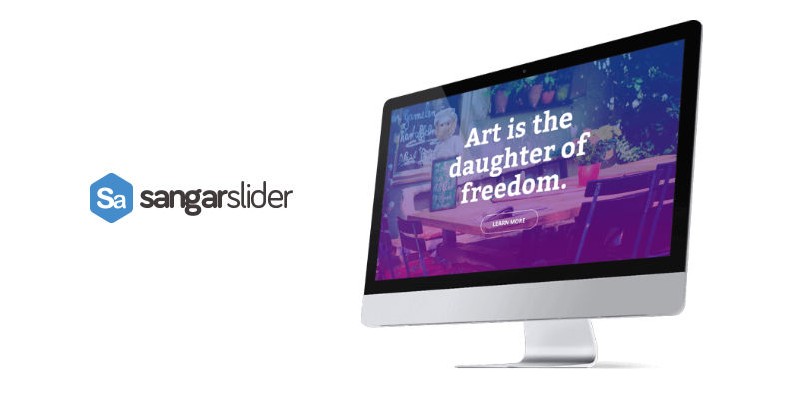 If you are looking for a convenient way to display lots of images, eye-catching content, or even video presentations on your WordPress website, then you may be in need of a slider. Sliders are great for displaying your website's latest content front and center so when people visit it's the first thing they see. You can highlight cool pictures and videos, your best content, special promotions or sales, and trending news alerts. The choices are endless.
Ultimately, there really is no better way to quickly grab a visitor's attention than through the use of a high quality, multi-featured slider.
And I just happen to know of a really awesome one that goes by the name of Sangar Slider.
Brought to you by TonJoo Studio, Sangar Slider is a WordPress slider plugin that utilizes the most current modern technologies for crystal-clear imagery and a smooth user experience. The compelling images you can feature on your website are created effortlessly using Sangar Slider and have the ability to draw new users to your website every day.
Let's take a look at what Sangar Slider has to offer in both its free and premium versions.
Sangar Slider: Something for Everyone
Touted as fast and beautiful on the eyes, Sangar Slider offers tons of great features in both the free and premium plugin versions.
Sangar Slider Free WordPress Plugin

Available in the WordPress Repository or through the official website, Sangar Slider Free offers users smooth animation with ease of use. With total control over all effects the slider will present your visitors, you can create fast animations and customize every aspect without knowing any code. All it takes is a few clicks here and there with its innovative drag-and-drop customizer and you will have a beautiful slider in no time.
Here are some additional features this free version plugin has to offer:
Supports a wide range of content types for versatile looks including HTML, text, images, solid colors, and even video (for example YouTube/Vimeo/HTML5, and is as easy as copy-and-pasting links).
Ultra-responsive for those surfing the web on the go.
Touch and swipe gestures that are perfect for small mobile devices.
Live preview of all changes as you go.
Tons of predefined sliders ready for you to customize.
Sangar Slider Pro WordPress Plugin
If you are looking for a little more than what Sangar Slider Free has to offer, rest assured this premium plugin version has you covered: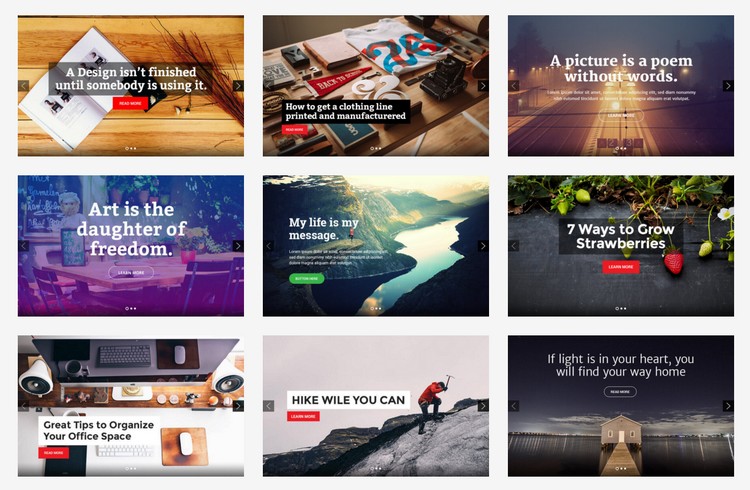 10 templates, 20 presets, and 90 themes available.
Layered slide options.
Layered and popup editing for video content for enhanced customization.
Smooth parallax effect making your slider stand out.
Mobile specific editing for your mobile site.
Built-in CSS editor gives you the ability to change a preset theme.
Extensive documentation, templating, and an API system for those developers looking to create something truly unique.
Professional support with preference in the queue for being a premium plugin holder.
Guarantee that Sangar Slider is perfect for you or your money back!
Sangar Slider Test Drive
With all of the great features this plugin has to offer, I thought why not put it to use and see how it works in real life.
At first glance the start of my test run with Sangar Slider seems easy enough. The title of my slide, the addition of a new slide, the slideshow options, and even the preset templates are simple to access.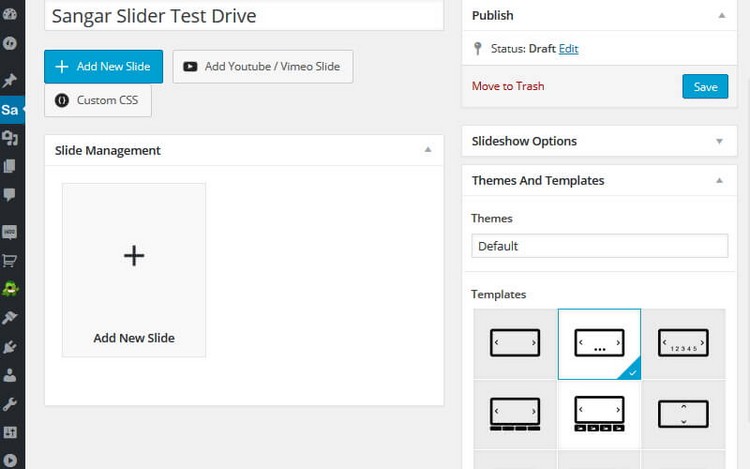 When I clicked on 'Add New Slide' another simple to understand popup appeared giving me preset options for my slider or the option to design my own from scratch. It also had a sidebar menu with other options such as:
Title – Here you name your slider whatever you please.
Desktop – This is where you can add many layers to your slide. This includes a variety of content such as text, raw HTML tags, images, and buttons.
Mobile – This is the same concept as the Desktop menu choice, only it will be for your mobile version of the slider.
Background – Choose an image, solid color, video, or HTML to start customizing your background. Add hyperlinks to images and choose whether to overlay your background image and video or not.
Animation – Tailor your slider to enable animation including animation direction, duration, and stagger times. There is even a cool preview button so you can check out your ideas before finalizing your slider.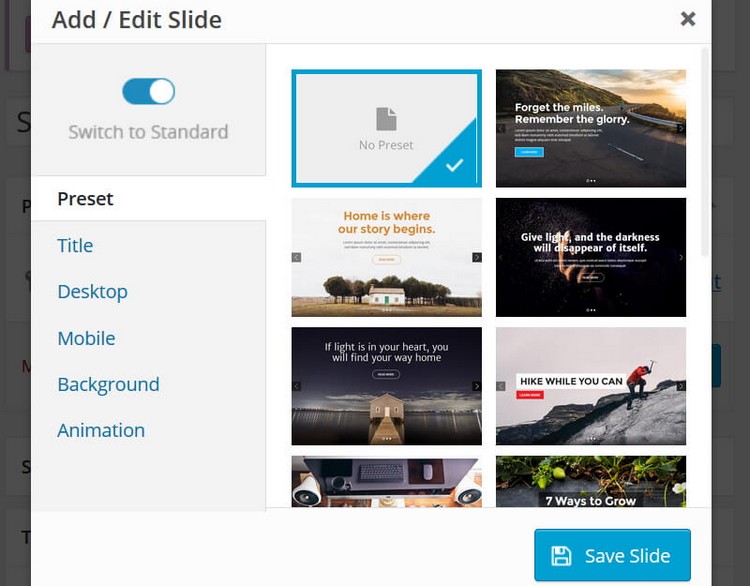 One of the nicest things I noticed while first exploring this plugin (before actually creating my own slider) is that there is a text box next to each menu item outlining what action takes place there and what your options are. What a great idea for those new to the plugin.
After choosing the preset template for my slider I proceeded to edit it. Each preset area is nicely outlined for you to follow and the editing is as simple as clicking the edit icon. In each preset section, you get to customize the slider to fit your website's needs: text content, alignment, size, color, shadow, spacing, font, borders, hyperlinks, and so much more.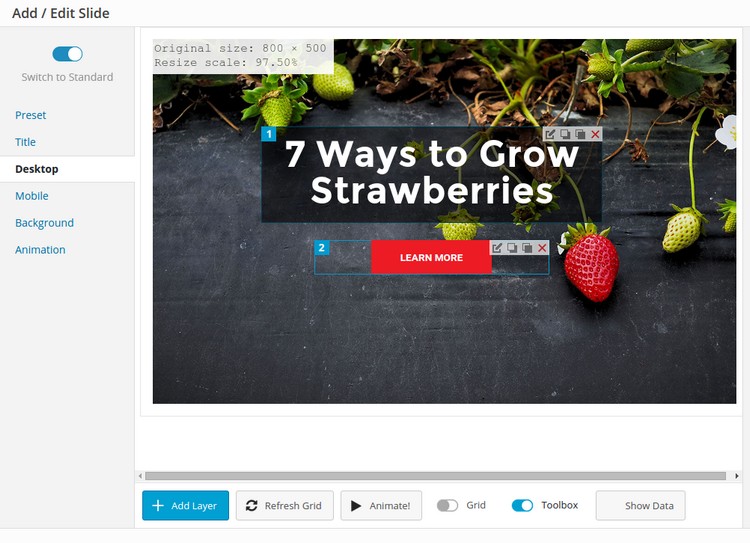 I also got to choose from a wide variety of button styles as my preset template had one available. Again you can choose text colors and fonts, whether to hyperlink and if it can be layered onto existing images or not.
Here is my final product. Now, I only created one slide here. Ideally you would create a succession of slides highlighting what you want your website visitors to notice right away.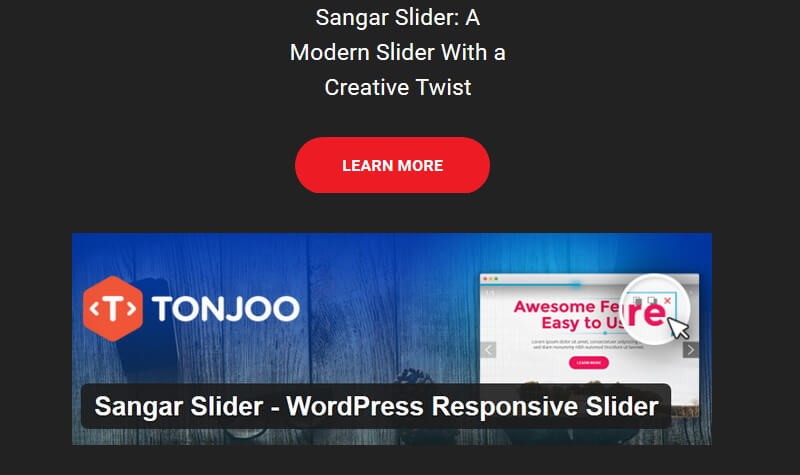 I kept it simple and not very advanced (hey, I have never made a slider before!) but for someone as amateur as myself, this slider was so easy to use. And the cool thing is what you can't see unless you visit the slider in real time. Everything is hyperlinked to reach Sangar Slider's homepage, the animation drops all elements of my slider down when activated, and I can only imagine what it would look like on my website if I created more slides to create a carousel of sorts for my website visitors. This plugin really is awesome and has endless creative possibilities.
Final Thoughts
Check out Sangar Slider's demo or even better download the free or premium version (only $14.95, $29.95, or $49.95 depending on your needs) now to get started on your website's slider today.
Have you tried TonJoo Studio's Sangar Slider yet? Maybe you created an awesome Sangar Slider on your website you would like to share with us? Let us know in the comments below, we would love to hear from you!
Latest posts by Lindsay Liedke
(see all)