There's no doubt that ecommerce is rapidly developing. The internet has facilitated its consistent growth by providing platforms for entrepreneurs to expand their growth. Currently, ecommerce is not exclusively limited to ecommerce sites. Like a bushfire, it has gradually developed and spread to other types of sites including social media and blogging platforms like WordPress. Now WordPress users can monetize their blogs thanks to plugins like Selz. The plugin allows you to only focus on developing your blog, but also monetize it by selling your products/services.
Selz was created by a team of tech savvy entrepreneurs who were keen on developing a tool to empower solopreneurs. For long, online solopreneurs relied only on marketplaces to expand their businesses. Such platforms may sound like a great option especially to people seeking to leverage an expansive traffic base of online shoppers. But they are similar to the physical shopping malls and markets around cities.
Of course there is a steady supply of shoppers but so is the supply of products/services. Since your competitors are also on the same platform, your prospective customers have a variety to choose from. You don't even have the chance to stand out among the rest. In the long run, you end up selling much less for a lower price than earlier anticipated. What makes it even worse is high cost of operating and account and selling through these marketplaces.
The only businesses that consistently flourished in ecommerce were large businesses that implemented complicated transaction systems in their websites. The Selz team perfectly understood the struggle solopreneurs went through as they tried to match up to this. They finally came up with a tool which is not only easy to use, but is also compatible with a wide range of platforms including blogs and social media sites.
How to Embed Selz Plugin to Your WordPress Blog
Installing this WordPress plugin does not require any technical programming expertise. The easiest method of embedding it to your site is installing it automatically. This can be done by simply clicking "Plugins" on your Dashboard, Choosing "Add New" and Searching for "Selz Ecommerce".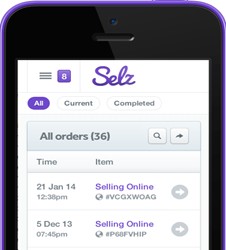 You could also install it manually from your computer. For this, you need to download a zip file of the plugin directly to your computer. Do not extract the contents of the file into another directory. Just access your WordPress Dashboard and Click "Plugins" then "Add New". Instead of searching the WordPress Database for the plugin, click "Upload", "Choose File" then select the Zip file from your computer directory.
Once you embed it, it starts functioning immediately. It's completely free to try out. The only time you are required to pay any fees is after successfully making a sale. You will only pay 5% of the transaction amount plus USD 25 Cents. If you made $100 for instance, you would take home $94.75 after paying $5.25 to Selz.
Features
Selz is not just a "Buy Now" or "Order Now" button. There several helpful features which come with the plugin:
If you're a serious solopreneur, then you obviously know that for your business to grow exponentially, you need to leverage all the platforms at your disposal. That's exactly what Selz tries to empower you with! Contrary to many other WordPress plugins, Selz can also be embedded in other websites and blogs. You'll therefore be able to expand your sales to other blogs and social media sites that your prospects frequent. The great thing about this is that it comes at no additional cost!
Selling Digital Downloads
Selz is not just about selling products. Although most people use it for products, the plugin is also comes with a feature allowing people to sell digital downloads like music, video files, documents, etc. So next time you write a comprehensive eBook you'd like to sell, consider using Selz. The fact that it further offers unlimited bandwidth and storage allows you to upload, store and sell as much digital downloads as like.
The most fundamental aspect of building a business is getting customers. However, the most critical aspect of sustaining one is retaining the customers. With Selz, you can retain and make money from your customers as many times you like thanks to the customer management tool. You'll be able to engage with them through an email lists feature which allows you to export to superior email management programs like MailChimp. Additionally, Selz allows its users to send direct messages to their respective customers.
Of course you'll be faced with several risks including fraudulent buyers seeking to make some quick cash from you. Fortunately, Selz effectively protects its users from this through security tools meant to detect and block any fraudulent activity within your blog. Your security is further boosted by the fact that Selz is PCI complaint and uses SSL encryption.
Search Engine Optimization
Selz is perfectly optimized for search engines. That means your products will be automatically optimized to rank well in search engines like Google, Yahoo and Bing. You therefore don't have to break a sweat by further optimizing your products.
Stock and Order management
Selz consistently monitors your catalogues, sales and stock. Anything you sell will be automatically deducted from your stock. This allows you to assess the stock and at any time to update it accordingly. You'll also be notified of pending orders as soon as they are made.
Business strategies are largely dependent of the measurements you make of key performance factors. Fortunately, with Selz, you don't have to spend a lot of time on third party analytical sites and business ledgers as you try to make sense of the numbers. Your performance is assessed automatically according to the traffic you attract, sales you make and customers you keep. You can therefore effectually analyze your growth, conversion rates, ROI and subsequently draw up critical strategies and decisions based on that.
Selz is therefore a very reliable sales plugin particularly for solopreneurs and small businesses. It is worth trying out regardless of how small your business is. In case of any problems, their customer care is very responsive and will quickly get back to you on any queries you may raise.
Author Byline: Written By Davis Porter. He's an extensively experienced writer who also doubles up as an online entrepreneur using WordPress to sell his products. For any writing jobs, he can be contacted through davisporter15@gmail.com
Latest posts by Artem Pavlov
(see all)