Working with WordPress can be pretty rewarding but it can also require a lot of tweaking to make a theme look just like how you imagined. Even if you know a lot about coding WordPress websites, it can be tedious. Are you looking for an all-in-one plugin to take your WordPress theme to new heights? Then you're probably looking for WooDojo.
WooDojo is a plugin offered by Woothemes, the popular premium WordPress theme development company. Fortunately, the plugin works with any theme, not just the ones bought from its developer. Essentially, it brings the advanced functionality of WooThemes to any theme you might have installed. That's great because while WooThemes has a wide variety of themes, it may not always have the one you want. Their themes aren't necessarily cheap, either. But WooDojo is free.
What It Does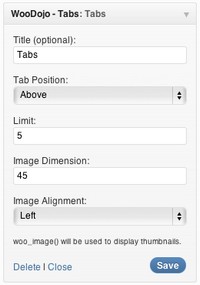 It might be easier to ask what WooDojo doesn't do. It's a plugin that offers several different functions. One of my favorites is the custom CSS feature that lets you change some of the coding in your theme and save it. Even if you change themes, the CSS changes you made stay put. That really helps if you're using a theme from a site like Elegant Themes and have to delete and reinstall the theme every time there's an update.
WooDojo also has a Maintenance Mode feature and the popular Launchpad theme. You can add social widgets, tabs, and shortcodes with some of the other features. One of the features even let's you see the preview of the widgets you change, which is something WordPress users have been demanding for years.
How to Get It
Ready to try it? Go to WooDojo and click "Download WooDojo for free." You will need to sign into the WooThemes site to do so but registration is free. Once you've downloaded the plugin, sign into your WordPress site. Click the Plugins section and select "Add New." Then select the WooDojo file from the folder you downloaded it into. Click "Install."
Remember that WooDojo is a multi-use plugin. Each separate feature isn't available until you activate it. Click the icon on the top left to open the WooDojo dashboard and choose which features you want to be active. Keep in mind that not all of the features are included in the original download. You won't notice any difference except that the button you click will say "download and activate" instead of "activate" You can also disable any particular feature at any time by coming back to the dashboard.
WooDojo is a great plugin that just about any WordPress can make use of. As WooThemes updates the plugin with new features, be sure to take advantage of the ways it can make designing your website a more pleasant experience.
Bio: Eric Thomas is author and Brand Manager for BrandMe Promotional Items. He enjoys writing about business and marketing tips.
Latest posts by Guest Author
(see all)