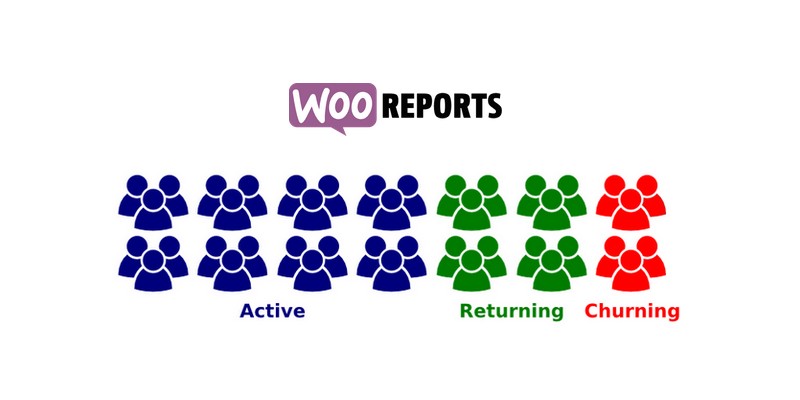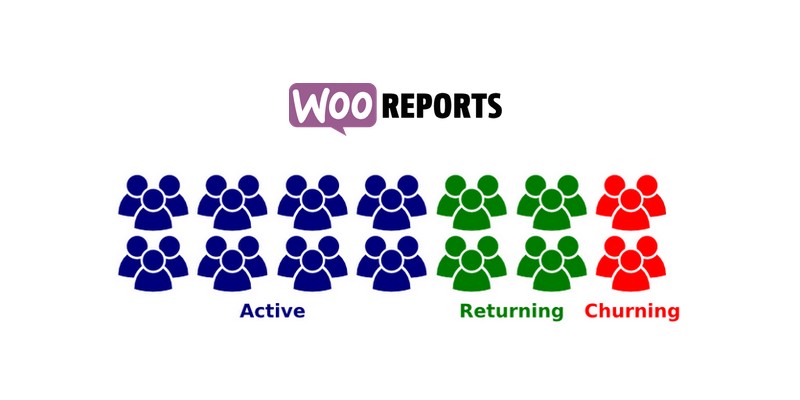 Understanding your customers on a deeper level is the key to building a successful online business. In fact, although online businesses are at an all-time high across the globe, and create an entirely different environment for purchasing products, it is still safe to say that the basic rules of business still exist. Acquiring customers comes from offering great products or services and retaining them comes from customer satisfaction.
E-commerce stores have forever changed the way we do business on the internet and the ways in which we communicate with our customers. And while it is important to know your customers, it is far more important to understand them. In fact, being able to decipher between those two concepts may be the difference between your business being a true success or not.
Do not misunderstand me.  Knowing your customer demographically does not come without its benefits. You will gain insight into their behavior outside of your business "walls" such as their likes and dislikes, social networking activities, their communities, what they like to do for fun, where they live, etc.
It is with this information that you are able to tailor your business products or services to a targeted group of people. It also aids in the type of marketing efforts you may implement in order to attract and acquire new people that fit those specific customer types.
But why stop there?
In order to become a true success, you must be able to recognize not only new customer behavior but the behavior of those that you already call your own. You must anticipate their needs and exceed their expectations. This is how customer retention is born.
Lucian Capdefier who have developed the WordPress plugin WooReports says:
Look at your existing customers, know them, understand them, retain them, keep them close and active and don't let them churn.
Analyzing who your top customers are, which ones have left and why, and who is returning and what they are purchasing will help you to develop a solid business plan to acquire and keep more satisfied customers. And what better way to do this than to integrate it with your already favorite e-commerce solution WooCommerce.
WooReports
WooReports is a powerful and analytic extension WordPress plugin that will let you view your customers in a way like never before. It complements existing reporting abilities by tracking information about customers, both new and returning, product domains, sales transactions, and overall e-commerce store performance.

With the ability to analyze lists of new, active, returning, churning, and inactive customers (otherwise known as ARC) by comparing number of orders and sales spent during specific time intervals, you will soon realize what appeals to your customers and what it is they are not interested in.
This exciting extension boasts many benefits for both you and your e-commerce store:
Increased sales by monitoring customer needs.
Improved communication through tailored messages based on their previous behavior.
Easy to use analytical function to gain time and reduce marketing efforts.
Customer segmentation based on their activity.
High data accuracy so you can rest assured all information is current.
Simplicity, flexibility, and effectiveness.
Low cost for a high value paired with premium support.
With three available reports analyzing different customer behavior, WooReports is easily applied not only to recurring services such as subscription based websites but also e-commerce stores as well. Digitalizing your customers' activities in a structured format is just the thing needed to retain your customers.
The Reports
Before diving into the analysis of your customers you first must install the WooReports plugin onto your WooCommerce based e-store.
ARC Customers List
The first WooReport you must fully understand, as it is the foundation for the other two WooReports, is the ARC Customers List. This report delivers information to you regarding customers that are new, active, returning, churning, or inactive when compared to a threshold value you designate for your business' analysis. The two threshold values you have to choose from consist of Number of Orders and Amount Spent.
This report also allows for you to set time intervals.  You might analyze daily, weekly, monthly, quarterly, or even yearly intervals. You can even create an analysis to compare the current time with previous time intervals of the same value (i.e. this month's number of orders/amount spent with the last three months' number of orders/amount spent).
Let's take a closer look:
New – the customer has met or exceeded your designated threshold value in the current time interval but not in previous time intervals.
Active – the customer has met or exceeded your designated threshold value in both the current and previous time intervals.
Returning – the customer has met or exceeded your designated threshold value in the current time interval but not in previous time intervals.
Churning – the customer has not met or exceeded your designated threshold value in the current time interval but has in the previous time interval.
Inactive – the customer has not met or exceeded your designated threshold value in any time interval (current, previously considered, or previously displayed).
Configuring the settings for your analyzes in accordance to your business goals can be tricky at first if you are not familiar with how WooCommerce works. However, when I figured out where the settings were located, it made more sense to me:
WooCommerce > Settings > Integration Tab > WooReports Section.
There are plenty of settings for you to tinker with such as your interval type, interval considerations when compared to your designated threshold value, your threshold values (either number of orders, amount spent, or both), and color customizations for when your report is displaying separate interval values.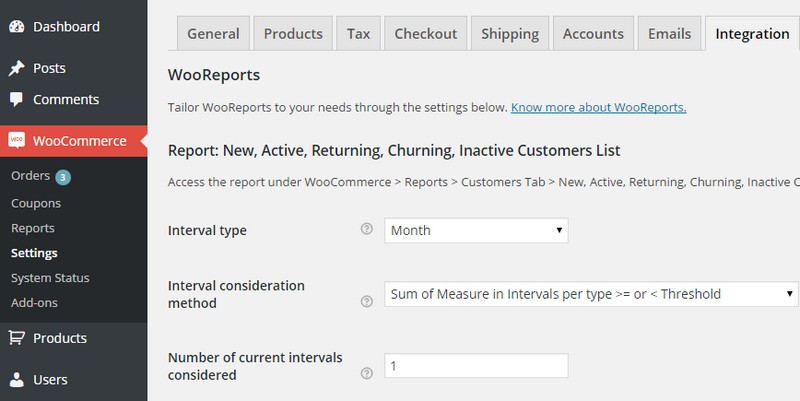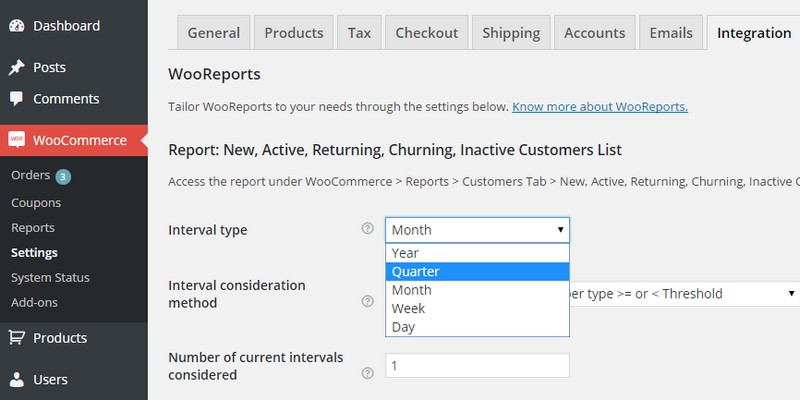 After setting the details you would like to analyze, this information will display in your ARC Customers List report in a simple to read list manner. It will include your customer's ARC indicator (i.e whether they are active, returning, churning, etc.), the time intervals you designated, and the threshold values for each customer that determine what their ARC indicator will be. Each time interval is color coded for simple interpretation making your analysis super easy.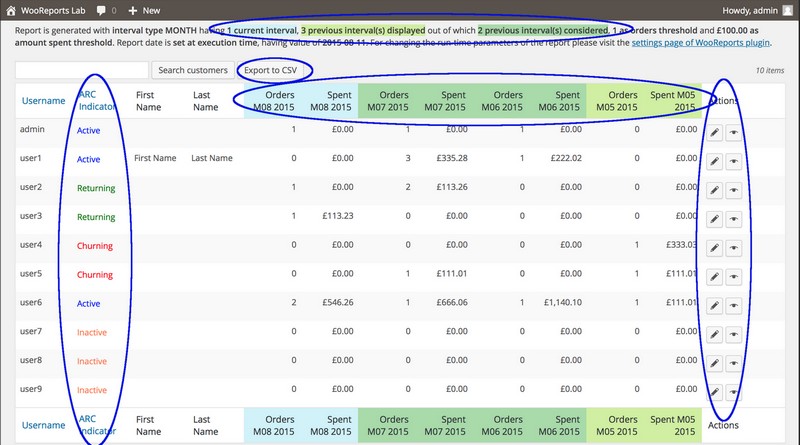 Some additional features of this report include:
Selections of numbers of customers to analyze per page.
Customer search box applied to user ID, login name, email, first and last names.
Pagination.
Ability to export data to CSV, a popular and organized way of exchanging data (in e-commerce stores this is used primarily for importing and exporting product, customer, and order information to and from your store).
ARC Analytical
There are two parameters that need to be set up when using the ARC Analytical report for your business' analysis.
Number of cycles – this will determine how many intervals the ARC Analytical report will run in the past (for instance if you chose the number of cycles to be 2, you report will run at the Report Run Date, which is the day you are running your analysis report, and the 2 previous time intervals).

Last Day of Week – this is used only when the interval type is set to Week, as part of the configurations you set for the ARC Customers List
When you run your report you will get percentage information about your customers in color coded, easy to decipher tables and graphs.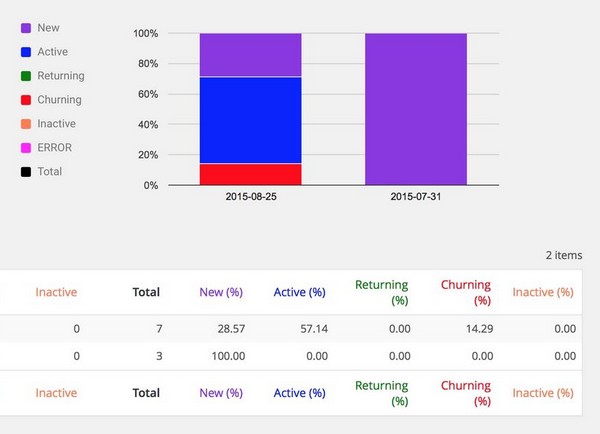 This report provides valuable information about your customers' ARC indicators over a designated period of time. You will then be able to see things like when sales dropped off or when new customers were acquired. You can then take a look at your business model at those specific times and see what may have left your customers unsatisfied or what products may have encouraged new customers to make purchases.
Sales Report
The newest report to be added to the WooReports plugin is the Sales report. Here you can see exactly which products or services your customers purchased (with quantity sold and amount spent per purchase), broken down into interval types as far back as you need to. It will also give you the total amount of sales per each product so you can see what your biggest sellers are and which products may need to be shelved.
Additionally, you can export to CSV for further analysis should you choose to.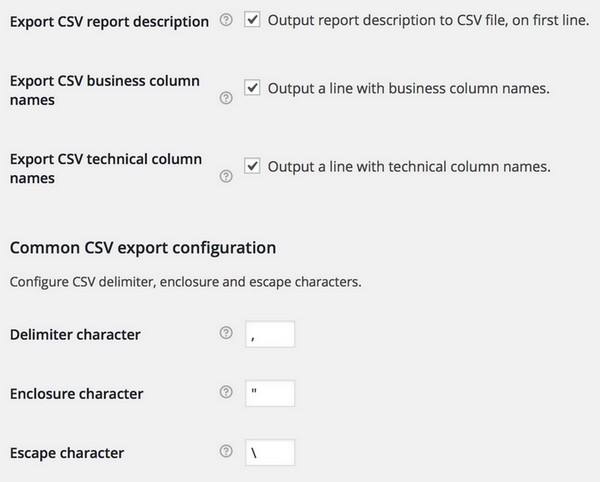 Right now there are 3 reports and the 4th one is in the roadmap. Lucian Capdefier told us that WooReports will continue to grow and will grow organically based on clients' needs so there is much to look forward to if you use the plugin WooReports.
Final Thoughts
WooReports is a valuable analytic tool that will seamlessly integrate with your WooCommerce online store. I did find that having no experience with analyzing online store information made things quite problematic for me. The terms used are a little technical and some extra research was definitely needed on my part. I will say however, that after having done my reading (some of which was kindly provided in the plugin's summaries) and really studying the information the WooReports provide through the live demo, I found the data provided to be extremely useful.
The goal of having a successful online store should be to increase the number of new customers you acquire through your products and services, retain the customers that may be churning, and reward active and returning customers for their loyalty to your business. Using WooReports in addition to your WooCommerce store will give you the tools and information to truly understand your customers and what they are seeking when they enter your online store.
Buy the WooReports plugin now for $19! Even better, use the coupon code buy20 to receive a 20% discount.
Latest posts by Lindsay Liedke
(see all)