Following the great success of the premium Magazine inspired theme Zeal Pro, the guys at Smartcat have proven their mettle yet again with a theme that is capable of improving every aspect of your website and fulfilling any requirement.
We are going to dive into the newly released Athena theme, which allows you to enhance and customize every page in your website without having to fiddle with the product code at all. Athena also comes along with a bunch of pre-designed templates and content elements that you can put to good use. These templates can be used to build any kind of website you desire. So, without further ado, let's get into the details of this review to kill the hype.
If you recently checked WordPress's theme gallery, you'll notice that Athena is one of the most popular WordPress theme in recent time with more than 10,000 downloads already.
What is Athena?
It is a fully functional, professional theme for WordPress, which comes with the most desired theme features of 2016 as the developers like to call it. Talk about the attractive masonry style blog layouts that kill bounce rates, or responsive portfolio image gallery that looks fabulous across all devices along with WooCommerce support and other important features like full-width Front Page Jumbotron That has over 10 Widget Areas and more.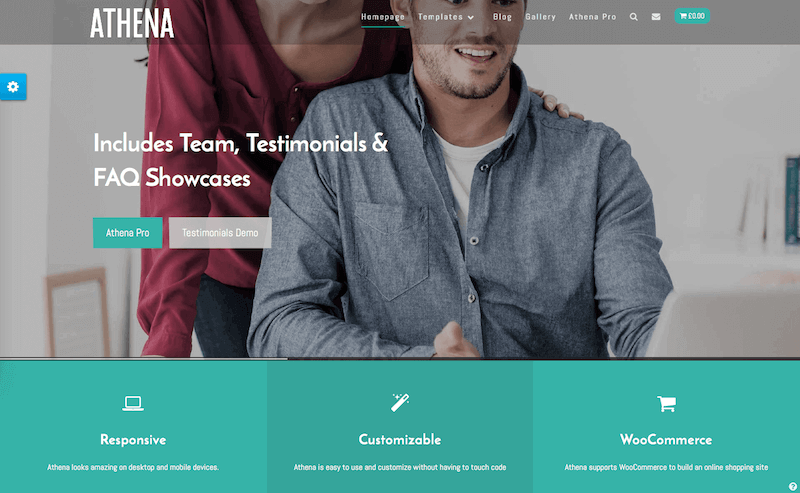 This theme is good for both business websites as well as small bloggers websites and can be used for E-Commerce Stores, Creative Artist Portfolios, Restaurants, Agencies, Event Planners, Attorneys, Studios, Fashion, University, Charities, Salons, Freelancer etc.
What makes the website stand apart from all the competition, in this highly saturated market, is the unassailable Jumbotron homepage. The Jumbotron feature of Athena theme can be effectively used to give a concise picture of your business to the visitors of your website.
As the developer's clearly state
"If a picture is worth a 1000 words, then Athena's commanding front-page Jumbotron speaks volumes to your site visitors, suggesting in one dazzling first glance what your domain is all about."
Here are some of the exciting features of the theme at a glance:
One click migration from Demo to Pro version
Live customizer allows you to edit and preview changes
User-friendly, fully responsive and parallax enabled
Search engine friendly theme framework (SEO)
9 styles of custom page templates
Animated callouts and over 600 icons
13 Color Styles and 10 different widget areas
Client's testimonial showcase
FAQs Accordion, Widgets and Short code
Font Awesome integration
Animated AJAX contact form
One full year of support for single domain
Well documented and efficient support
Main Features of Athena Explained
In addition to all the features that this multi-purpose theme brings you, Athena comes with a handful of unique features and elements that make creating a business website all the more easy and exciting, even for beginners.
1. Available In Two Versions – Free And Pro
No more will you have to buy a theme, only to realize that the theme doesn't fulfill all your requirements. The Athena theme is available in a Free Version with limited features than the Pro version of course (For example, the Front Page Jumbotron in the Free Theme only has 2 Sliders, unlike the 5 Full Width Sliders in the Pro version). But, the Free version does retain most of the other important features like the 12 Preset Skin Colors and 4 Sidebars (More on this in the 5th point).
By giving away the theme for free, the team at Smartcat also boasts about their confidence that you can run as many HTML and Javascript tests on it as you like, to be sure that the theme has very minimal errors (keep in mind that even the best of themes cannot be free from HTML and Javascript errors completely). Also, once you try the Free version and you want to upgrade to the Pro Version, you can do so with a single click of a button, from the theme backend itself.
2. Front Page Jumbotron
Athena front Page Jumbotron boasts of two full page image sliders in the demo version and five fully customizable full page slider images in the pro version. You can use HD images with horizontal length of 1200px for all images and customize every aspect of the slide from, Slider Delay to Transition Effects to Slider Load Style and also choose whether to show or hide the Next and Previous Buttons.
3. Front Page Icon Callouts
The front page icon callouts can be used for a myriad purpose. Be it for showing off your skills, or benefits, or showcasing advantages or offers to customers. If you are wondering where these callouts appear? They appear directly below the front page slider. Notice the three boxes in the demo version named "Responsive," "Customizable," and "Woo Commerce."
4. Front Page Widget Areas
Athena boasts of around 10 Widget areas in the Home Page itself. Once a user enters your website you can keep him occupied for longer durations by making use of these strategically designed widget sections that can drastically boost CTR and average time spent on page. There are four full-width widget areas over your sliders and there is one that pops-up over your slider. All these widget boxes can be populated with text, shortcodes, images or whatever you need.
5. 12 Skin Colors and 4 Sidebars
There are 12 preset skin colors that you can select in the demo version as well. These can be used to match the content and layout to almost any requirement. There is also an option for selecting four types of Sidebar placements namely, Left Sidebar, Right Sidebar, Left and Right Sidebar and Full-width (No-Sidebar).
6. 9 Page Templates and Masonry Style Blog Layout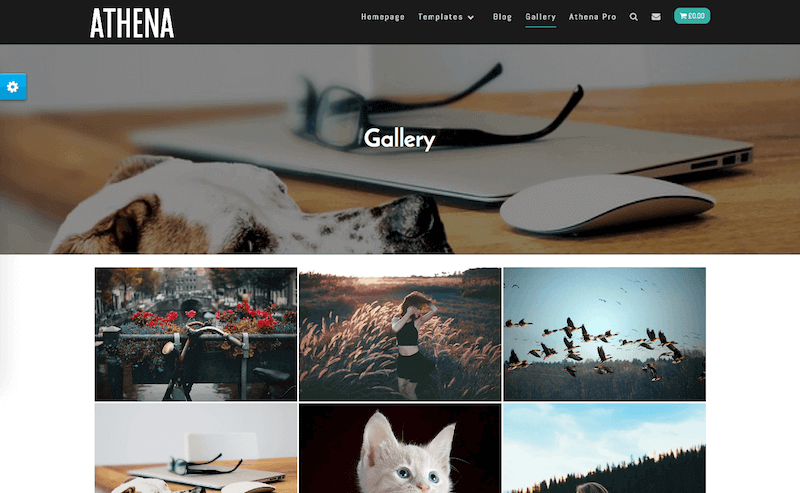 You might wish to include a blog with all the other services you provide. There are nine preset page templates that can be used to create any type of landing pages that you want. You can also set your homepage to "Display Posts" to get the Masonry Style Blog Layout to the Front Page itself.
Final Thoughts:
The Admin Panel of Athena is very powerful and feature packed, yet it remains easy to use. With the 9 Preset Page Layout elements and other style options combined you can create fantastic looking landing pages, service pages, info pages and more in minutes. The theme is also compatible with Contact Form 7 and features an Animated Ajax Popup Form which is proven to boost signups.
All in all the Athena Theme by Smart Cat Design is extremely powerful, and we suggest you to give the demo version a try at least before making a decision. If you are interested in purchasing the Pro version, Use the coupon code WPDAILYTHEMES to get a 15% Discount on the Pro Version of Athena Theme. The Pro version is available for $50 one time fee and allow using it on unlimited domains with support for one domain for a year.
Latest posts by Artem Pavlov
(see all)