Bellini Theme Review: A Highly Customizable, Scalable and Feature-Rich WordPress Theme
Okay, so you want to start an e-commerce store using WordPress. That's a good choice, as its WooCommerce plugin these days allows people to create very scalable e-commerce websites without the need of touching any code. But creating any user-friendly WordPress site comes down to one simple thing – the theme. You need to use a theme that not only looks good but also provides customization capabilities and a user-friendly interface that doesn't take ages to load. And thanks to the large number of free and premium themes out there in WordPress repository, it's not easy to find such a theme these days. It's even harder to find it for an e-commerce site actually. Fortunately, there's at least one such theme that anyone can use to create the online store of his/her dreams using WordPress. And that theme is called Bellini.
What is Bellini?
It's a WordPress theme with functionality that can integrate tightly with WooCommerce. Therefore, it can be used to create WordPress based e-commerce websites. It has been developed by Atlantis Themes, and you can see its demo here. It's way better than other WooCommerce compatible themes in many ways, as you'll learn in next few sections.
Why Bellini: Major Features Offered by the Theme
There're plenty of reasons for which you should choose Bellini above any other theme to create your WordPress based online store. It's lightning fast and consumes low memory, which will make your website load faster. It's highly customizable and scalable. And of course, it's responsive too. But the major features that help it stand out are given below:
Extremely Customizable: Bellini is customizable to a very large extent, and to help you customize it easily there're  wonderful tools in place. You can literally alter the whole look and feel of any element in your site. With its live color customization tool you can change color of any element and see the change in real time. You can also change fonts and typography of any element in your site, and you can even use background images instead of colors in almost any element. There're individual controls for designing the sidebars of pages, and individual controls for designing the header sections of different pages as well.
Compatible with Popular Plugins: Bellini is compatible with all major WooComerce plugins out of the box – MailChimp, Google Analytics, Hotjar Insights, Yoast SEO, Jetpack – all work smoothly with Bellini.
Multiple Page Layouts: As I said in first point, Bellini is customizable to the very last extent possible. It has not only got the ability to customize almost any page element, it has also got the ability to help you add any of your desired elements to any page. With that level of customization capabilities, you can create websites that look completely different from each other by using this theme. This can allow you to differentiate your site from other sites using Bellini and also in setting up multiple sites using the same theme.
Detailed Documentation: Bellini is also a very well-documented theme. It's not one of those themes that leave you scratching your head when it's time to apply them. The instructions for using every functionality of theme have been documented in a well-organized manner, and you can refer to them easily whenever you need help with any part of theme.
Scalability: HTML 5, CSS 3, JS 5 and Twitter Bootstrap – all of them are supported by Bellini. Moreover, it also allows you to easily add your own CSS, HTML or Javascript code to your site. As you can expect, these features make it one of the most scalable WooComerce themes out in the market. If you choose this theme, you won't have trouble scaling your site when your it grows.
Money Back Guarantee: Last, but certainly not least, Bellini comes with a 30 days money back guarantee. Although you can try basic version for free and upgrade to paid if you like it. If you feel unsatisfied after getting it for any reason (which is highly unlikely to happen), you can get your money back within 30 days from the date of purchase. There's no risk involved.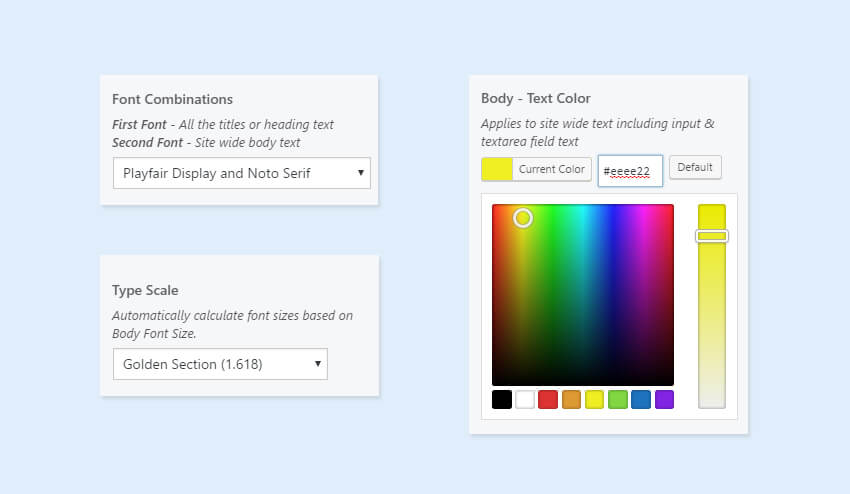 Pricing
Bellini comes in two different versions – the basic version is totally free, but it comes with slightly slower support and limited plugin compatibility. Pro version, on the other hand, costs $45, but comes with premium email support, full-scale compatibility with all major plugins, and advanced customization features like extra sections for designing your front page, shortcodes, widgets and support for Google Maps section.
Conclusion
If you want to create a WordPress and WooCommerce based online store, you can't find a theme more customizable and scalable than Bellini. It can be given almost any look and feel depending on what elements you add to it, and it can be used for a long time as your business grows because of its highly scalable design and functionality. Plus, the developers have also made it completely risk free with their 30 days money back guarantee. So you should definitely give it a try.
Latest posts by Artem Pavlov
(see all)