Funky themes can be hard to categorize, after all, one persons funk can be different from another persons funk. However, they do share some similar characteristics. Unique patterns, bold or irreverent styling, and bright colors, seem to be a common motif. The following five funky themes certainly fit this description. Here are 5 of the funkiest themes from 2013.
Blocked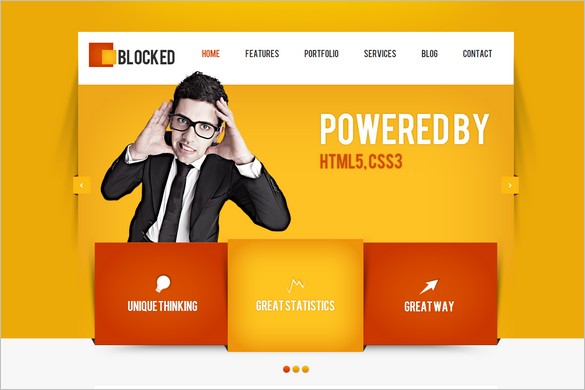 Blocked is both responsive and juicy. A fact reiterated by it's bold orange theme. There are in fact twelve different color schemes that can be applied all in one click. However, it's freshly funkified orange theme makes it a bold choice for the aspiring entrepreneur or for a personal portfolio. Blocked is SEO optimized, well documented, and comes with 17 PSD files, making it a smart choice as well.
» Full Details & Download | Demo
Funki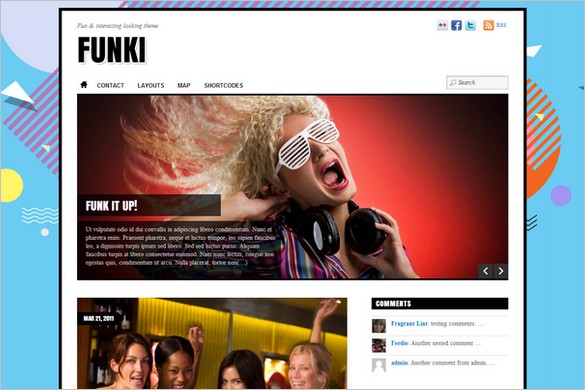 How is a theme called Funki NOT going to make the list? Funki serves up a responsive design theme with a side dish of artistic flare. It's font reminds one of a New York Post headline, and it's bright blue background gives off a cool early 90's vibe. Funki works on all modern browsers and mobile devices, and offers 21 layout options in total. With a theme like this, you won't ever be accused of having bad taste.
» Full Details & Download | Demo
Creative Skeleton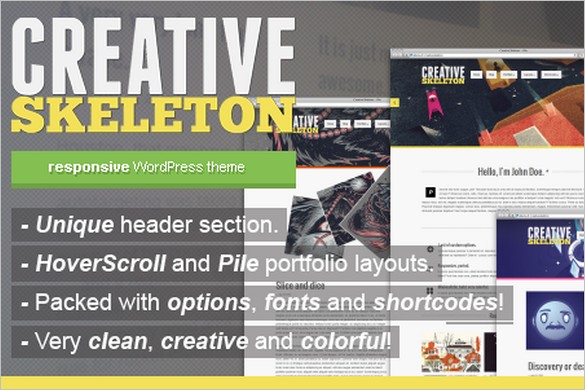 Creative Skeleton is another responsive theme that emphasizes a fun, creative, experience. It's header section is unique and the theme comes packed with custom options giving the user virtually unlimited control over every aspect of their website. The theme also comes with two unique single portfolio layouts – Pile and Hoverscroll. Although the theme goes for a clean effect, it's unique backgrounds and textured layouts qualify it as a funky WordPress theme.
The Gossip
The Gossip brands itself as a "funky magazine theme" so of course we had to include it. This bold theme uses multiple bright colors to emphasize it's funky feel. It also creates a somewhat "crowded" approach that gives off a sense of "get it while it's hot" a necessary sensibility for anyone looking to create a digital magazine. The Gossip comes with an easy to review system that allows both authors and visitors to rate posts, a valuable add on for any online magazine.
» Full Details & Download | Demo
One Plus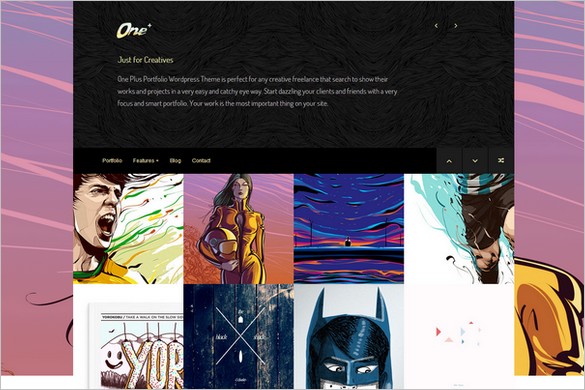 One Plus uses a grid theme to great effect. For anyone interested in dealing primarily with video and images, a grid theme is a great way to showcase your work. One Plus uses a stylized design to give off an extremely nerdy funk. One Plus is ultra responsive and comes with a wide variety of options for anyone looking to do above average customization. It also comes with an exclusive "Smart Color" feature that allows the user to set the gallery color scheme based on the grid color palette. This is a great theme for anyone looking to give their artistic works a funky stylized web based presentation.
» Full Details & Download | Demo
You don't have to be a web designer to give your website the fresh, clean, righteously funky look you know it deserves. There are plenty of designers who are willing to do the hard work for you. Get on it and have fun!
About the Author
Matthew Barby is a digital marketing expert from the UK and the owner of Find My Blog Way which focuses on giving blogging tips and advice to fellow blog owners and writers. To stay up to date with all of Matt's content you can follow him on Twitter @matthewbarby.
Latest posts by Guest Author
(see all)