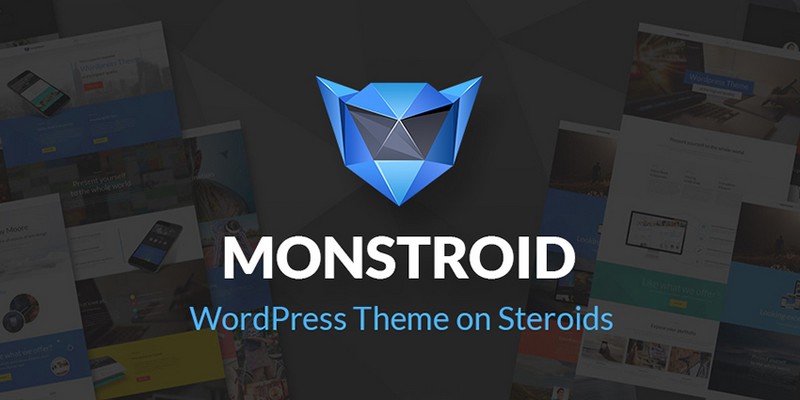 Approximately a month ago Monstroid was released and has instantly become a bestseller. This multipurpose WordPress theme offers unmatched customizing options – both for developers and website owners.
But the most important feature of Monstroid is its regular content updates: each month you receive a collection of 10-15 new pre-designed child themes on various topics, for free.
You can learn more about Monstroid from our previous blog post.
And just before you start scrolling for the perfect theme for your business please visit our Startup Hub. It will help you to set up and manage your business brilliantly!
1. Financial Advisor/IT
Gitex was among the first child themes included in the Monstroid pack. It is a full-featured business theme, functional enough to fuel a website of a large company. It makes special use of two Cherry plugins – Cherry Team and Cherry Services, providing two respective pages based on the plugins. The homepage is clean and solid, designed with attention to each pixel.
Here you can see a top slider, several different blocks for advantages and services, and a parallax scrolling image. Clearly visible contact data is situated in the footer. Gitex implements this new web design trend – inclined area borders. Combined with the clever choice of fonts, it will give your website a modern and professional look.
2. Sky-High
Due to its mild palette, the main purpose of Sky-high is to power business websites of creative companies. It has the advantage of a large background image with a gradient transparency effect, and unusual typography. Just like Gitex, Sky-high includes preset "Our Team" and "Testimonials" pages built with the Cherry plugins. Among the other features there are: a blog, a project gallery, a special contact page and an animated Achievements block.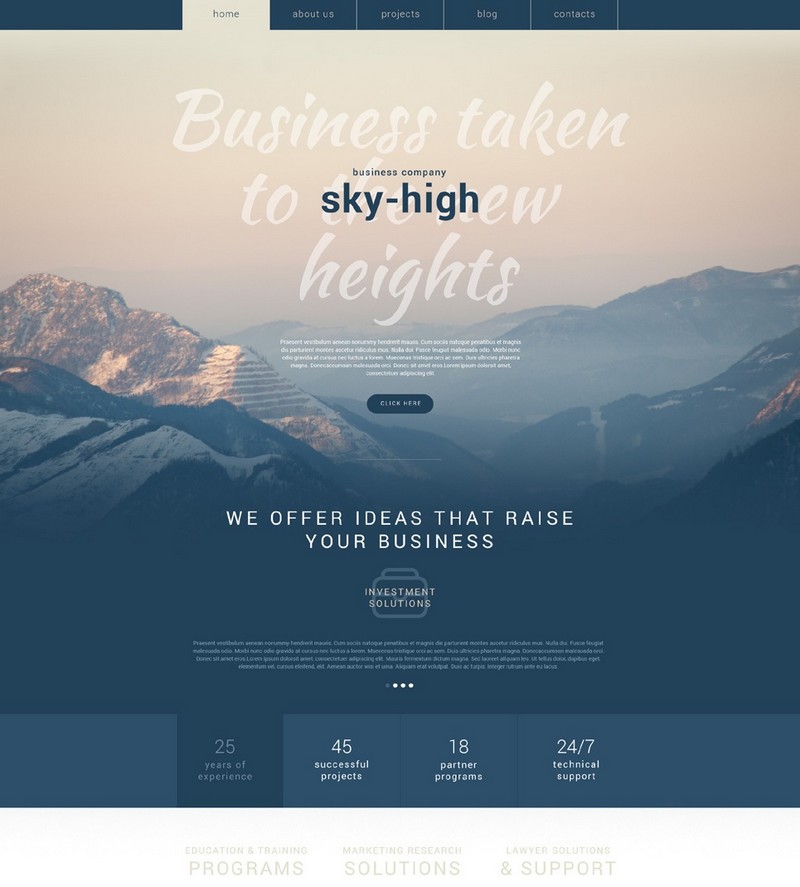 3. Interior & Furniture
Our next theme's design is a fusion of flat design elements and seamless nature-inspired textures. Its homepage layout is quite simple, and will serve as an effective landing page for interior, architecture and home design websites. The theme is image-focused – this is reflected not only in the layout itself but also in the social sharing buttons, which feature Pinterest and Instagram.
The stick-up menu changes from transparent to opaque as you scroll down the page. As a business owner, you will appreciate the abundance of showcasing options: portfolio galleries, sliders and testimonials.
4. Art & Photography
Meet the Monstroid child theme completely dedicated to photography portfolio websites. Its design echoes the free Cherry Framework theme but is much more functional. The "above the fold" area is occupied by a page-sized slider and a minimalist transparent menu. Flat icons with feature descriptions are arranged in three columns to save space.
The Team slider, with round-shaped images, is placed on the homepage too. Testimonials are designed in Metro style on the blurred background with parallax scrolling effect. With advanced portfolio options, this theme provides great marketing opportunities for photographers and other kinds of creative businesses.
5. Education
This multipurpose theme has been optimized for educational projects; however, it can be applied to any business that provides services. Its most significant feature is the filterable showcase of educational courses with tabs. The general layout is boxed, but some areas with parallax stretch to match the screen size. The form is situated just below the top image to increase the subscription rate. Use this educational theme to set up a website for a university, a school or online courses.
6. Energetic Cheerleaders
This one is a lively flat theme with a touch of material design. It uses the classic warm palette of red and white, with contrasting dark text. What makes it special are its round-shaped image previews, banners, and other small design elements. Another extraordinary design solution of this theme is a timeline of your events, similar to that of Facebook. It is situated in the lower-middle part of the homepage, above the large Google Map area.
The footer is rather minimalist – it contains only copyrights, links, and creative social media icons. Just like the other themes here, it is equipped with various sliders, a stickup menu, parallax scrolling blocks and pre-crafted pages.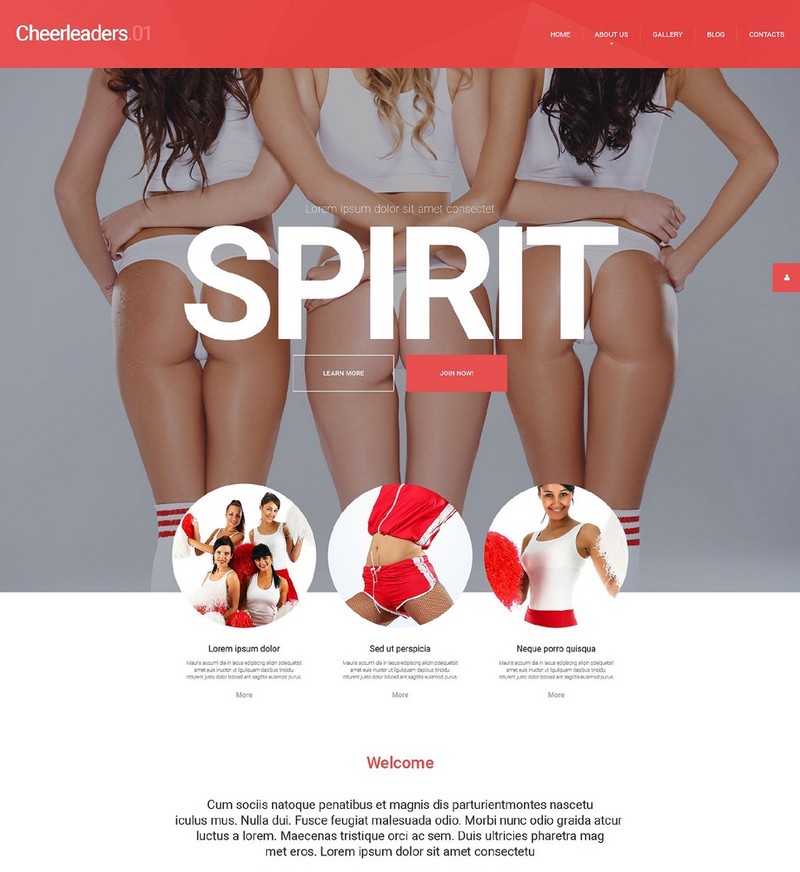 7. Sunrise
Sometimes you need a simple design that provides minimal visual features but delivers maximum user experience. Sunrise is one such design. This is a strict minimalist WordPress theme, whose prime task is to convert visitors into customers. Its homepage is very simple, but the "About" page is what makes it so effective. It contains all possible converting elements that can appear on a website: testimonials, skill metrics (designed as pre-loaders), team members, and available services. Sunrise can be used for business websites of any category, as its layout is utterly neutral and topic-independent.
8. School District
This theme is another one made for educational websites. It features a colorful cheerful design with informational text blocks with flat backgrounds. Animated buttons on the sticky menu clearly show what tab you are currently on. Its functionality is pretty standard, but the homepage is designed so that it allows you to place any amount of diverse information without harm to the design integrity. This theme can also be used for any children-themed websites: Monstroid supports WooCommerce out of the box, so you can even launch a toy store without much effort.
9. PixelArt
The following high-tech theme is intended for web-design agencies and software development companies. Its header contains a narrow menu and a slider, improved with call-to-action buttons. Thanks to its clean white background, images look crisp and bright. The portfolio showcase with the zoom option allows you to demonstrate your works right on the homepage, including videos.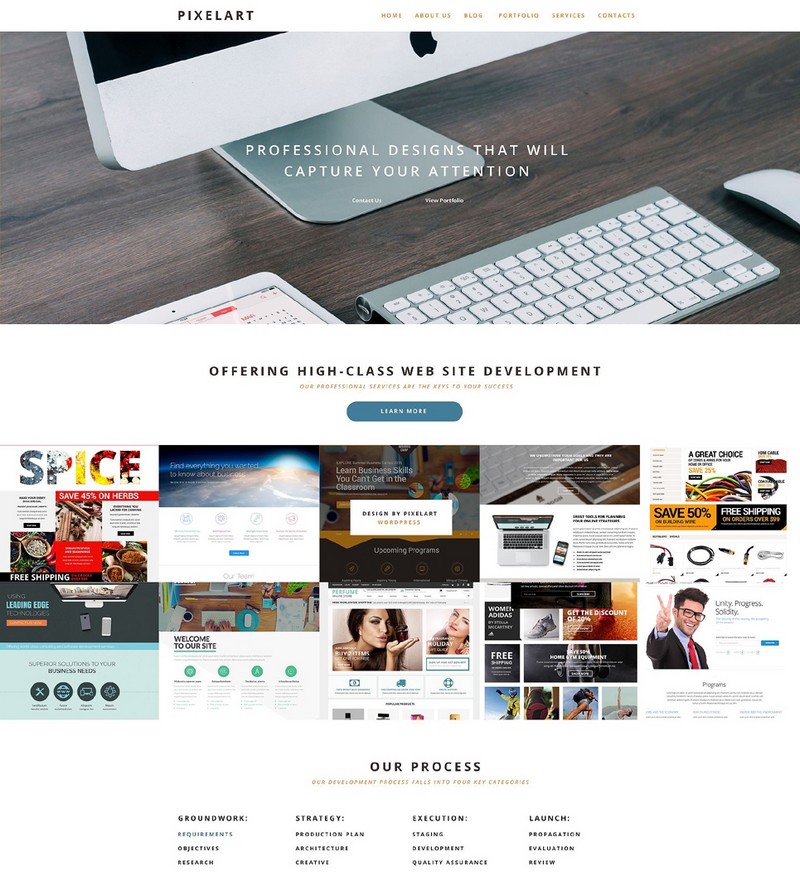 10. HR Recruiting
The homepage of this business theme serves as a shortcut: most of the information is distributed on the specific pages. The theme's rich mega-footer, however, contains lots of widgets for different purposes: a newsletter subscription block, a Google-powered mini-map, copyrights, contact info and even premade buttons for App Store and Android Market (in case you support your own mobile application). This theme includes separate pages for different types of visitors (for example: employers and candidates, publishers and advertisers, etc.)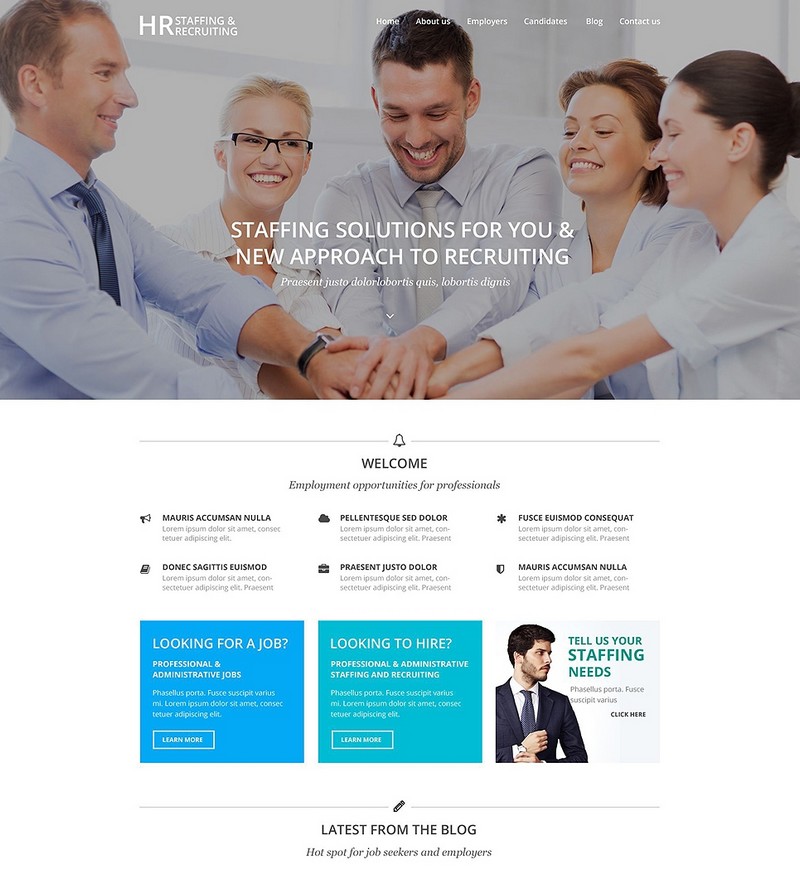 11. Limousine
Car rental websites shouldn't be bulky and swarmed with obsolete forms anymore. If you are running a car-related business, show your client that he is special for you; consider this Limousine WordPress child theme for Monstroid. You don't have to be selling luxury cars to use this design – with this clean layout and your high-quality images any vehicle will look attractive.
The theme's image-saturated homepage is a good place to showcase your best cars, and the gallery will expose even more of your offers. This theme is crowned with a sticky top bar, consisting of the logo, contacts, and a minimized hamburger menu.
12. Hypnosis
Hypnosis is a new Monstroid child theme dedicated to social and psychological services, charity and education. It has a classical plain layout with angulated blocks and material design elements. Green color is a good choice for a website that is supposed to represent calmness and reliance – so you can use this theme for any websites that require these qualities for their design. As for the functionality, this theme will provide you with effective testimonials partially presented on the homepage, blog functionality, a service presentation page and social media options.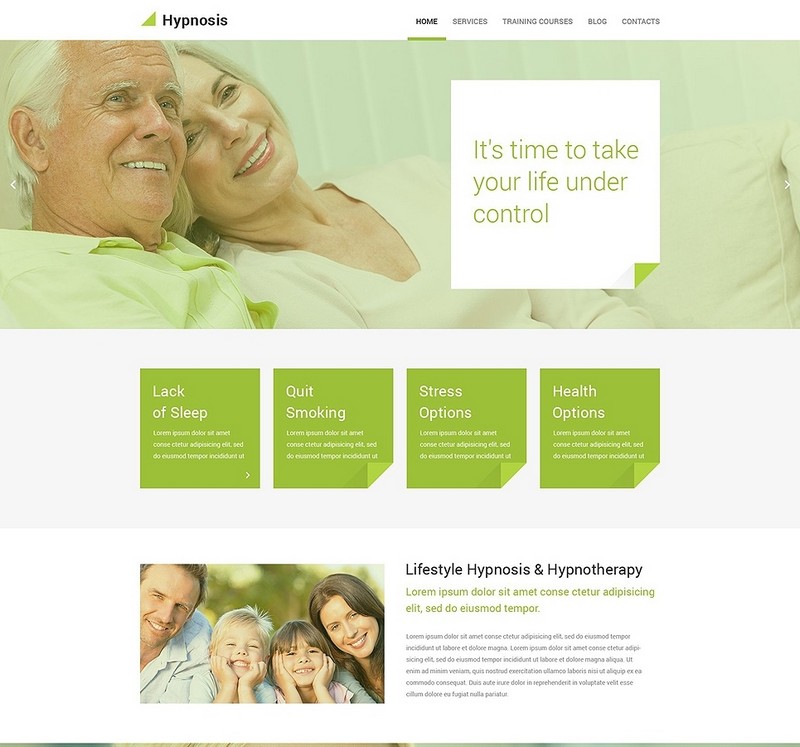 13. Pasta and Ravioli Company
To improve the online presence of your pizzeria or restaurant, try out this elegant WordPress theme. Its colors have been picked to match the common palette of natural products: yellow, orange, green and red. The top slider is framed with zigzag-shaped borders, imitating the edging of a napkin. Images and their respective descriptions are arranged chequerwise and spiced up with a large narrow headline font to draw attention. Another remarkable typeface of this theme is used for headers – it's a handwritten script font that adds even more delicacy to the design. But images are still of top priority for this restaurant theme – be sure to be use only the best ones.
14. Country Sunset
Animal-themed templates are surprisingly popular among WordPress fans. That's why we decided to present you this very theme – Country Sunset for Monstroid. It is designed with a range of warm colors – from beige to gold, making it perfect for creating the autumn atmosphere. Full-width images occupy most of the background, and dotted lines amplify the "homemade" feel. Its top Mega Menu merges with the background and looks transparent. The "Contact us" page includes a Google map, a block with contact info and a contact form. This theme can be used for websites dedicated to horses, organic food farms, country fairs etc.
15. Cartoons Blog
This one is a blog-first Monstroid subtopic for entertainment blogs. Its name says "Cartoon Blog", but you can also apply it to gaming, movie or photography websites. The post previews in this theme are organized in a three-column masonry grid. Important blocks and call-to-action buttons are surrounded with a frame similar to the focus/face detection in photography – to literally focus readers' attention. The theme is also shipped with Testimonials, Our Team and Services pages, which can be easily deactivated in case you need only a blog.
16. Obrus
Obrus has been designed specifically for construction and other industrial companies. Its homepage layout makes a good landing page, as well as the predesigned "About us" page. Thus you receive two landing pages that you can optimize for different keywords. This child theme boasts a clean professional design with dark and yellow colors common for industrial websites. Ghost buttons and parallax areas have been added to modernize the look, while the mega menu is responsible for easy navigation. One more thing we'd like to mention in this theme is its animated skill counters designed as ring progress bars with numbers in the middle.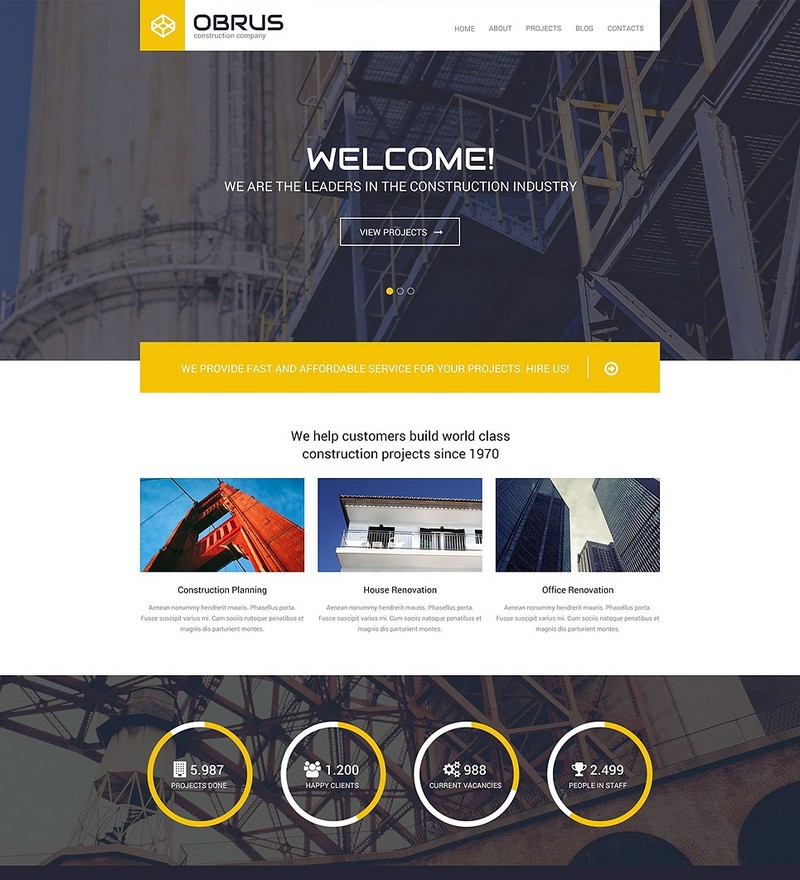 17. Furniture Company
For interior design companies, furniture stores and renovation workshops this design can be used. It is really heavily focused on images: they are situated close to each other and are enhanced with parallax scrolling. This creates an effect of constant, yet non-irritating movement. The area with social media buttons and the buttons themselves are larger than usual. The mega menu is very minimalist, illustrating the "bigger on the inside than on the outside" principle (remember "Doctor Who "?), and so is the semi-transparent footer.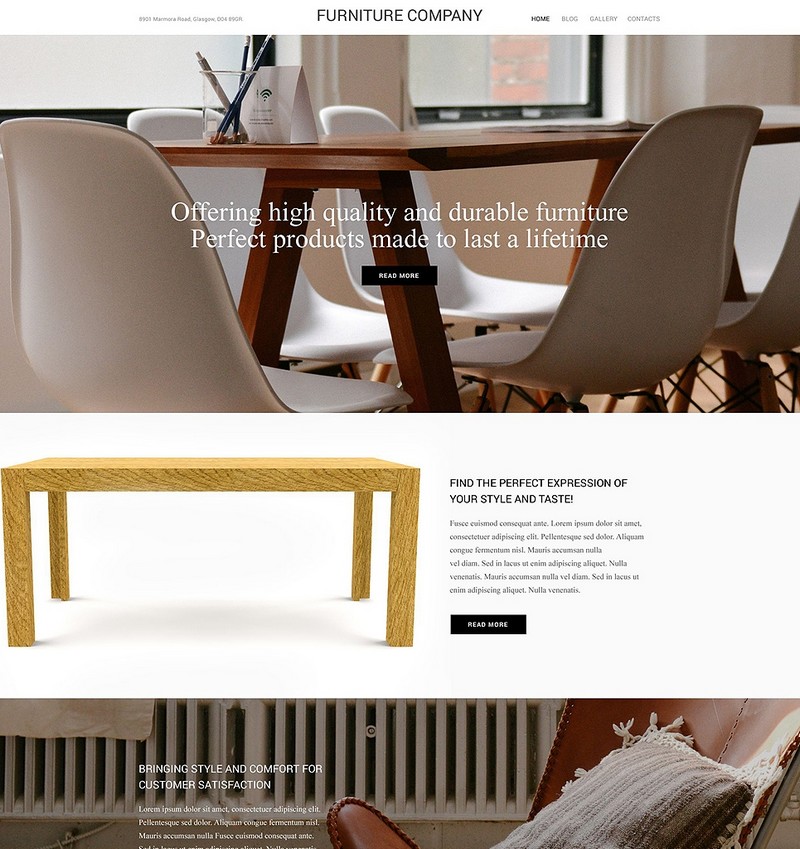 18. Frutti Bar
This theme was built for non-alcoholic beverages company. Enough white space available on the page puts site content into focus. The main menu is rather minimalist. It has fixed position, so navigation constantly stays before visitors' eyes. Big images and parallax effect make the drinks and fruits look almost real, providing a mouthwatering effect. Cool HTML plus JS animation contribute to a better user experience on a site.
That's what all site owners are striving for. 'Featured tastes' section has an uncommon design that will definitely draw users' attention. Numbers, hand drawn arrows, circles and icons perfectly illustrate the content and revive the layout. Customers' testimonials are featured in a slider. Company contacts and 'Back to top' button are available at the bottom of the page.
19. Tune Station
This web page was specifically designed for music apps. It is also suitable for radio stations and music sites. The combination of dark and bright colors rocks. Loud accents guide user's attention through the page. A big header is supplied with two call-to-action banners, so the users can either download the app immediately or learn more about it. The buttons have rounded corners.
The main drop down menu has lowered position. Slider and integrated video player make the app review more interesting and engaging. The theme comes with such cool trendy features like parallax and lazy load effect. Customers' testimonials are arranged in a grid, which makes the layout look accurate and professional. Positive feedback raises trust to the app, as well.
20. Smartex
This theme is a good choice for business companies of any sizes. It has serious and trustworthy layout. Modern, fashionable features like transparent elements, circles, outlined icons, and ghost buttons add special charm to the web page. Full-screen slider makes it dynamic. You can choose between Accordion, Carousel, Isotope, and Slider gallery scripts included by default.
Video presentation gives the viewer exhaustive, easily digestible information about the company. Yellow content blocks visually separate the sections. Such kind of styling helps to make your website more understandable and your texts easier to read. The theme is responsive, retina and WPML ready, which is useful if you have bold plans as to conquering new product markets.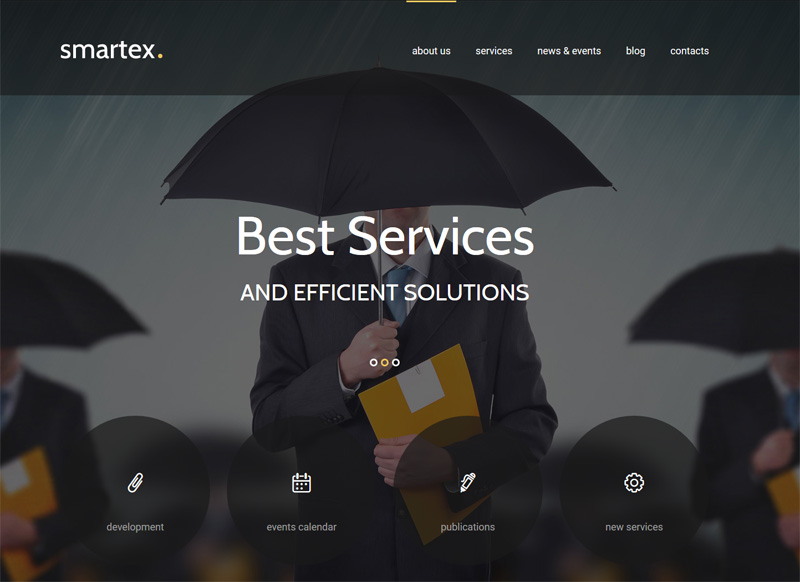 21. Video Records
Everybody likes to watch videos online. If you need a good website to showcase video content, this theme may be a great solution. The theme is supplied with a slider featuring trailers of movies and cartoons that are coming soon. Videos on the page are categorized, so it is very convenient to navigate through them. Mega menu and a search bar make the process of navigation even quicker.
The theme's layout looks uncluttered notwithstanding the fact that it is very content rich. The theme will look good in any browser, on any device screen. Google web fonts are also perfectly legible. The theme is SEO friendly, so the users will be able to find it on the Internet easily. Social options allow you to link your website to social media profiles of your company and give your visitors access to more information about it.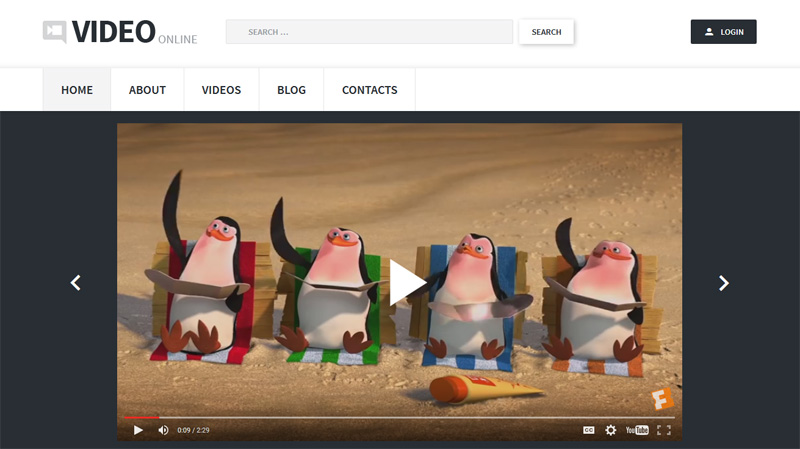 22. Business Expert
Here is another business theme available in Monstroid inventory. It is made in bluish colors that are strongly associated with business. It has a hidden menu. Click the hamburger icon to see all its items. Hover over them and see how the fly-out option works. Please note the full-screen slider displaying nice images accompanied by company slogans.
Company benefits are highlighted at the table, supplied with hover effect. Company achievements are presented with the help of numbers, which looks much more convincing than plain text. All call-to-action buttons on the page have rounded corners. Customers' testimonials are also available right above the Google map. Page footer has an appealing design. Content blocks and social media icons there are placed over a spectacular background cityscape.
23. Taste WordPress Theme
The theme can be used for cooking blogs or other websites related to culinary. Its logo with chef's cap looks cute. The main mega menu sticks to the top as you scroll down. This is very usable as you always know where you are and are able to skip to another page anytime. Slider shows illustrative kitchen utensils. This is rather unusual and imparts a website a unique look.
Dishes gallery has tabbed navigation. Delicacies featured there look really yummy. On hovering the photos you see dish name and description. Parallax effect submerges the visitor into the atmosphere of artistic culinary. Integrate audio or video player into your website to illustrate the process of cooking some exotic dishes. Site users will appreciate that. By the way, the theme comes well documented, so you won't have any issues with its installation and customization.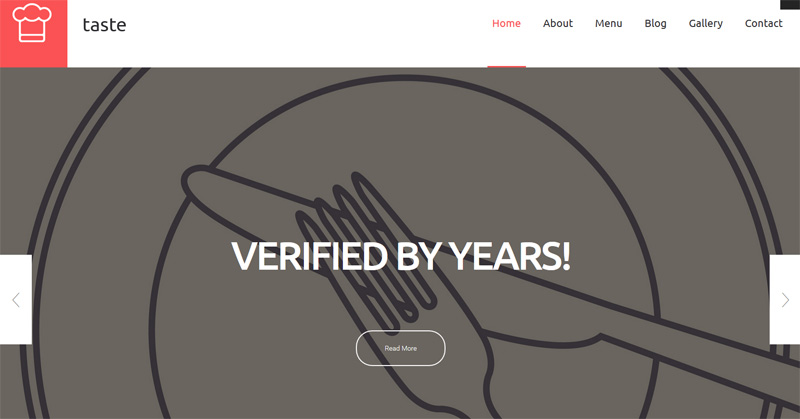 24. Fishing Club WordPress Theme
Lots of people like to sit on the river bank watching the float rocking on the waves with their rod in hand. This hobby is very relaxing, you don't think about your work, bills, family problems, etc. You are merging with nature. You are a hunter watching the prey. This fishing theme creates the atmosphere described above. It is designed in natural green and brown colors.
Peaceful HD images and background video make users stay on site even more pleasant. Transparent elements, ghost buttons and simple icons impart the layout a current look. Parallax effect helps the visitor submerge deeper into the website's environments. Animated effects interact with the visitors encouraging them to explore the website further. Social sharing icons are surely available at the bottom of the page as well as Google map.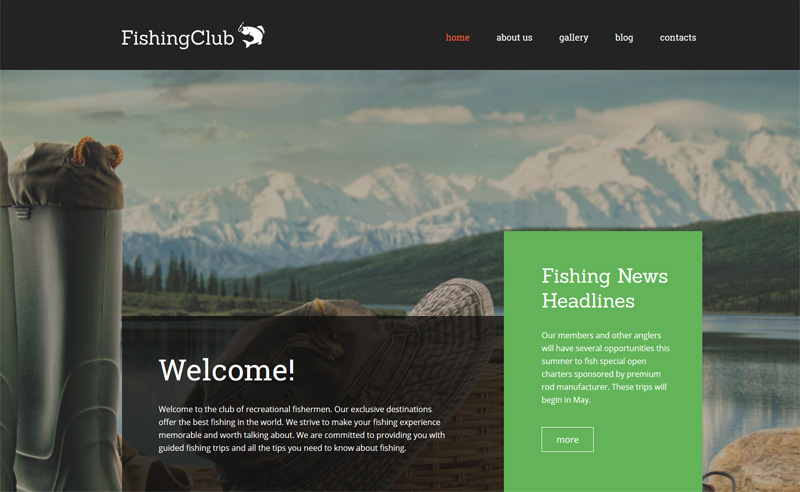 25. Textile WordPress Theme
The theme was developed for textile companies. Cloth textures in the background beautifully illustrate the topic. Main menu is hidden. You should click the burger icon to see it and across to hide it again. The header has fixed position on the page, so company logo is constantly visible and main menu is accessible at any moment. A big white text is clearly legible over the dark background.
Ghost buttons make the website layout look lighter. Parallax effect adds some depth to the 2D webpage. Company services are listed in a grid and numerated. Products have tabbed navigation. On hovering their images, you see tooltips and nice animation. Customers' testimonials are featured in a slider and supplied with photos. Google map, simple contact form and social media icons are available at the bottom of the page.
26. Circus Tent WordPress Theme
This bright, colored theme was specifically designed for circus websites. Harlequin background pattern creates a cheerful atmosphere on site. Retro typography solution and ornamental elements give the visitors a notion that the circus has a long history. Main mega menu is pinned. Drop down items come with images, making site navigation even more understandable.
Parallax effect provides full immersion into the joyous circus atmosphere. Video background enhances visitors' impression. Timer is included into the page design. It shows how much time has left till the next show. News and events are illustrated and stand in three columns. Images at the gallery section are presented in a slider. They are supplied with hover effects. Circular social media icons and Google map are available at the bottom of the page.
27. Sports Blog WordPress Theme
This theme is a good option for a hockey blog, hockey team or hockey fans website. Full-screen close-up photo of a hockey player immediately draws users' attention. It's a scientifically-proven fact that people's faces catch our sight. The theme has a hidden menu. Click the circular hamburger icon at the right top corner of the page to get access to its items. White color prevailing over the layout is associated with ice and chill. Oblique strokes that separate one content area from another make the layout look more interesting and unusual.
Parallax effect let the viewers get better user experience on a site. Huge headings make website content easy to scan even on relatively small screens. Essential information and functional buttons are of red color, which makes a perfect contrast with the rest of the layout. By the way, the footer of the theme is very appealing with all those pucks heaped at the bottom of the page.
28. Brewery WordPress Theme
The theme was designed for brewery websites. It is created in natural beige, brown and amber colors. The website is aimed not only on highlighting that the company produces the best beer in the world but on conveying a friendly atmosphere that connects people who drink it. Main menu items are framed on hovering and on click. This way you always know where you are at the moment. Slider shows the best sorts of beers the company is proud of. Parallax helps site visitors get filled with the corporate spirit.
Sketchy icons, ghost buttons, tabs, and tooltips are only a few trendy features this theme offers its owner. Customers' testimonials also come in a slider. Team section is thoroughly presented. You can see not only employees' positions and short bios but also their photos and links to social media profiles. Such kind of things raises the trust to the company, as a rule. Blog section, simple contact form and big social media icons are also available.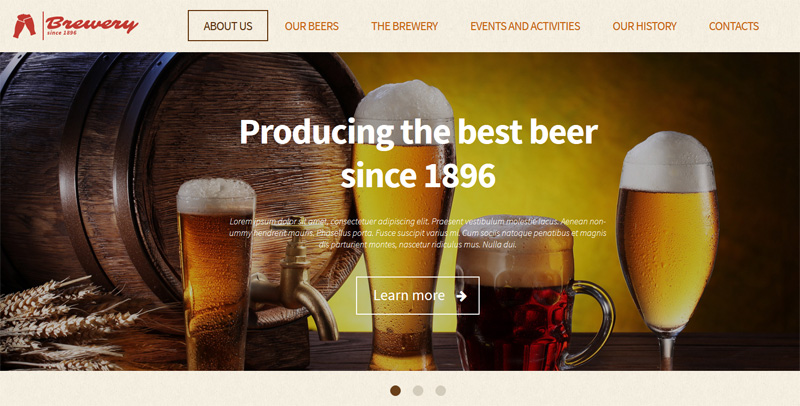 29. Gourmet Cuisine WordPress Theme
We are sure that this restaurant website will be appreciated even by the pickiest clients. Dishes photos look so yummy! Parallax effect intensifies this impression. Food and restaurant environments look like in real life. The background image is combined with beige cloth texture. Social media options are on the very top of the page. Round animated banners boost the main drop down navigation menu.
Integrated video lets you feel the restaurant atmosphere. Restaurant guests' testimonials are accompanied by images. News and events as well as contacts blocks, are placed right above the Google map. The theme is packed with such top-class features as a commenting system, Google web fonts, sortable gallery, drag and drop content and many others. The theme is SEO friendly, cross-browser compatible, has clean code and instructive documentation.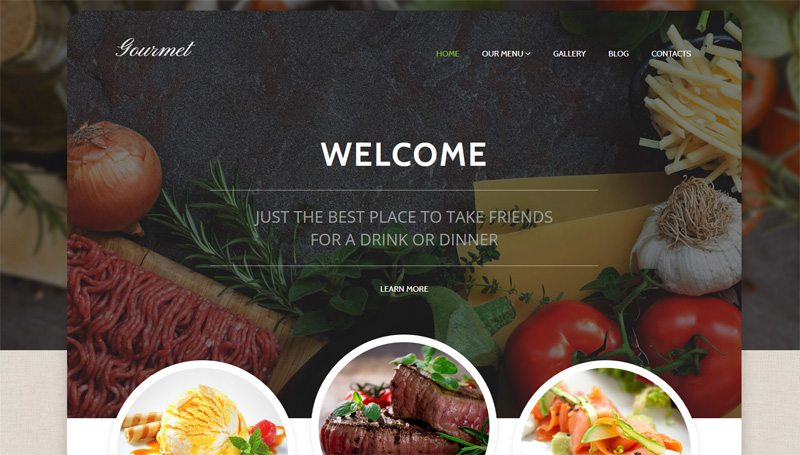 30. Senior Home Care WordPress Theme
It's not really easy to create a website for senior home care from scratch. Indeed, what it should look like? Positive, reliable, professional… That's why we offer you to use a pre-designed theme. It has been created with all possible preliminary research. So, you can save your time and efforts, relax and just rely on industry experts. This website template for elderly care has a trustworthy, yet current look.
Transparent text blocks, full-screen HD images, parallax scroll and video background make the website touching. The author combines banners of different shapes, which helps to avoid monotony in the layout. Newsletter subscription form is big and touch-friendly. Company contacts and social media icons are above the Google map. The theme is responsive and retina ready. It comes with MotoPress editor, Cherry Framework 4 in its core and Bootstrap, which makes its customization easier than ever.
Update 1: 7 new child themes added in this growing collection of child themes for Monstroid owners.
Update 2: 13 new child themes added in this growing collection of child themes for Monstroid owners.
So this was the first pack of the child themes collection available for Monstroid owners. As the collection grows, new designs will be added. Whether you buy one now or decide to wait for when there might be a design more suitable for your project, – you will be able to download, install and customize any of them within one WordPress theme. Stay tuned by checking new subtopics on this page.
And don't forget to share your thoughts about Monstroid in the comments.
Latest posts by Artem Pavlov
(see all)