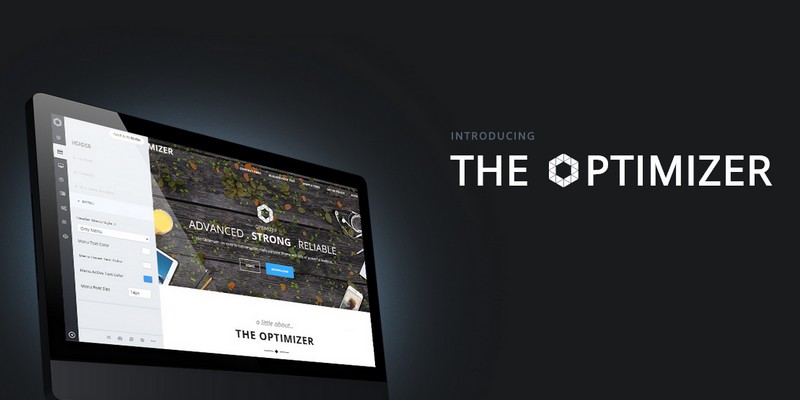 Starting a business, organization, or simply a blog nowadays require a visually attractive online presence to attract both customers and visitors.
So when it comes to building / creating your new website there are a few things you should consider and keep in mind. Such as what kind of website do you need? Which publishing platform will you use?
One of the most popular, most used and recommended platform for creating flexible websites is WordPress. And If you decide to go for WordPress, you need a WordPress theme to give your website a boost in design and functionality.
In order to save you both time and avoid having to locate and test loads of themes, I want to introduce a perfect solution and an optimal WordPress theme from Layer Themes entitled Optimizer Pro.
Why Optimizer Pro WordPress Theme?
The Optimizer Pro is a powerful, flexible and very customizable WordPress theme suitable for both beginners to advanced users. Layer Themes have set the bar high and created an attractive flexible theme that allows you to customize every inch of your website.
I have had the pleasure to try and test Optimizer Pro for some time and I must admit I'm very impressed.
With Optimizer, you can edit your whole site live, and it's both fun and addictive. I spent hours to trying out all the features and options. I  succeeded to created some really great themes that I was thoroughly satisfied with. I must say, whether you are a beginner or advanced WordPress users, I promise this is a theme / framework that work perfectly for everyone.
Let's take a closer look at the features included in the Optimizer Pro WordPress theme.
Extremely Customizable
One of the main features in the Optimizer Pro is the custom designed Customizer where most of the magic takes place. From the Customizer, you can create / build the website you want with endless of possibilities to create an awesome and unique design and layout.
You edit your whole website with live preview and see all the changes in real time. With easy-to-use theme options, you can customize each and every element of your website without any coding knowledge whatsoever.
30+ Useful Widgets
With a few clicks you can add any type of content, such as slides, call to action, text blocks, post widget, testimonial, ads and much more in a very simple and self-explanatory way.
With these widgets in Optimizer, you build the structure how your website will look like. Add a widget and configure it with colors, background images, fonts, etc. You are the artist and you decide how the brush strokes will be drawn. This is so much fun.
Presets
If you, against all expectations, not are satisfied with what you have achieved, no problem. I know how time-consuming I can be to design and customize every aspect of a website and it turn out to something you not imagined or expected!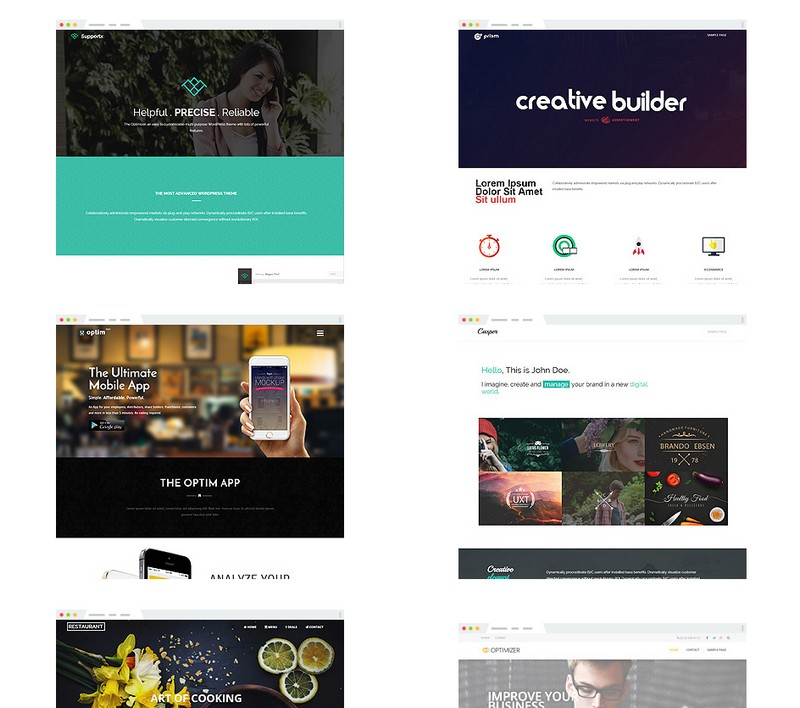 Layer Themes have thought about this quandary and included one (or rather several) solutions. Optimizer Pro has built-in a presets section or 1-click demo importer, making it very easy to import presets.
Just pick a demo in the Customizer from the demo gallery (currently 12 & more to come) and click import. You're preconfigured chosen theme is ready to rock. But even as before, you can also customize the presets from the Customizer. So you've got it all covered.
More Key Features in Optimizer Pro: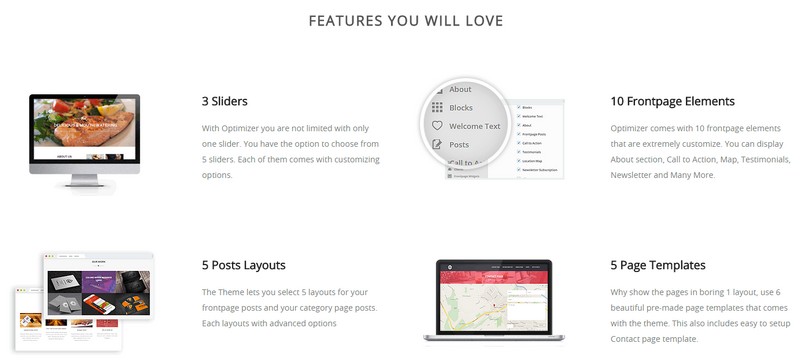 Sliders

– You are not limited with only one slider. You can choose between 5 sliders and each of them comes with customizing options.

Frontpage Elements

– 10 front page element such as About section, Call to Action, Map, Testimonials, Newsletter are included and are customizable.

Posts Layouts

– In Optimizer you can select 5 layouts for your frontpage posts and your category page posts. Each layout comes with advanced options.

Unlimited Sidebars

– You can easily create unlimited numbers of unique sidebars for your post or pages.

Fast Page Load Time

– This theme is built and optimized for speed. It is a fast loading theme with the highest grade in most top speed testing tool.

Mobile Friendly

– Responsiveness and a mobile friendly layout is a factor that Google recently introduced in its rankings of websites. Optimizer passes Google Mobile friendly test with a breeze.

Page Templates – Optimizer includes beautiful pre-made page templates. The templates can be used for a contact page, blog page, full-width page and much more.
Short Codes – Optimizer comes with 40+ awesome shortcodes that can easily be used consistently on your website. Some examples are: Columns, content boxes, slider & carousel, social buttons, etc.
Documentation & Support –  If you run into any problem or need help then there is an excellent documentation to read, or you turn to Layer Themes excellent support for more hands-on help.
Showcase
Take a look how the real sites using Optimizer PRO WordPress theme. Maybe next time your website is featured on Layer Themes on their showcase page!
Final Thoughts
Optimizer Pro distinguishes from others themes with its flexibility and simplicity to customize and tweak each part of a website. Optimizer offering everything you need to create / build an awesome and attractive website for an optimal online presence.
I have the pleasure to test the theme thoroughly and I recommend Optimizer for both beginners and even more advanced users.
This theme is easy-to-use with loads of customization options, and another advantage that speaks for Optimizer is the price. It's very affordable compared to many other themes. I can guarantee when you installed the theme, you're hooked for the next few hours. The end result will be outstanding, plus you get the wow factor all for free ..
Latest posts by Artem Pavlov
(see all)