The highly talented theme creators at PixelEmu are on a constant quest to bring you newly designed themes for your website needs.
Today we are going to look at one of those fresh releases: PE Services.
Developed as a multipurpose business WordPress theme, PE services brings a variety of uses, customization options, and a whole host of neat features that practically any business website can take advantage of.
What is PE Services?
Those with companies in the fields of medicine, construction, architecture, and even mechanics are the best matches for using PE Services as their website's theme. Designed as a service WordPress multipurpose theme with those industries at the forefront, PE Services is dedicated to bringing your website visitors the best presentation of your company brand, team members, and provided services.
By creating an eye-catching website full of the information your customers want to know, you will be able to easily convince them that your services are what they need.
Here is a quick glance of some of the features all PixelEmu themes provide users, with PE Services being no exception:
100% fully responsive
Accessible theme
Premium Revolution Slider – at no extra cost!
SEO friendly
High web performance test results
High resolution support
Child theme support
Awesome icons
Collapsible widget positions
Google maps integration
Main Features
In addition to the features that all of the well-designed themes PixelEmu bring website owners, PE Services comes with some significant elements that make creating even a sterile medical clinic WordPress theme exciting for those viewing it.
Services Presentation
Whether you have dozens of services for customers to sign up for, hundreds of products to sell, or just a few niche related items for purchase, PE Services lets you create a flexible and user-friendly layout for your customers.
For starters, PE Services comes in four distinct versions: construction/architecture company, medical clinic, doctor's office, and car mechanic company.
4 versions to choose from: construction, medical clinic, doctor's office (i.e. dentist), and car mechanic.
With ready-made demos available for you to work with, there is no need for you to start from scratch after downloading the theme's files. You can simply replace the demo's information with your company's and start offering your services right away.
Example services layout of a doctor WordPress theme.
You have the choice to display your services in a variety of ways. Align to the left or right, on the top or bottom. You can also add a description of each item that appears once a customer clicks on it, all without the browser reloading.
Content Layout
Your company may wish to include a blog along with the services you provide. This is especially helpful for customers who need additional information. After all, good content marketing efforts provide useful, informative, and entertaining content to the targeted audience. By establishing yourself as an expert in your field more people are apt to use your services.
Example content layout (2 columns and a leading post) of a construction and architecture WordPress theme.
Depending on your website's needs, you can display your content as a single post, a single page, or even use one of several column layout options: single post, single page, 1 column, 2 columns, or 2 columns with a leading post.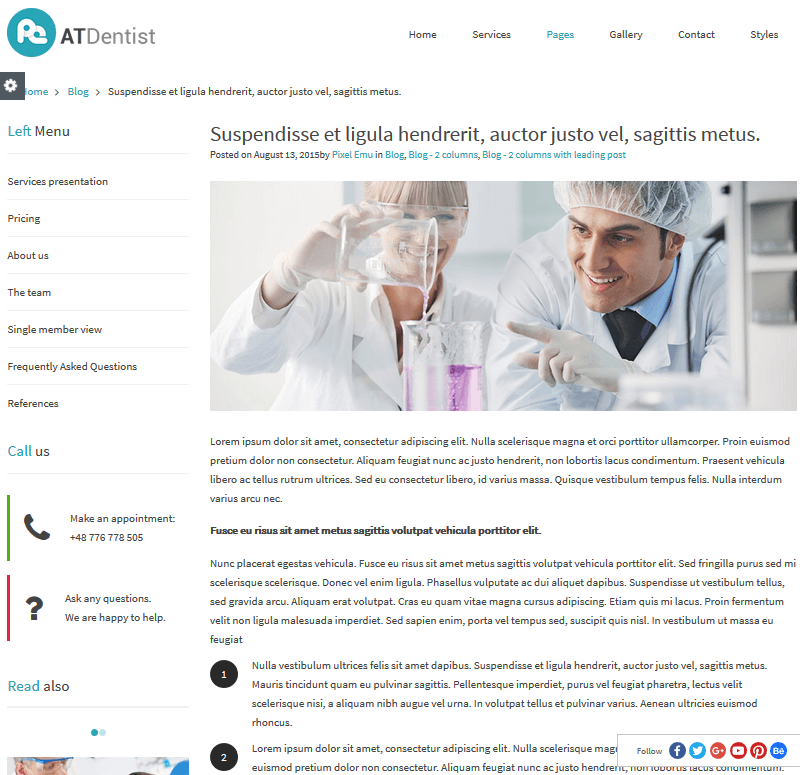 Example content layout (single post) of a medical clinic WordPress theme.
With PE Services, you also have the freedom to include any number of included ready-made widgets, customize your own widget areas, and include shortcodes provided to you via the team at PixelEmu.
Team Introductions
A staple to any good company that provides services is an openness about the team that works with its customers. People want to have a personal relationship with those that care for their loved ones during times of illness, build their homes from the ground up, or even service their cars.
PE Services provides the perfect platform for you to introduce your company's team members in an inviting way.
Example team introduction (both Carousel and Grid views) of a car mechanic WordPress theme.
Include details such as professional title, social profiles, and direct contact information. You can display your team in the Carousel or Grid view and can even link to specialists on separate pages where their professional services are outlined in more depth.
Fully Optimized
In addition to being fully responsive for those on mobile devices, PE Services is also optimized in many other ways.
Using semantic HTML5 code and CSS3, search engines can easily index your website content according to latest standards making it readily found by customers who need your services. PE Services is also compatible with the WordPress plugin Yoast SEO and is lightweight and fast making page loading speeds quick and your customers happy.
WCAG Recommendations
One of the unique features PE Services provides website owners is the ability to enable their services theme in accordance to WCAG recommendations.
To avoid what is deemed "Digital Exclusion" PixelEmu has gone above and beyond by adding special theme features that when enabled make your website accessible to those with disabilities.  This is especially helpful for those who are looking for a medical clinic theme since many laws are now requiring disability accessible options on websites for institutions such as those.
Taking into consideration such elements as perception, functionality, intelligibility, and reliability, PE Services makes your website user-friendly to all people who may access it.
Additional Features
Without a doubt, this services WordPress theme has a lot to offer website owners wanting to advertise their services to their intended audiences. Check out some more ways this can be done using this services WordPress multipurpose theme:
Multiple Page Options. Forget a simple About Us and Contact Page. Although important, and obviously included, there are so many other pages you can create using PE Services. Try a Pricing Table or Reference Page. Or how about an FAQ Section, an Error 404 Page for when something goes wrong on your site or even a Coming Soon Page for when you are just about to open up for business. All of these provide that extra touch customers love.
Rich Typography. PE Services provides added code to help you customize your website beyond what the theme customizer allows you to do. Check out the extensive typography code snippets available and brand your website just as you imagine.
Gallery Options. Using the free WordPress plugins PE Easy Slider or PE Recent Posts, create stunning image slides with titles, descriptions, and links to external sources. You can also display your gallery images more simply, sans the slide show, using the Gallery Grid Modal. And if you want to step it up a bit, try creating a video gallery complete with product launches and descriptions, tutorials, interviews, and more.
Extensive Documentation. Something PixelEmu does well is provide exceptional documentation for website owners who use their themes. Not only do they have a detailed step-by-step guide on how to customize each theme they have ever created, they also keep an updated and very informative blog for people to reference. Customer service is important when running a company. Just as you want to provide stellar customer service to your customers, PixelEmu wants to do the same for theirs.
Final Thoughts
In the end, PE Services is just as strong as any of the other themes PixelEmu has released in the past. Full of features for creating a solid services WordPress website, this theme does not come up short.
I am definitely impressed with the fact that as time goes on PixelEmu strives to develop better themes with unique features, rather than just tweaking small things and making them fit a specific niche. For instance, the fact that they labored over each version of the PE Services theme making it accessible to those with disabilities is amazing. Not only have they made their theme stand out amongst the competition, they have included a group of people who are just as deserving of a great user experience when visiting a website as any other person. I say hats off to PIxelEmu and well done.
You can purchase PE Services from PixelEmu for the low price of $39. Check out the benefits you get after buying a theme.
Have you used PixelEmu's PE Services Theme?  I would love to hear all about it in the comments below!
Latest posts by Lindsay Liedke
(see all)