Utilizing a good WordPress portfolio theme will let you showcase your artwork, photography, or anything visual you want to show for that matter. It will allow you to present your best work to potential customers, strike an interest with them, and encourage them to share with others what they like. And if you are lucky, your well-designed portfolio website will lead to an increase in revenue for you.
Web designers and developers. Writers and artists.  Freelancers and agencies. They can all make good use of a portfolio theme.
Today I want to share with you Delicious Themes' new WordPress portfolio theme Stag. Designed to build interest in your work, provide an outlet for actively showing your best pieces, and deliver an exceptional user experience, Stag is the perfect type of portfolio theme for "anyone in search of a brilliant web presence".
Stag Portfolio Theme
Developed with simplicity, minimalism, and a touch of modernism, Stag is a solid portfolio theme for anyone wishing to share their work with the world.
It comes packed with customization options for creating a unique website, is easy to navigate on both the front and back-end, and is built for easy and fast design creation.
Here is an overview of what Stag has to offer website owners:
Live theme customizer for previewing your changes as you work.
Translation ready using the popular WPML multilingual WordPress plugin.
Advanced typography with over 700 font choices.
Parallax effect using full-width background imagery.
Classic, minimal, and fullscreen header behavior.
Built-in social sharing widgets and integration with tons of social media platforms.
CSS3 animations for lively effects.
RTL language support.
Contact Form 7 and Google Maps integration.
Coded using best SEO practices and compatible with popular WordPress SEO plugins.
Optional breadcrumbs.
Child theme included.
Compatible with WooCommerce for adding an eCommerce element.
Stag's Main Features
In addition to the great features mentioned above, Stag offers website owners looking for a standout portfolio theme a lot of variety when it comes to its main features. Let's take a look.
Premium Plugin Inclusion
Stag comes with 3 premium WordPress plugins, at no extra cost, just being a loyal Delicious Themes customer.

Visual Composer. Included with Stag for fast and easy page building, Visual Composer is the perfect complement to your portfolio style website. Its advanced grid building capabilities, responsive templates, and seemingly endless customization options make creating a portfolio a cinch.
Slider Revolution. The number one slider available on the market today, Slider Revolution comes responsive and with multiple layouts to choose from. Packed with customization options and multimedia support for things such as text, links, images, and video, this premium plugin addition is nothing but a plus for your portfolio theme.
Templatera Addon. This Visual Composer add-on helps website owners create, manage, and set controls for your Visual Composer templates based on user roles or page post types. With easy import and exporting features, and the ability to edit all from one convenient place, Templatera Addon lets you see your changes live without digging into each layout individually.
In addition to the 3 premium plugins (a savings of $65!) that come standard with a Stag Portfolio theme purchase, you will also receive Delicious Themes' exclusive plugin Delicious Addons which extends Visual Composer with 20+ elements for an even better page building, and website building, experience.
6 Unique Demo Layouts
Using Stag's Live Theme Customizer, you can change any element of your website easily. Choose color schemes for your main background, content wraps, footer backgrounds, and text backgrounds using the color picker.  Even pick a patterned background for that extra personal touch.
However, as those things often come standard for many WordPress themes, the real kicker for customizing your portfolio theme is in the 6 unique demo layouts Stag provides users. With this variety and flexibility, Stag opens itself up to being a perfect theme match for any type of website needing to showcase work in a visual way.
Parallax Hero Banner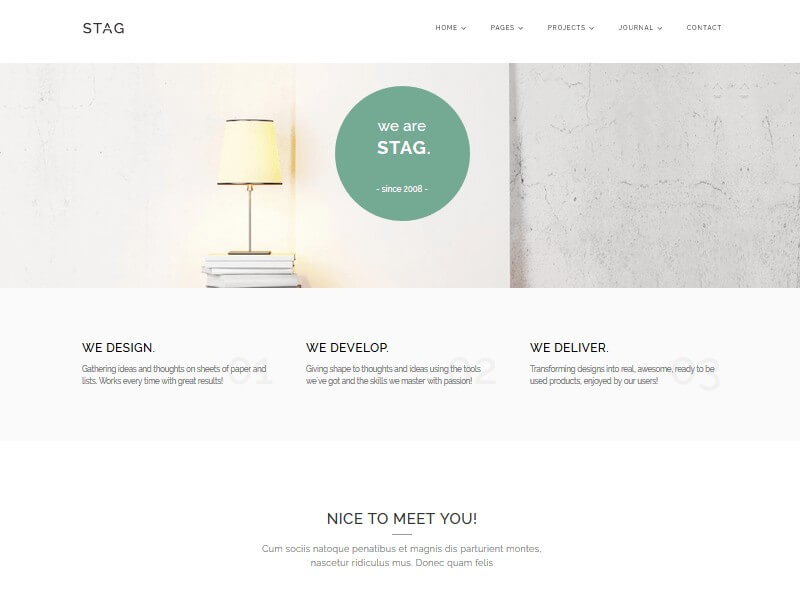 Take advantage of Stag's smooth parallax effect and large hero banner option to provide a bold statement with stunning imagery to those clicking on your website for the first time.
Typed Hero Text
A different take on the hero banner option is to replace the large image with typed text. Share your life's motto, what your company stands for, or just say "hello" with Stag's Typed Hero Text layout.
Hexagon Services
With Stag's unique hexagon icons that are clickable for extra navigation in addition to the simple header menu options, you can really wow your website visitors. Try making these cool little hexagons into services you provide or link to your eCommerce shop. Even navigate site visitors to an extension of your portfolio.
Revolution Slider
Using the premium Revolution Slider plugin, create a stunning header that highlights your best pieces.  After all, first impressions are a must when it comes to attracting, converting, and retaining loyal customers.
Fullscreen Intro
If you are looking to really take your site visitors by surprise use Stag's distinctive fullscreen intro layout. With a huge image front and center, you are bound to spark interest and encourage further exploration of your website.
Creative One Page
For those seeking a more minimal feel to their website and a simplicity that only one-page websites offer, there is the Creative One Page layout. Share your latest projects, services or products you provide, contact information, and links to your blog on one long scrolling page.
Portfolio Options
Not only does Stag offer website owners flexibility in their website's layout, they offer just as much variety when it comes to portfolio styles for displaying your projects:
2-5 columns consistently sized thumbnails with enlargement capability, title linking to blog, and tags.
Regular Alt Layout. 2-5 columns consistently sized thumbnail images with enlargement capability, a second image click reveals a video, hover for a title/tags/description.
Masonry. 2-5 columns, multi-sized thumbnail images with enlargement capability, a second image click reveals a video, title linking to blog, and tags.
Consistently sized images with enlargement capability, a second click reveals a video, associated text box with title linking to blog, description, and tags.
Scrolling effect of text box with image, both linking to blog, with a title, description, and tags.
Blog Layouts
With Stag, you have the option of customizing your blog to fit your design needs. Enable things such as tags, social sharing icons, author boxes, previous/next post links, and breadcrumbs using the Live Theme Customizer.
You even have the option to decide how you want your sidebar to look making it as minimal and modern as you want to.
Create a minimal blog layout with images appearing only after a visitor hovers and a simple grid layout of blog posts to click on for further reading.
Enable the right or left sidebar options with widget areas for social sharing, search bars, recent posts, and more.
Do away with the sidebar and just include a running list of blog posts and large images above each blog excerpt.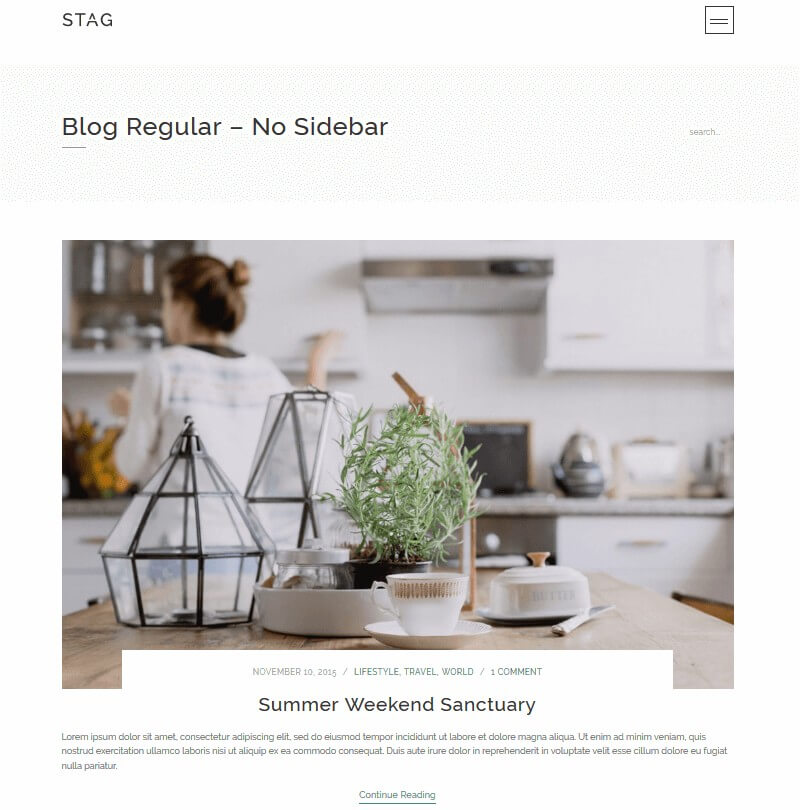 Final Thoughts
In the end, Delicious Themes' Stag portfolio theme is all about the layout and design. Showcasing your greatest work should be the main priority when it comes to building a portfolio website and should do all of the talking.
Stag does an amazing job of offering a wide selection of design choices so everyone seeking a portfolio theme will have something useful to work with. Want it simple with very little information and just a bunch of images? No problem, Stag has you covered. Need something more complex and bold, while still centering on your portfolio of work? Again no problem, Stag has you covered.
If you are a freelancer, writer, agency, artist, photographer, or anyone else just looking to display a collection of work to your intended audience, I would recommend checking out Stag's live demo here and seeing if it has what you are looking for. At the low price of $49 (and don't forget the premium plugin inclusions!) you are sure to create something beautiful without breaking the bank.
Have you tried Stag for your website portfolio needs?  Which design combination did you go with?  I would love to hear all about it in the comments below!
Latest posts by Lindsay Liedke
(see all)