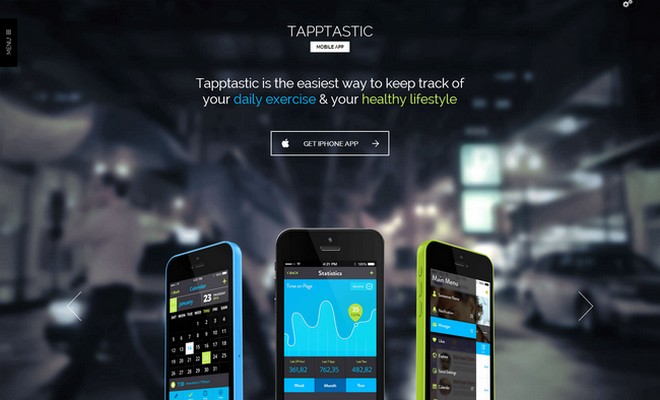 Tapptastic is a new WordPress theme from Themefuse with a fantastic look and feel. This theme is just perfect for smartphone developers to showcase and promote all kind of apps such iPad, iPhone or Android mobile apps. The theme is created for app developers and all who like apps.
The design of Taptastic is eye catching in every possible way. The layout is responsive so the theme will scale and adapt to look perfect in any devices.
With the wide elegant slider you can show off apps in a creative and inspiring way. Your visitors will absolutely love your website. The design is just awesome.
Some of Tapptastic highlights are as I mentioned earlier, responsive and adaptable design. It comes with built-in SEO & marketing helping you to get higher page ranking in search engines. Another great feature is the one click auto install meaning you can relax for a minute, (maybe grab a cup of coffee!) when the framework auto-installs the theme.
Tapptastic is an amazing theme with endless of possibilities to create a really cool online presence. If you like apps, then this is the perfect theme for you. Showcase and display apps the right way and in a beautiful and inspiring way.
More features and options included in the theme are:
Powerful Admin Options
Jquery Image Lightbox
Dynamic Sidebar Widget Creation
Auto Image Resizing
Custom Widget (Prefix with Fuse)
Feedburner Ready
Font-face custom font
Cross Browser Compatible
Jquery Image / Video Lightbox
Javascript enabled tabs
Themefuse is a WordPress theme provider that's been around for a long time. They offer many amazing and creative themes with great variety that suit all tastes and niches. Tapptastic is their latest creation and is simply a fantastic WordPress themes perfect for all kind of apps.
Latest posts by Artem Pavlov
(see all)