Finding a right theme for your product or business website and still can't decide? You may want to check Zodiac theme from YayThemes. Zodiac is a responsive WordPress theme ideal for business websites. There are various layouts, features, customization and user experience features packed into the theme. Let us go over all the features and review in-depth what this theme has to offer.
Features
There's plenty of functionality and features packed into this theme. Everything you can imagine you'd ever need for your business website appears to be laid out quite nicely in Zodiac. There's different homepage layouts, different header styles and different footer styles to adhere to your needs. If you have a video for the front page of your site, this theme also comes with a video slider. The slider itself is highly responsive plays quite smoothly.
Slider and Portfolios
The theme allows various types of sliders including content slider (to only slide content), video slider and If you don't have a video, there's also a plain image slider that allows text to be placed on top of it. One of the most important aspects of your business is being able to display past projects and a portfolio. Zodiac comes with different portfolio layouts. There's 2 column, 3 column, 4 column and even masonry column layouts.
User Experience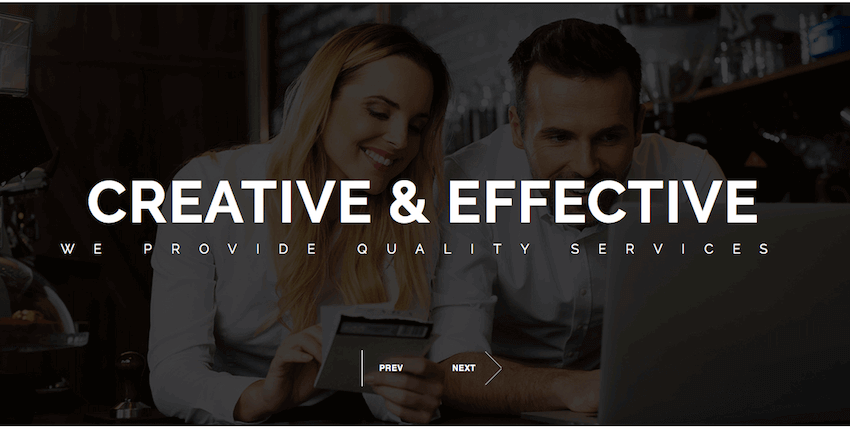 From a user experience standpoint, this theme handles everything very well. The text is easily readable and the color selection of the design is optimal as well. There's nice animations on the menu and hover effects on various elements of the page that you want to pop out. There was serious consideration put into the user experience of this theme as you scroll through the various pages. The theme is fairly easy to navigate with a clear and concise layout.
Short Codes
What if you want to add more functionality but you don't know a single line of code? If you need to add functionality to your site that didn't come previously configured, there are plenty of short codes that come with the theme. If you need to place a table, add columns, add a contact form, add testimonials or more, there's plenty of short codes available that are easy to use.
Coming Soon Page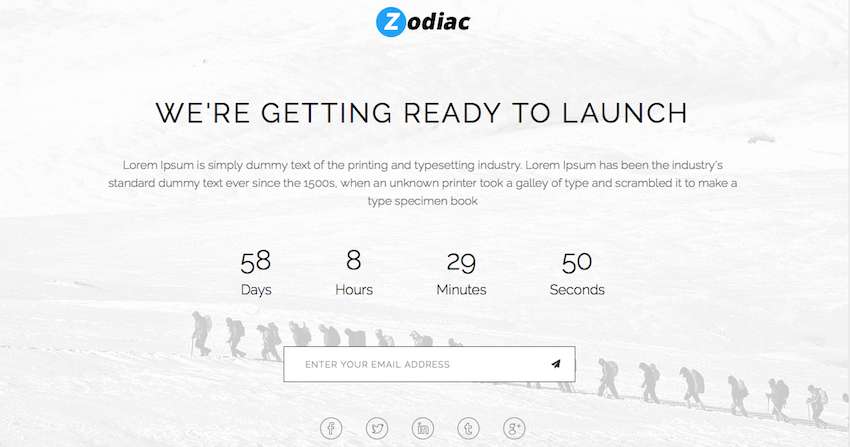 There's a coming soon page for those who want to catch email addresses built into Zodiac. If you're not ready to launch your site, then you can use Zodiac's built in coming soon page that will display a timer you can specify and it will even catch email addresses so you can keep everyone interested in your services or business up to date. After you install theme, you can manage everything including email collection to time for the coming soon page with just a few clicks.
Other Page Designs
To show off your services and packages, Zodiac offers pre-built pages for a pricing table, a frequently asked questions page, a services page and a page for customers to contact you. For people who want to write a blog post every so often, Zodiac also offers a blog that you can post on and keep people updated. Blogs are also great for SEO because search engines like to see dynamic content and a website that's constantly updated. Zodiac makes great use of heading tags, has a lot of textual content that's meaningful and doesn't clutter up the page with a lot of useless over bloated images or videos. There's plenty of content that's near the fold and the theme makes great use of what little imagery that it does use. This theme scores excellent in SEO and great on page load times as well.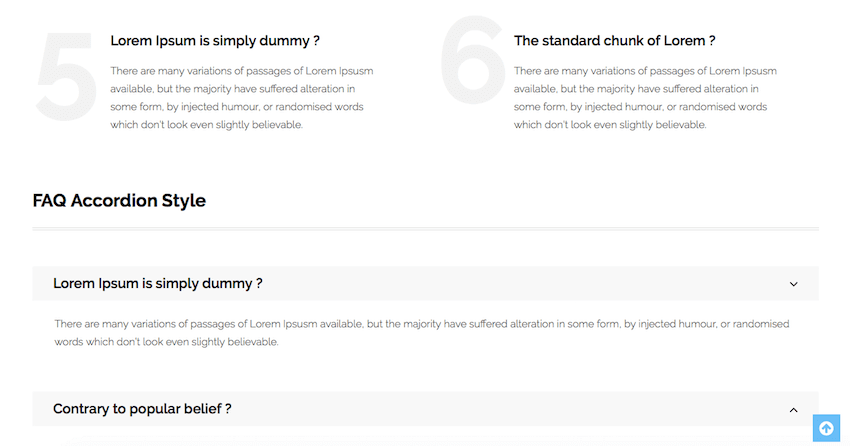 Mega Menu Support
The zodiac theme supports popular drag and drop mega menu builder. The mega menu is a free plugin that allows you to build menu. Once you install the theme, it will automatically ask you to install recommended plugins. All the plugins required are free to download from WordPress's plugin repository. Once you install them, you're free to set your own elegant looking menu.
Demo Content and Settings
If you want to setup your website just like demo site, the theme package comes with demo content. This is easier if you want to quickly setup your website without going for each feature one-by-one. Simply replace demo content with your original content and your site can be ready in no time. Demo data doesn't just include all the posts and pages (xml file) but also includes various settings for the theme in another .json file.
Built using Redux Framework
The theme is built using leading open source WordPress theme framework called Redux framework. This framework makes it easy to change look and feel of website in just few clicks. So if you want to make changes in homepage slider or change logo? Want to change full width layout to boxed layout? It is all possible in just a few clicks.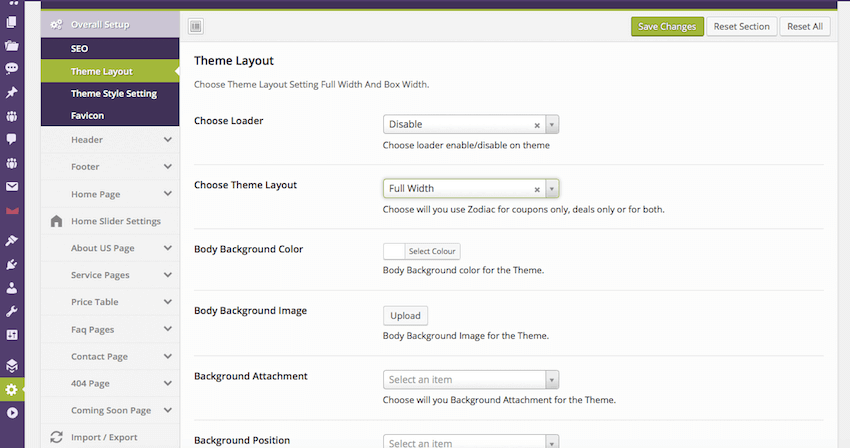 Everything you see on the theme is pretty much manageable though the Admin panel itself without actually touching the content or code. Be it adding few team members, sponsors, FAQs or add new testimonial. This is really convenient for someone who doesn't like to mess with complicate codes.
Pricing
The price of this theme is only $39. A lot of themes typically cost $50 today but what do you get with those themes? Those themes often come with a lot of plugins and have horrendous SEO scores. Most $50 themes are often designed by amateurs just looking to make a quick buck. With Zodiac, not only can you save yourself a little bit of money but you get a theme that's far more fleshed out than other themes. For the price tag, Zodiac is definitely worth the money.
Wrapping Up
Is Zodiac worth the purchase and does it stack up in 2016? The price allows you to use it for unlimited domains. Yes, with firm certainty, I can say that Zodiac is indeed a great theme for business websites and you can more than likely use it on other types of websites as well. It makes great use of elements for the user experience aspect by giving certain elements hover effects to stand out and the text is easily readable. Although, if you don't like the text or images that come with theme, they're all easily changeable via the theme's interface in your WordPress dashboard.
If you need a quality theme, then the $39 price tag is definitely worth it. This is one of the highest quality business related WordPress themes out there. Everything's easily customizable and functionality is incredibly easy to add right there from the dashboard. Not one single line of code is needed. I would highly recommend purchasing this theme for any and all of your business related needs or even if you don't have a business. This theme can adapt to any kind of niche.
Latest posts by Artem Pavlov
(see all)