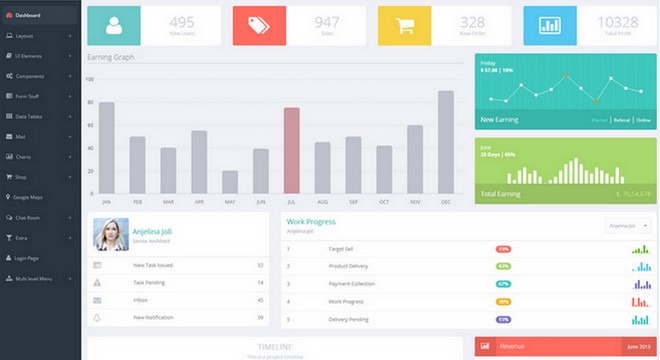 Online businesses operate in a world where they need to deal with a myriad of data as a part of their job. The data generated by their day-to-day business activities help them perform their operations in an effective manner.
However, the problem arises when there are loopholes involved while mining the data. In such situation, a well developed dashboard design comes to play, which helps people to quickly identify the bottlenecks, in order to make insightful observations, reports, and documents.
A well-designed dashboard is an interface where with the help of creative and functional representation tools, users can get the access of a wide amount of information on a single display or platform. Can be though as admin panels, the dashboard creates a comprehensive visual interface which would generate and communicate the key numbers of data in a straightforward way, while allowing users to get a hold of the provided specifications.
The motive behind is to give away with cumbersome modes of representation, and to create something which is reliable and easy to decipher.
Here in this article, you'll get an idea of some interesting dashboard designs created by web designers, which helps you to have an idea of how by adopting some useful and informative ways you could represent a great deal of information in front of your users.
Toutapp is a sales acceleration dashboard which lets the sales team of your company get a hold of content management. The app helps in measuring the content performance and gives you exact numbers of how leads are generated from your sales email. The dashboard tracks emails, templates, and analytics which help the sales team to effectively manage their communication processes.
Further, the app streamlines your templates which saves your time of writing same email again and again, thus helping you to focus on email personalization. Since, the dashboard is designed by keeping in mind the needs of sales managers and sales teams, it is easy to tap sales communication throughout your organization and helps you to have a view of how teams are performing.
The Lancaster Bingo Company Dashboard is a versatile dashboard which is designed on the basis on "world's most popular open source business analytics and information technology". The functionality of the dashboard is very impressive which help businesses to integrate all the relevant data gathered from a variety of sources in a single report. Its solid drap and drop design helps in report customization, while its amazing page level security allows information accessible to different users as per their convenience, eliminating the hassles of costly and time taking process of report generation.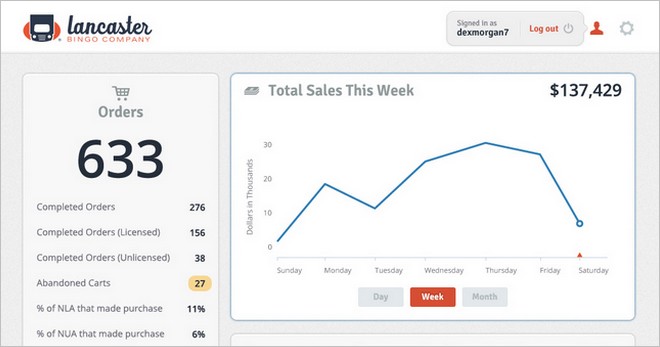 The Flatlab Dashboard helps you to create attention-grabbing content and reports that will surely enhance the way your team uses the data representation tools. Its powerful design can be customized easily for any e-commerce or business website. The dashboard comes complete with an array of widgets, creative mail box, attractive form and wizard, error page and login page with Facebook and Twitter.
Adminre is a flat and responsive dashboard which comes with various dynamic features and options that allows you to present your data in ways you have never thought of. It contains many useful components that truly change the way data is being used in your organization. Great for your admin dashboard projects, the dashboard will get you the answers of all your questions the moment you need them.
Released on May 2013, Fitbit dashboard is designed to provide an enhanced user experience to get a hold of the better data gathering process and information needs. The dashboard is full of rich features that can be customized easily as per the convenience. User can add, delete, edit, arrange the titles to generate the information in a comprehensive manner. The dashboard features a range of titles such as Activity graph, sleep patterns, calories burned, Calories In vs Out, Distance, foods, friends, and Activity minutes.
To Sum Up
For a business to be successful, it is important not to overlook the design and functionality of a dashboard. If you want your customer to gain better knowledge about your service in the fastest and easiest manner, having a creative and easy to understand dashboard is what all you need. A straightforward dashboard helps your online business to get the right, balancing approach of data representation without over-loading the user.
Author Bio
Maria is a blogger who loves to share everything about web development and new web design technologies initiatives. She currently works as a chief writer for the PSD to WordPress Company – Markupcloud Ltd. Follow her on Twitter: @mariamincey64
Latest posts by Artem Pavlov
(see all)