WordPress is one of the popular platforms to build blogs. Blogs is all about posts, which bloggers often publish at different point of time. After posting a number of posts, your blog can appear too cluttered; however, there are ways and means to get things organized. You can get the posts appear in thumbnails using certain WordPress plugins. The WordPress platform is among the most resourceful place to carry out this job with ease and fun.
By doing this you not only make your blog attractive but also engage the readers visiting your blogs. With this you can reap a number of benefits including getting higher page views and reducing bounce rates to a great extent. Thus at the end of the day, you simply manage to run your blog with a tangible reader base. Now, let's check some of the smart ways of displaying the posts in thumbnails using certain WordPress plugins as under:
nRelate Flyout
This WordPress plugin is among the most popular ones, which helps in displaying several posts along with displaying with some cool flyout via different thumbnails unlike the way you see the format in site of NY Times. This plugin is backed with robust kind of settings panel, which helps in displaying the posts and customizing the flyout in the ways you want.
You can even set the location of the flyout, the thumbnail size and animations effects and thus get a new look and feel over your blog. This plugin also indexes a number of your blog posts automatically, so you do not have to worry about doing things manually. In this way, you end up leveraging the best using nRelate Flyout.
Yet Another Related Posts Plugin or YARPP
The other popular WordPress plugin, which helps in displaying different posts, is Yet Another Related Posts Plugin, which is popularly known as YARPP. It supports a number of templates and thumbnails of different posts over your blog. With this plugin you can very easily choose from the thumbnail style or list to show a number of posts.
It automatically would index your different posts by simply catching them when your blog pages get the hits. Also another interesting feature about YARPP is that it employs certain customizable algorithms regarding the post titles, tags, content categories and the custom taxonomies this plugin simply finds the relevant content all over your blog.
Shareaholic
This plugin has been proved out to be one of the most successful tools in helping your readers discover and submit different posts (articles) over a number of social bookmarking websites. If you dislike the idea of using a separate plugin for this task then Shareaholic can help you in this regard. It not only helps in displaying your different posts over your blog but at the same time add several sharing buttons that helps you share the content over different social bookmarking site with user friendly and easy to use settings panel.
The best part of this plugin is that it is also optimized for the modern mobile devices like smartphones and tablets (both for iOS and Android), which means you can work over these devices to manage your blog.
WordPress Related Posts Plugin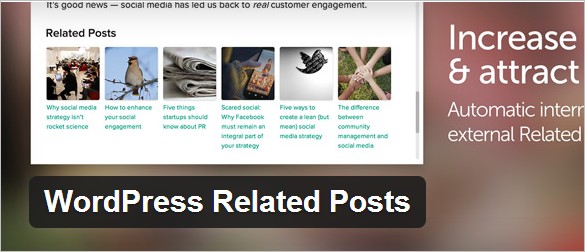 This plugin simply helps in adding up a number of posts with proper thumbnail at the footer of your blog posts. It has certain special features, which include getting some real time statistics of a number of page clicks and views. Besides, the WordPress Related Posts Plugin is designed with a responsive design, which makes it compatible over the smartphones and tablets. So, when people get the number of posts being displayed with a thumbnail with different features, you get better reader engagement, which helps in building up the rapport of your blog.
LinkWithin
Another popular plugin, which helps in displaying your posts in thumbnail is LinkWithin. The best part of this plugin is that it is not just compatible at WordPress but also can be used at other popular blogging platforms for similar tasks including Blogger and TypePad. It brings all the relevant posts together and displays in the form of a thumbail over the footer of your different blog posts. Also, you can find a real time statistics of a number of clicks and pageviews, which helps in taking care of the SEO part. Lastly, it has a responsive design, which means you can use it very easily over devices like tablets and smartphones.
Final word
If you are able to display the number of posts over your blog in a thumbnail you could certainly going to boost up the reader engagement bringing more traffic over your blog. The above are some of the best plugins, which helps in displaying the posts with a thumbnail over the WordPress platform.
About the author:
Brianne Walter is a freelance journalist who has been writing about mobile technology, customer relationship management and women's health for more than a decade. These days she is busy to contributes on responsive design.
Latest posts by Artem Pavlov
(see all)