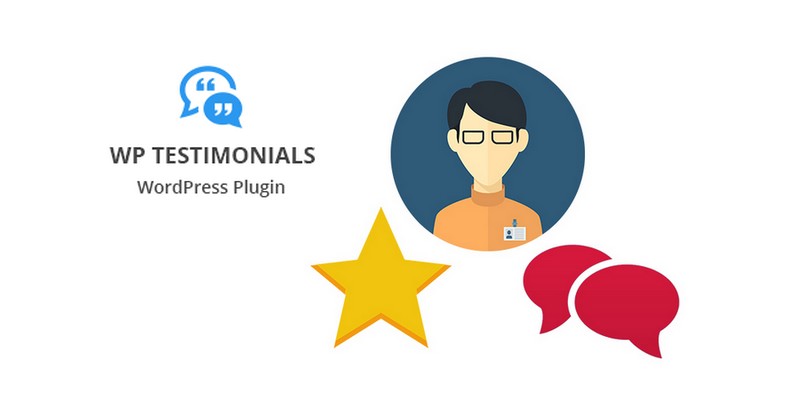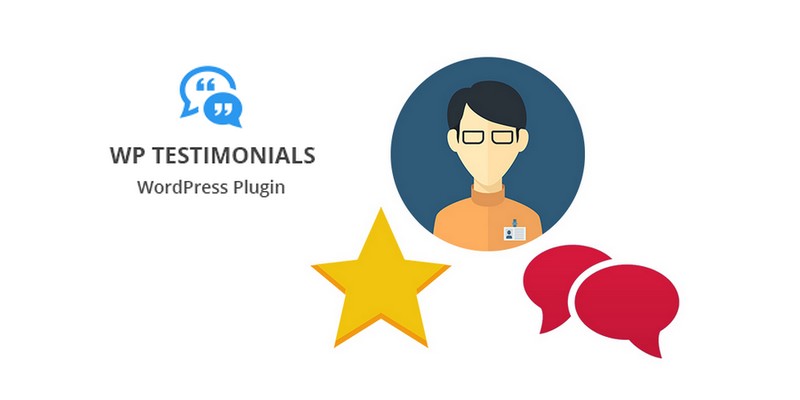 Whether you're a freelancer, a large business or you run an online store, glowing and honest testimonials or reviews are invaluable.
In fact, a survey on Marketing Land (survey done by Zendesk) found that 90% of purchasing decisions are a direct result of online reviews.
That's a pretty staggering number, but it shouldn't be that surprising.
A large reason for this percentage is that these reviews and testimonials work as endorsements that help others trust you or your product even though they've never met you or used your product before. This results in more leads, and hopefully, more money coming your way.
When it comes to displaying testimonials you have quite a few choices with WordPress — the simplest of these being the use of a plugin. However, there are many plugins out there that don't give you the control or features that you may want in order to create and display your testimonials or product reviews in the manner that you desire.
If you're looking for a way to create stunning testimonials for your work or products, then this new plugin is right up your alley.
WP Testimonials: Easy to Customize and Easy on the Eyes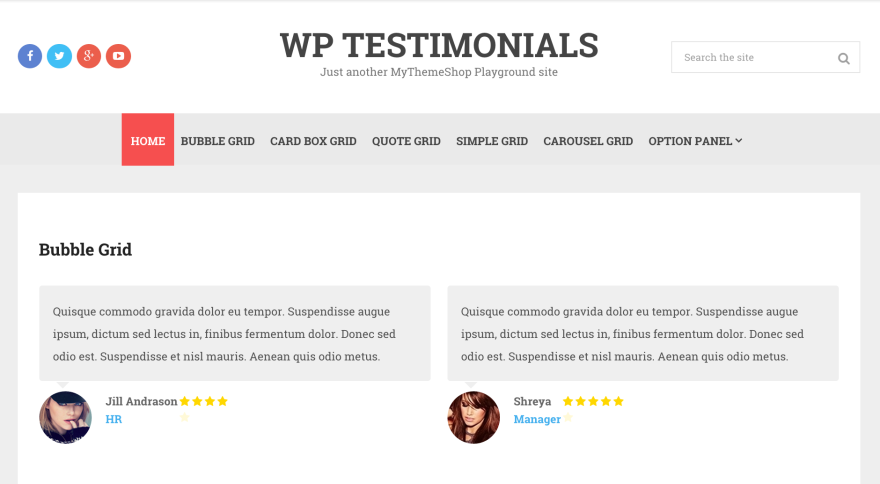 In recent months, My Theme Shop has been rolling out quite a few new products. One of those new products is their new plugin called WP Testimonials.
This plugin is chalk full of a ton of display features and options to allow you or your site visitors to create beautiful testimonials or simple product reviews right on your WordPress site.
Here are just a few of the features that come with WP Testimonials:
Fully Responsive so that your testimonials resize to fit any screen
Unlimited color scheme
14 different layouts to choose from so that your testimonials or reviews never look boring
Preview the way your testimonials will look in the backend before they are displayed on your site
Shortcode integration so you can display the testimonials where you want
A Submission Form that allows others to submit their own testimonials (these are fully moderated and you can choose to delete the ones you don't want to be displayed.)
Another great feature is that, thanks to the shortcode capabilities, you can use the shortcodes you generate for your testimonials in any widgetized Text area on your site.
The layouts come in 5 different options and there are more to choose from under each option:
Bubble
Card Box
Quote Grid
Simple
Carousel
Each one of these layouts offers something a little different. You can also choose from either a grid or full-width layout under each of these categories. Have a look at the demo.
As far as customizations go, WP Testimonials is pretty simple.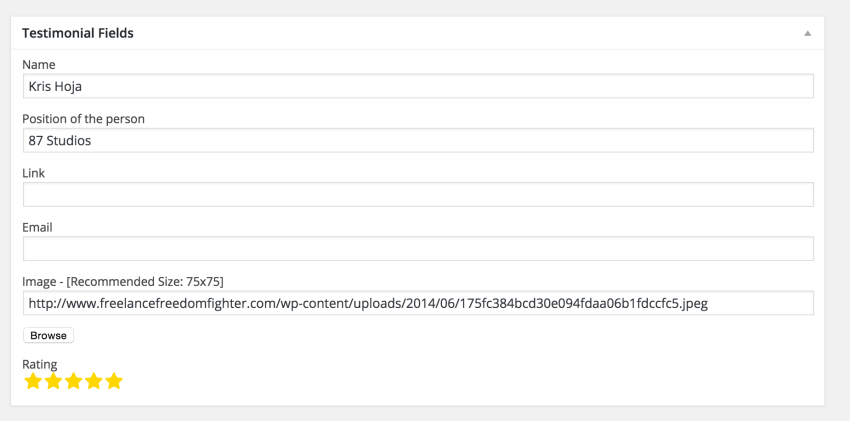 Once you create your testimonial (or if someone else creates one through the form submission option that you can integrate on your site via shortcode) you can add further details about the person who wrote the testimonial or review.
After you've added all the personal details that you wish to include, you can head over to the Shortcode area under the Testimonials tab in your WP dashboard menu and start customizing the way your testimonials will look.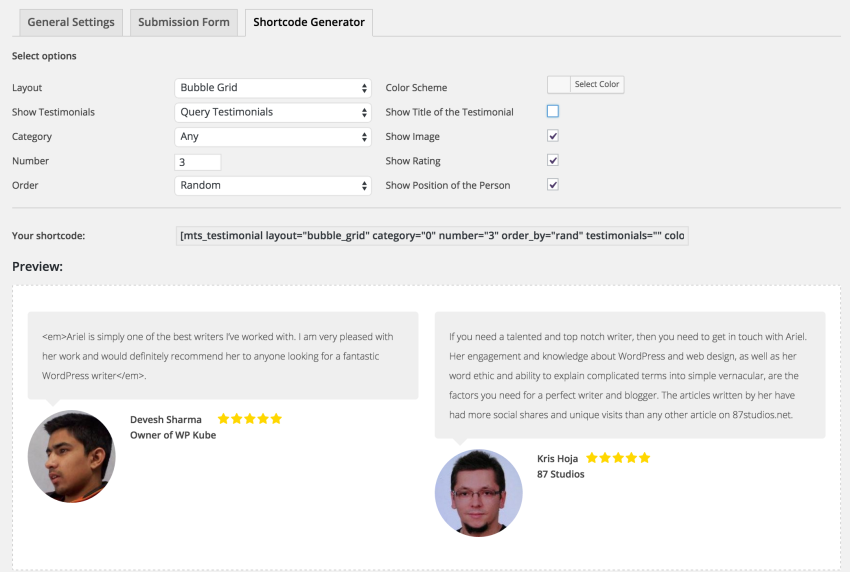 Here you can define:
The display layout that you desire
Which testimonials you would like shown on your site (choose from a category or specific ones available)
How many you would like displayed on your page, post or text widget
If you would like them displayed in order or randomly chosen
Choose the color of your testimonial
You can tweak things here until you're happy with the result and they you can snag the shortcode that is generated and then slap it onto any post, page, or text widget that you would like.
In Conclusion
WP Testimonials allows you to create beautiful testimonials and simple reviews that are bold, beautiful and elegant. It's easy to use and doesn't have much fluff to it — you get just the right amount of options without feeling overwhelmed.
The price for this plugin is $25 for a year of updates and use on as many sites as you would like. Plus, My Theme Shop has a great record of customer service so if you run into problems or have suggestions for the plugin they are quick to respond (I speak from experience on that).
Latest posts by Ariel Rule
(see all)