There is no point of denying this attribute that all kinds of websites that have been developed by professionals have same and common objectives. These same or common objectives can be efficiently considered in the form of website engagements or traffics as users or target audiences of the websites actually determine the strengths and weaknesses of websites in an appropriate way.
When it comes to exploring and examining certain attributes through which website engagement and traffic could be increased to a considerable level, then Facebook can be assumed as the most influential tool through which websites engagements or traffics could be enhanced to the next level. This is an important aspect to note that Facebook with the passage of time has become one of the most efficient and highly productive
This is an important aspect to note that Facebook with the passage of time has become one of the most efficient and highly productive social networking sites as there are millions of users use Facebook for different kinds of purposes on a daily basis. Therefore, different website owners and entrepreneurs are using Facebook as a resource in order to enhance their websites engagements in the best possible manner.
First of all, it is better to understand how website engagement or traffic can be increased with the help of Facebook WordPress plugins in the desired way. In reality, these all sorts of plugins are being utilized for the sake of displaying text, images videos, events and various other aspects of your Facebook in your website.  As a result, any new post or happening takes place on your website then at the same time it is also published on your Facebook as well. In this way, you can develop or make your business or personal website more engaging and interactive as users will attain each and every kind of information about the website on Facebook.
Hence, being an entrepreneur or owner of a website you are encouraged to go through these 10 below mentioned most valuable Facebook WordPress plugins in order to increase your website readership to the next level. These 10 productive and influential Facebook WordPress plugins are discussed as follows:

This is regarded as a highly innovative Facebook sidebox plugin because it helps in displaying the tab image on your website and at the same time when it is hovered over then it also indicates Facebook fanbox. With the help of this amazing WordPress plugins, developers can improve the visibility and attraction of their websites to a considerable level. The best part about this plugin is that it can be used for free and developers can also experience a premium version of this plugin, which provides various kinds of tabs along with placement options.
Developers are sincerely recommended to utilize this wonderful WordPress plugin in order to enhance the worth of their websites. This plugin should be used for the purpose of adding HTML tags such as Facebook Open Graph in the head section of web pages. There are different sorts of advantages that can be attained by the developers provided that they know the worth of this plugin. With the assistance or support of this plugin developers can increase the visibility of their websites on Facebook and at the same time this plugin also supports in enhancing the appearance of your Facebook page. This plugin also improves the ranking, engagement and image dimensions could also be enhanced by the help of using NextGen Facebook plugin.

Web developers should also add or incorporate Facebook-like and Follow button on their WordPress blog in order to increase the readership of their websites. This plugin can also be easily placed according to your requirements by applying short so that it can be moved before or after the content. The developers can also change the standard image into custom image quite easily.

As far as the importance and impacts of this highly productive WordPress plugin are concerned, its functions and features make this plugin unique from the rest of other plugins. This plugin makes websites more responsive as it is utilized in order to display texts and images. The videos and events can also be displayed successfully with the help of this amazing plugin from Facebook as a box.
When you are required to share different sorts of images then you are highly suggested to use this free and adorable image sharer plugin appropriately. This plugin has been designed for this purpose specifically and with the passage of time, it has become its specialty too. Whenever website users try to hover on any picture of your website then social sharing button appears so that they can easily share your images perfectly.
This plugin could be used in order to perform various kinds of tasks sufficiently as developers can incorporate Facebook comment form. They are also allowed to add open graph tags along with all Facebook comments in their WordPress database for the sake of optimizing SEO efficiently.

When you are needed to share your content of the website on Facebook and Twitter account then you must use this plugin to perform this task in an effective way. You can also utilize this plugin for the purpose of adding your Facebook app so that you can successfully link all your posts to Facebook right away.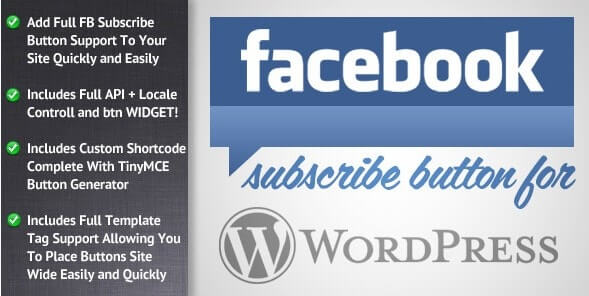 This plugin should be used in order to obtain full control and short codes along with template tag assistance for WordPress. In this way, you are allowed to make your Facebook new subscribe social plugin button more efficient and productive.

This is another useful plugin which needs to be applied by the developers so that they can powerfully enhance the social media spreading or dispersal accordingly. This plugin actually supports users of the website by allowing them to pay with a like, +1 or a tweet as well.

At times when you are needed to know about the feedbacks or results about the posts which you have shared on Facebook then this plugin must be used. It does provides charts and statistics regarding the numbers of likes, comments, and clicks so that you can have better perception or idea about the feedback of your posts.
Wrapping Up:
These all above mentioned WordPress Facebook plugins have been formulated for the sake of enhancing the engagement or readership extent of your website to the next level. All you need to use or apply these result oriented plugins to make your website highly engaging and interactive for the users. At the same time, you will be able to build long lasting relationship with your target audiences so that you can obtain desired outcomes in the future with the help of your website.
Latest posts by Artem Pavlov
(see all)