Though English is the most widely used internet language in the world, the truth is, it only makes up 26% of all online users. That means there is a whopping 74% of site visitors that may not be able to read your content, subscribe to your email list, or even purchase your products.
That's a lot of people.
To avoid this missed opportunity, and expand your online business, reach a wider audience, and establish yourself as an international brand, you should consider turning your WordPress website multilingual.
Luckily, since WordPress is such a flexible and versatile content management system, there are plenty of WordPress Multilingual plugins to choose from for translating your website's content.
Keep reading to learn about some of the best translation plugin options available. This way, you can start catering to site visitors that may speak another language than the one your website is written in.
The Best WordPress Multilingual Plugins for Translating Your Website's Content
There are several reasons why you might want to translate your website's content. For instance, you can reach new customers, improve user experience, increase conversion rates, and of course boost sales.
Better yet, using a WordPress multilingual plugin is cost effective.  Once you purchase a translation plugin, your content reaches an increasingly global audience without you spending another penny.
If you are want to translate your web content, check out this exceptional list of multilingual plugins for the year 2022.
Google Language Translator is a free and easy-to-use translation plugin offering automatic translations in over 80 languages. Just embed a simple shortcode into any post, page, or even widget area. Then, let the plugin do the work for you. Your readers will be able to easily switch between the available translations you offer using the language switcher.
In addition, this multilingual plugin also provides the option to turn off Google branding for a more professional look. Plus, it has inline and vertical layout options.  In the end, this automatic translation solution eliminates the need for tiresome manual translation or expensive translation services.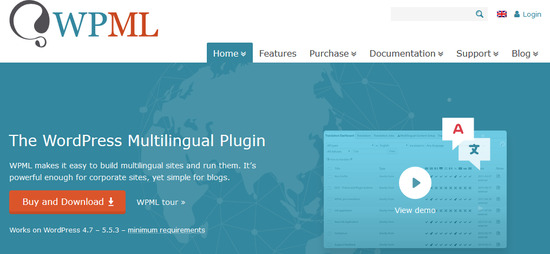 WPML is a premium WordPress multilingual plugin that, depending on the pricing plan you purchase, provides you the option of manually translating web content, utilizing automatic translations, or even connecting with expert translators at reasonable rates. And, with plans ranging from $29-$195, there is sure to be a price point that suits your budget.
This translation plugin has minimal configurations and comes with tons of documentation and superior support. In addition, it integrates with WooCommerce for translating your online shop and has over 40 built-in languages. Additionally, use the exclusive WPML language editor to add any additional languages not included with the plugin. In the end, this SEO optimized multilingual plugin is one of the most feature-rich options for translating web content.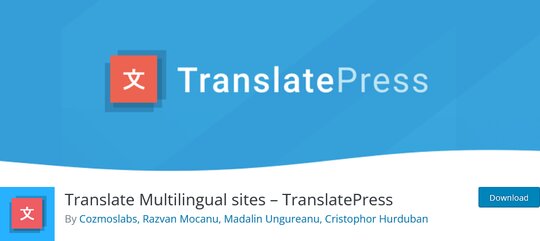 TranslatePress is a popular free WordPress plugin designed to help you translate your content into multiple languages. One can easily translate the complete page at one go.
Translating complete website is easily done through the front-end and the plugin is completely compatible with all the themes and popular plugins. Users can easily setup automatic translate using the Google API key and compatible with WooCommerce by default.
GTranslate is an amazing plugin for translating your website with ease. It uses Google Translate automatic service to translate websites pages with just one click.
This plugin was launched in the 2008 since then it has been a famous plugin for translating WordPress sites and blogs. At present, it has 300K active installations and it regularly provides updates to keep the plugin compatible with latest versions of WordPress. It has features such as mouse of effect, Google Analytics integration, Translate categories and tags even categories and tags, WooCommerce shop translation and many more.
Polylang is a free WordPress multilingual plugin that will let you translate media, categories, post tags, menus, and even widgets. In addition, it supports unlimited languages, including RTL scripts, and includes a customizable language switcher. Altogether, your site visitors can easily decide which language they prefer to read your content in.
After manually translating all of your website's content, Polylang settings make defining your site's languages a cinch. Moreover, this plugin works seamlessly with the free Lingotek Translation plugin. With it, you can implement automatic translations or receive professional translation services.
Multilanguage comes as a free translation plugin that allows you to translate your website's content in the easiest way possible. Manually add translated content, whether that be in the form of posts, pages, widgets, or even menus, and let readers switch between the translated content as they see fit.
Though packed with over 80 pre-installed languages, Multilanguage also allows you to upload new languages. In addition, you can define a default site language, add language switchers to navigation menus and widgets, customize language switchers to include nation flags, and even support RTL scripts if need be.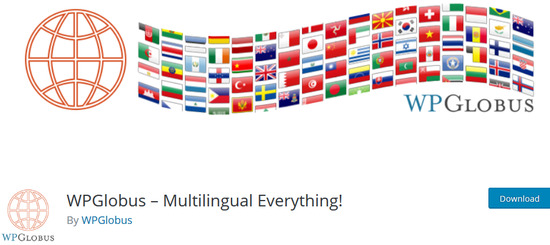 WPGlobus is the last multilingual plugin in our roundup, though it does not disappoint when it comes to features. For example, this translation solution comes fully compatible with the popular Visual Composer page building plugin. In addition, it allows for post, page, category, tag menus and widget translations. Keep in mind, however, that all you must manually translate all content. That said, WPGlobus does connect website owners with professional translators for those who need additional help.
One of the most important aspects of WPGlobus is that the team of developers responsible for this translation option aim to ensure the focus is on translating eCommerce sites. Though not fully developed, and with changes being made regularly, WPGlobus wants to make this plugin convenient for all parties involved in an eCommerce transaction regardless of what language they speak.
Final Thoughts
In the end, translating your website's content shows you care about reaching all site visitors regardless of where they hail from or what language they speak. In addition, it helps expand your brand across the globe, gather more loyal subscribers, and can even boost sales as more people from other nations are able to comfortably understand what your company has to offer.
If you are looking to take the next step with your WordPress website in hopes of building a bigger following, a more established reputation, and a better bottom line, try using any one of the above-mentioned WordPress multilingual plugins and start translating content today.
Have you ever used any of the WordPress multilingual plugins mentioned in the above roundup? Is there a translation solution you would like to add to the list? I would love to hear all about it in the comments below!
Latest posts by Lindsay Liedke
(see all)