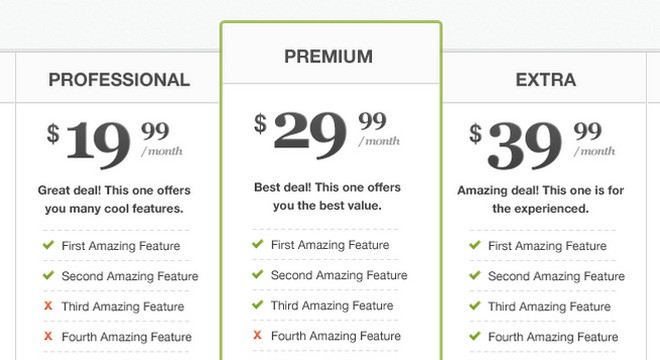 Whether you have an online shop, selling services, product or any kind of subscription, pricing tables can be very useful in many ways. It is important that you as a company can present the product's price plans in an easy and clear way. It also helps new potential buyers and customers to choose the most appropriate plan that suits them.
If you want to create and present elegant pricing tables on your website or online store, there are a lot of alternative to choose from.
One option is to use any of the many free web services available on the web. Simply make a search on Google with the term "create pricing tables online" and you'll find many useful tools both free and those that may cost a few bucks.
If you are WordPress user, you might want to install a WordPress plugin. There are a plethora of both free and premium plugins to choose from. Today I want to highlight a few free plugins that you can use to create truly great, functional pricing tables with stylish designs. Let's take a closer look at these free WordPress plugins:
Easy Pricing Table
With Easy Pricing Table plugin you can create and embed beautiful pricing tables on your post and pages using shortcodes. It is fully responsive and includes smooth hover effects. The plugin is lightweight and comes with an easy to use back-end user interface. More features are:
Fully responsive
Nice hover effects
Clean and nice back-end user interface
You can display table using short-codes or by using widget
Can create as many tables needed and separate settings for each
Pricing Table Ready
With this pricing table plugin you can generate and manage CSS3 pricing tables or comparison tables. Five different styles are included so you can customize the pricing table with colors from your website so they match. To insert a pricing table in a post or page you copy and insert the shortcode created when you generate your pricing or comparison table.
Five different table templates
Pricing table live preview
Easy to use price table generator
Drag and drop columns
Unlimited columns and rows
Button, text, special style for any pricing gird
Tooltips and icons for pricing table cells
Pricing Table
With this WordPress plugin you can easily create pricing tables and publish them in any page or post. The plugin includes a number of great features and it is easy to implement with a simple shortcode inside your page or post. You can choose between 4 different table templates to make beautiful pricing tables. More features are:
Drag and drop package (column) re-ordering
Drag and drop feature (row) re-ordering
Unlimited package (column) support
Featured column option highlight best price package
Tooltip support
Responsive tables
Easy Pricing Tables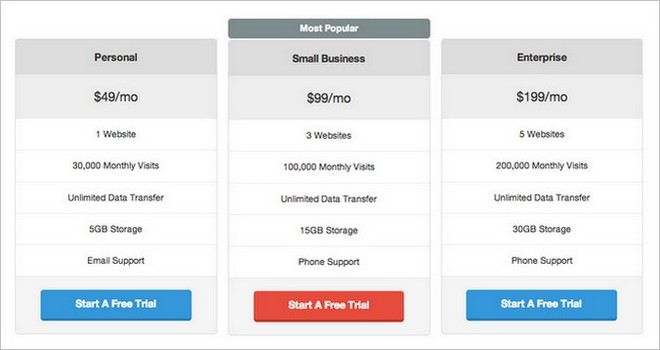 Easy Pricing Tables makes it easy for everybody to create elegant and responsive pricing tables. It works with any WordPress theme and has an intuitive user interface. Within minutes you can have stunning pricing tables up and running. No coding knowledge at all is required. More features are:
Built-in conversion rate optimization best practices
Create unlimited rows and up to 10 columns
Customize your design: font-size, color pickers and rounded borders.
Use drag & drop to reorder columns
Featured your most popular column
Kento Pricing Table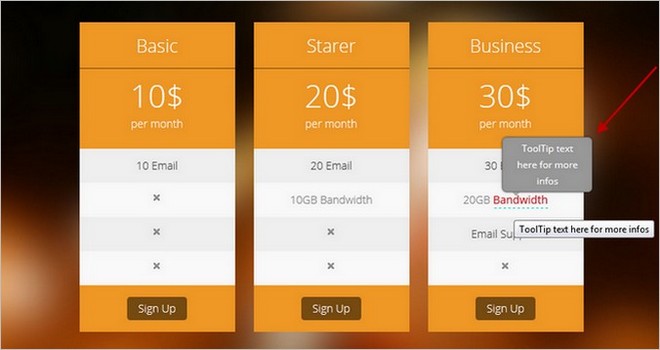 Another great tool and plugin to create pricing tables with is Kento Pricing Table. It features unlimited columns, rows and colors. You can add informative Tool-tip text for your comparison pricing tables. Just copy the shortcode after you have created and saved your table and insert into a page or post. More features are:
Unlimited rows, columns and colors
ToolTip text
Blank field cross icon
Easy admin panel
Display shortcode after save settings
Summary
All WordPress plugins in our collection is free to use. They are recently updated. Some plugin comes with both free and pro versions. Generally you manage fine with the free version. But do you need more features and options, you can always upgrade.
It was only 5 WordPress pricing tables plugin in this collection but there are lots of others to try. Do you use any plugin you think stand out from the crowd? Please leave a comment below. I hope you will find these free WordPress pricing tables plugins useful.
Latest posts by Artem Pavlov
(see all)