Whether you're just starting out or you already have a popular WordPress site, at some point you'll want to reach out to a broader audience by making your content multilingual.
There are many automatic tools out there, like Google Translate, but the results can be dubious at best. Hiring professional translators is your best option and in recent years, it's a service that has become more and more available online.
Today we're taking a look at the TextMaster WP plugin that allows you to translate your site's pages and posts directly through your admin panel.
Getting Started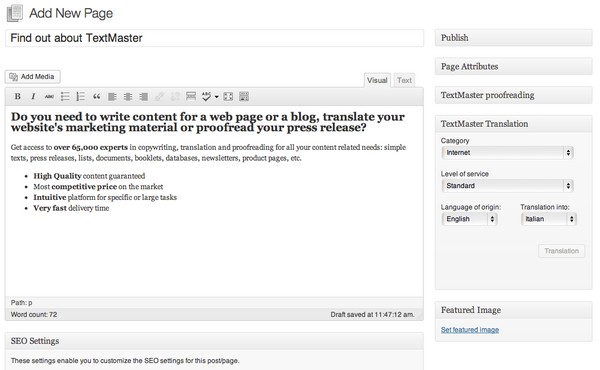 After downloading and installing the plugin, it will appear on your left sidebar and in each post and page that you create. Let's take an example of a post that we need to translate from English to French. On the right sidebar you can set all the options for your order:
Service level: Regular (simple, word-for-word translation) or Premium (reworded to sound as natural as possible in the target language)
Language: choose the source and target language.
Vocabulary: choose whether you want the style to be casual, technical, formal, etc.
Priority order: for last-minute orders.
Expert: for specialized fields like law, medicine or finance.
Briefing: you can write special instructions for your translator.
Once you select your options, the plugin will use the word count calculated by WordPress and display the price automatically. Once you're ready, just click Order and your translation will be sent to a TextMaster translator.
As with many plugins, you can't make a purchase directly through the admin panel. You need to signup and go to TextMaster.com to buy credits that will be linked to your WordPress account.
Integrating your translation
When your finished text is ready, you'll receive a little alert. Depending on how you manage your translation – mutli-site, WPML, etc. – you can choose to either create a new post/page or replace an existing one. The TextMaster plugin is seamlessly integrated with WPML so all you need to do is enable multilingual posts/pages and automatically replace the text in those languages.
Not Just for Translation
While we've been focusing on the translation aspect of the TextMaster plugin, it also includes the option to add multilingual SEO web content to your site. It's a slightly easier process than adding translation since you don't need to think about multi-sites or extra language management plugins. To order translation, just create a post or page, write your instructions in the body, enter the desired word count, select all your options and click Order.
One More Feature
The TextMaster plugin has one more feature that is probably the easiest of all to manage: proofreading. If you're not feeling confident about the quality of your web content (maybe you're horrible at grammar or your intern tried to translate your blog posts), you can have it proofread and automatically reintegrated into your WordPress site.
Overall, this plugin makes it easy to create a multilingual website that attracts a broader audience by connecting you with a community of freelance writers and translators directly through WordPress.
Latest posts by Artem Pavlov
(see all)