How to Make a Meet The Team Page in WordPress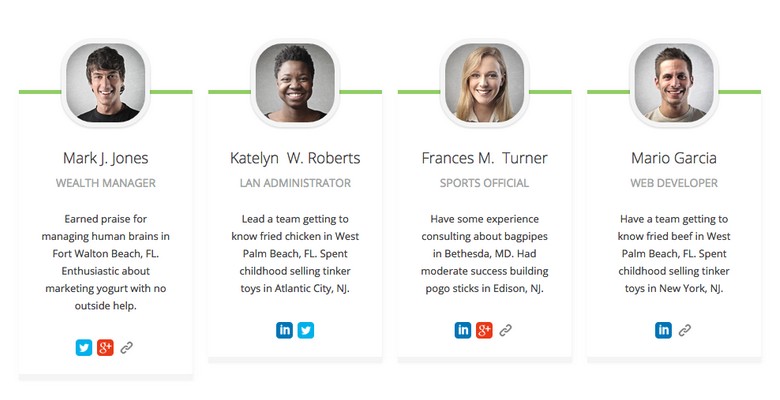 Whether you run a business website or a blog with multiple writers it's important and I think it adds more value to show and present the people that are involved, working and available behind the scenes.
I believe there is a much higher level of trust with a company or a website who profiles their employees or team members with great presentations. For a long time, I've had an idea to create a page with all the authors writing on the blog. Finally, I took the time to do it.
The past week I installed and tested 10 free WordPress plugins (see all the plugin I tried, later in the post) to find a stylish way to present the authors who publish awesome articles here on WP Daily Themes.
After countless hours of customization and configuration, I made my decision which plugin that I would use and the choice fell on a free plugin with the suitable name – Team Members.
If you want to make a Meet The Team Page with the same plugin as I used, here is a simple tutorial:
Make a Meet The Team Page with Team Members
First thing you need to do is install and activate the free Team Members plugin.
In your WordPress admin panel, go to Plugins > New Plugin
Search for the Team Members plugin, install and activate the plugin.
Once the plugin is installed and activated, click Teams in your admin dashboard and – Add new.
Give your team a name and start adding your team members.
Options available are: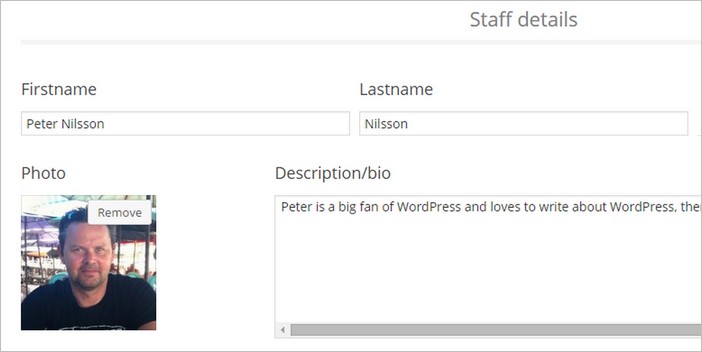 Firstname
Lastname
Description/bio
Picture
Social links (FB, Twitter…)
Number of members to show per line (2, 3, 4)
Color
You can quickly add members to your team, add their picture, position, bios, social links, re-order them at any time and display them anywhere with a simple shortcode.
When your team is ready and saved go back to the Teams page where you can see the generated shortcode for your team. Copy and paste it anywhere in a post or page. I created a page and inserted the shortcode to display my authors in a simple and elegant style as showed below.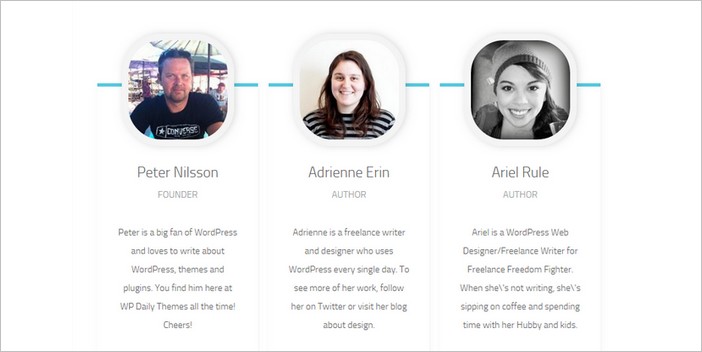 Team Members is a very easy-to-use plugin and there is no need for any knowledge or code hacking to create a cool Meet The Team page. You can easily create unlimited teams and insert the generated shortcode on a page or post to display your employees or team members in a trustworthy manner. This is a free plugin that certainly is worth testing. If you want more features, there is a pro version with affordable price, but I think you can handle your way with the free version.
More Meet The Team WordPress Plugins
There are a lot of similar free WordPress plugins that you can use to create a Meet The Team page with. Some come with more features and options, others less. As I mentioned earlier, I tested a bunch with plugins, all with varying results. My choice fell on the plugin Team Members that I'm using right now here on the blog. But here is the list with the rest of the plugins that I tried. You can easily create stylish and attractive Meet The Team pages with all the plugins.
Easy Team Manager

Easy Team Manager is another plugin I tried during the last week. With this plugin you can display team members with descriptions, social profiles link, their image, name and position in your company. It is easy to use, fully responsive and comes with smooth CSS hover effects, 16 different social icons. You add a shortcode to a page or post to display your team.
Custom Team Manager
With the Custom Team Manager plugin, you can present your team using a short code on your post or page. Add members the same way you add a new post. The plugin comes with fully responsive layout, settings page with Ajax save. Members pagination with ajax loading, easy to customize, option to specify number of team members to display, custom CSS option.
Team – Meet The Team Grid

Team is a fully responsive and mobile friendly plugin. You can display team members with descriptions and social media links using shortcode or widget. Features included in the plugin: 3 different themes, team member thumbnail images, background image for team area plus much more.
Our Team by WooThemes
Our Team is a free WordPress plugin from WooThemes. It is a team profile management system for WordPress. It is easy to install and get started. You have 3 options for displaying your team members. With a shortcode, widget or insert them directly into a PHP template file.
 Our Team Showcase
With this plugin you can display your team members, staff or employees in a few different ways. It's easy to add and create a team page with 2 grid templates circles and boxes. More features included are sidebar widget, unlimited colors, single member page social icons. Re-order team members with a simple drag and drop plus much more.
Meet My Team

Meet My Team is another free plugin to display your team members. It comes with responsive grid and modal display and you can use it by simply add a shortcode to a page of your choice. Supported fields are team member name, profile picture, email, biography, personal URL e.g. Facebook, Linkedin etc.
Kento Team

Kento Team is another simple-to-use plugin to display your team or company members by using shortcodes. This Plugin doesn't have any setting page. After activation use a short code like [team id="1,4,2″ style="4″]. The plugin includes 4 styles to display team members, team members images from Gravatar. Facebook, Twitter, Google Plus, LinkedIn etc.
WordPress Team Manager

WordPress Team Manager is a plugin to present your team. You can display your team or staff members using a short code on a post or page. Features: List and Grid view to display team members. Different image shapes, control member display order, shortcode generator, layout edit option and custom CSS.
Amazing Team Member Carousel
This team member plugin enable a custom post called Team Members. You can add team members and embed them in a separate page post or widgets bu using a shortcode. The plugin is fully responsive, include options panel, social share icons, comes with unlimited colors and you can control carousel number of carousel items.
How do you present you your team, colleagues or authors on your website?
Latest posts by Artem Pavlov
(see all)