Imagine clicking on a website, scrolling the page, and you automatically know where things are. Navigation, login, comments, social media buttons, video controls; everything is so familiar and organic that you probably didn't even realize or think about it. You just expect things to work in a certain way, and so are the rest of the people on the web.
Only when something is faulty and wrong, do we notice, and you don't want your website to be labeled, or noticed in that manner. So keep reading, and we will help you figure things out.That "thing" that you don't notice is what a good UI (User Interface) is, and it's way more important than you may initially think.
Since the inception of the modern PC, the user interface was one of the main concerns for the developers and designers, and with the birth of the internet, that concern translated right into web pages. Millions of dollars, research in social engineering and psychology, design standards, all of that to create a perfect and seamless user interface.
As we pointed out in the opening example, the best user interface is the one you don't even notice or think about. It's organic, natural, straightforward, and intuitive. It just makes sense so that your brain automatically knows where is what and how to get there.
Even though his primary role is to make your users' life easier, it's not the only one. In today's world of marketing, brands, SEO (Search Engine Optimization), and a relentless fight for every single user, a good UI can make a world of difference in your favor. Well-made UI will bring more users to your site and make them stay on it for a longer time, browsing, following links, and sharing your content with others via social media. All of that user activity leads to better conversions (users performing wanted actions on a page). Optimized, fast, and easy-to-understand UI will also help you greatly in Search Engine Optimization, making your site easier for users to find.
Making a good UI is not an easy feat, but if you are using WordPress, then you are in luck. WordPress offers many WordPress plugins that can help you with all your UI needs and make your life much easier so you can make life easier for your users.
Here are some of the best and most popular WordPress plugins for UI:
1. WP Sticky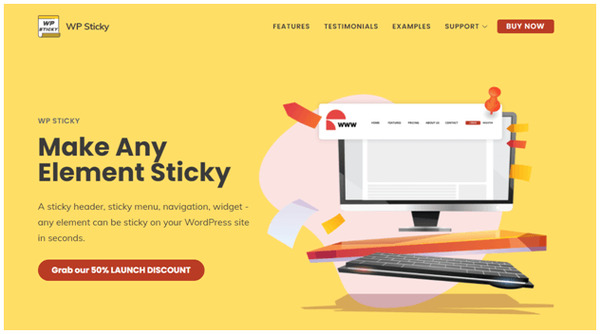 Sticky elements(elements that stick to a specific position) and widgets are design staples. WP Sticky can make any element sticky – sticky header, sticky menu, navigation, widget… all easy to arrange to your needs and liking. This easy-to-use plugin is compatible with all WordPress themes, plugins, and page builders. You can use its visual picker to easily and fast pick any elements you want to make sticky without any need for coding.
It's perfect for beginners because it's fast, simple to use, and very user-friendly. You also get support from people who built the plugin to know you are in good hands whenever you need help. WP Sticky is used by over 100.000 users worldwide.
Pricing:
Single license $39 – 1 site license, lifetime update and support, all features, unlimited number of sticky elements.
Team license $49 – 3 sites license, lifetime update, and support, all features, unlimited number of sticky elements, install on client sites.
Agency license $99 – 100 sites license, lifetime update, and support, all features, unlimited number of sticky elements, install on client sites, white-label mode.
2. WP Reset
You finally finished your WordPress website; you go and deploy it just to find out it performs horribly. Slow, laggy, and unresponsive; naturally, you ask yourself: what did I do wrong? WP Reset may just be the savior you need. More than often, users, especially beginners, will install dozens of plugins and themes while making a site.
Many of them end up not being used in the final build but stay in the background and can make your site bloated, slow, unoptimized, and even create conflicts between different plugins. WP Reset will help you clean all that bloat in just one click. It can also help you speed up the development, testing, and recovery of your site. It offers you several cleaning options, automatic snapshots, repairs, and resets, so you can always start over from your last working point. And it can be used by complete beginners.
Pricing:
Personal license $39/year for one site,
Team license $79/year for five sites,
Agency license 149/year for 100 sites.
3. Simple Author Box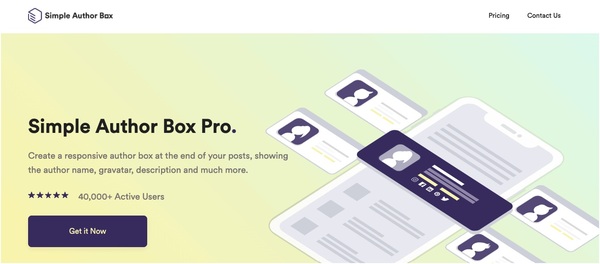 Suppose you have many authors writing posts on your page and are struggling with managing them and showing what post is written by who, then Simple Author Box might be perfect for you. Simple Author Box comes in two flavors, pro, and lite. It seamlessly integrates with WordPress and lets you easily assign guests or even multiple authors to posts.
Simple Author Box also offers many controls for things like colors, appearance, typography and has over 45 icons for social media platforms, so you can easily customize author boxes and give credit to everyone involved. Simple Author Box is easy to use without any knowledge in coding, so it's perfect for beginners.
Pricing:
Mono license $39/year for one site,
Trio license $69/year for three sites,
Agency license $499/year for 100 sites.
4. Gravity Forms
While building your website, you will probably end up needing some kind of form. Gravity Forms comes to the rescue. Gravity Forms is easy to use, and you can create all sorts of forms with it, from simple login to more complex surveys and everything else. It's packed with tons of time-saving tools and features, so making forms is a few clicks away. With over ten years in the WordPress plugin space, Gravity Forms is used by many users. Gravity Forms also enables you an easy integration with a variety of third-party services, including PayPal, Slack, and many more. Before you try it, be sure to check the Gravity Forms demo on their web page.
Pricing:
Basic license $59/year for one site,
Pro license $159/year for three sites,
Elite license $259/year for an unlimited number of sites.
5. WPtouch Pro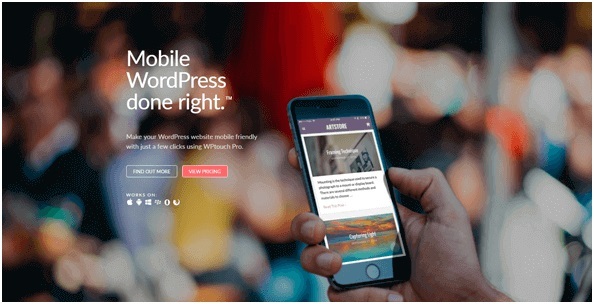 With mobile platforms' domination of the web not slowing down, thinking and designing for mobile-first is almost second nature to many. WPtouch Pro offers to help you precisely with that. With just a few clicks, you can make your WordPress site mobile-friendly. WPtouch Pro offers you complete control over your mobile page, including control over menus, pages, devices, and even specific and different landing pages and homepages to show for mobile version only.
Since Google prefers mobile-friendly solutions, WPtouch Pro will make your page mobile-friendly, and by doing that help you with SEO, and your page's mobile search rank will improve. You can choose between many of the available themes, all created to run perfectly on mobile devices and all mobile operating systems.
Pricing:
Go Pro license $79/year for one site,
Business – mobile store license $189/year for five sites,
Developer license $259/year for 20 sites, developer and multisite support,
Enterprise license $359/year for 50 sites, developer, and multisite support.
5. Virtual Tour Builder Plugin – WPVR
If you want to bring something new and interactive to your website, you can use the WPVR plugin to increase viewers' engagement.
WPVR allows you to showcase 360 degree panorama images and videos on your website that your visitors can control and interact with.
You can set additional images, texts, videos, and other content inside the panorama images using hotspots for more information.
On top of that, you can create complete virtual tours of your entire place using multiple panorama images where your viewers can navigate using hotspots and the scene gallery.
Pricing:
Free version with forum support.
$59.99 annually for 1 website.
$149.99 annually for 10 websites.
$259.99 annually for an unlimited website.
BONUS
Time for one freebie on this list. Broken Link Checker may sound simple and be free, but it can play a vital role on your site. In its basic Broken Link Checker monitors all internal and external links on your site and can warn you if one of those is broken so you can remove or replace it. Sounds simple… and it is, but very important for your UI to perform exactly as needed.
That will also lead to better user conversion, improved SEO, and overall better user experience. When you install Broken Link Checker on your WordPress site, it will start automatically monitoring all your links and notify you via email or dashboard so you can take action. Broken Link Checker is open source software, so it's free to use and even edit.
Pricing:
Free with limited support, open-source.
Conclusion
In conclusion, a good user experience design can help you attract more users, making navigation and overall activity on your site easier and more intuitive, a better conversion rate, and better search engine optimization. It can also offer a fast, responsive, and overall positive experience for your site's visitors. And if you use WordPress now, you have some of the best plugins to help you refine UI on your website and use all the advantages a fast and clean UI can offer.
The only thing left to do is roll up your sleeves and start building a competitive site for this ever-changing world of the web.
Latest posts by Artem Pavlov
(see all)