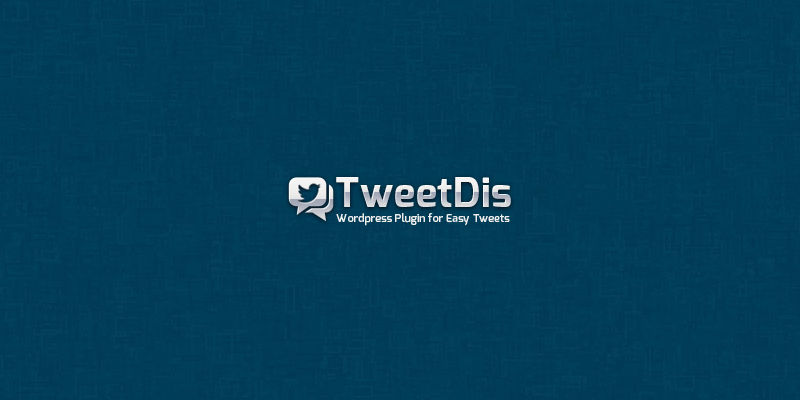 The majority of all of us that running a website using social media on a daily basis like Twitter, Facebook, Pinterest, to name a few to send messages and share articles, photos or simply to show our status.
It's also a way to get our articles hopefully go viral and increase traffic, which generates more revenue, at least for those of us who want to make a living online.
If we take Twitter, for example, most people know that Twitter is an online social networking service that enables users to send and read short 140-character messages called "Tweets".
There are numerous tools to use to share tweets. When it evolves WordPress and plugins, there are a plethora of plugins to implement Twitter sharing buttons, social media bars, auto tweets and more.
Today, I check out and test one of the best WordPress plugins that can make people tweet your content in a surprisingly elegant and extraordinary way. Let me introduce the WordPress plugin TweetDis.
TweetDis is a creative WordPress plugin with a perfect solution for helping you out and making people tweet your content. It doesn't really matter how many followers you have on Twitter; what matters is how many of your website visitors will tweet your content to their followers.
Now you're probably thinking, how can I accomplish that?
Simply explained: Tweetable Quotes, Catchy Phrases. Images ..
According to the clinical psychologist Oliver James, people love tweeting things that make them look good in the eyes of their followers
You need to add something great and memorable that can make your visitors and readers share and tweet. Something like these suggestions.
A Quote;

A Takeaway;
A Catchy phrase;
A Smart idea;
A Statistic;

How Does TweetDis Work?
It doesn't really matter how many followers you have on Twitter. More important is how many website visitors will tweet your content to their followers?
How many visits can you get from your own tweets? I'm sure not that many. But what happens when other people tweet your content? You get a bunch of visitors from their tweets. Which can result in a significantly larger number of visits. The big question is how to make your visitors Tweet your content?
With TweetDis, you have the opportunity to share smart quotes, catchy phrases in cool looking ways beyond the ordinary. The TweetDis plugin includes 16 Tweet box designs, 3 Tweet hint designs, and 6 Tweet image designs. Which enables you to offer your visitors a great variety of cool designs of Tweetables. Another big advantage of using TweetDis except that it's great fun! It's a very easy-to-use plugin for WordPress as well.
Let's take a look at how the TweetDis plugin works and what you can do with it.
Setup & Usage
After you made your purchase, (yes, it is a premium plugin) downloaded, and installed the plugin you must activate it. After activating the plugin, a TweetDis menu will be added to your WordPress menu. Click it. Enter your license number in the license field and click "Activate" button.
If you are unsure how you install TweetDis. Don't be. There is a great and very easy to follow documentation on how to Installing TweetDis.
Now you're ready to start creating awesome tweetable quotes with TweetDis. So let's walk through how you can create memorable and elegant Tweetable stuff in your articles and pages in WordPress.
Let the fun begin.
In your admin dashboard click on the tab TweetDis and the underlying Settings tab. From here you can preview and select which templates you want to make default. Try different templates and colors to optimize your Tweetables to suit your website. TweetDis works out of the box but if you want to dig a little deeper and check out all the settings the following options are available.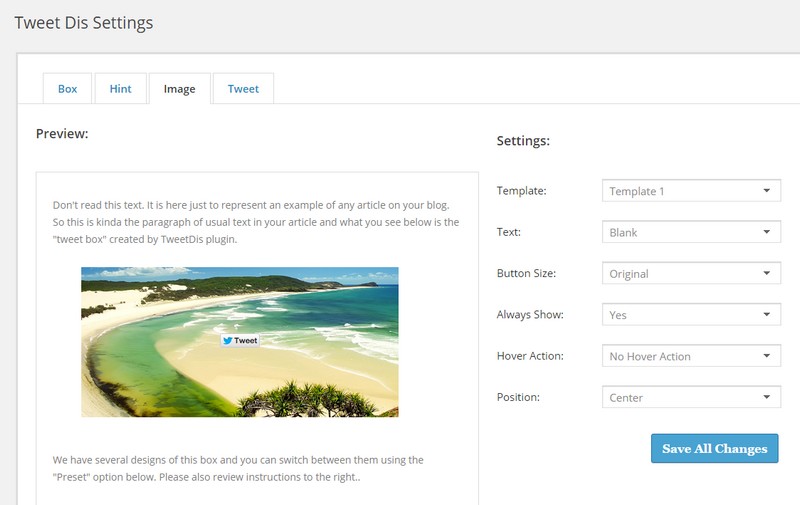 Box – Under the tab Box, there are several designs of tweet boxes you can check out and preview. Selectable options are: Choose Design Template, Call to action, Color, Margin Vertical, Font-size, and you can even choose which template you want to use as the default.
Hint – From the Hint section, you choose how the Hint designs will look like. Selectable options are: Type – background, underline and highlight. Color: Play around and choose the options you like. Save your settings.
Image – If you want to make your images tweetable then you can set how your images will look like. Selectable options are: Templates, there are 6 different templates to choose from. Text, Button Size, Always Show, Hover Action and Position.
Tweet – From the Tweet tab, you can choose how your Tweetables are presented when your readers Click to Tweet your content. Selectable options are: Preposition: RT, by, via or none. Default twitter account, Recommend to follow, Default URL shortener – Bit.ly, Tiny URL, and Raw URL.
TweetDis works out of the box so if you don't want to make any changes just let everything stay as default But who doesn't want to try everything and check out how everything looks like and works?
It's time to add some great Tweetable stuff in an article, so let's quickly move on.
How To Use TweetDis In A Post Or Page?
Now, if you go ahead and create a new blog post or page you will discover a new button in your text editor.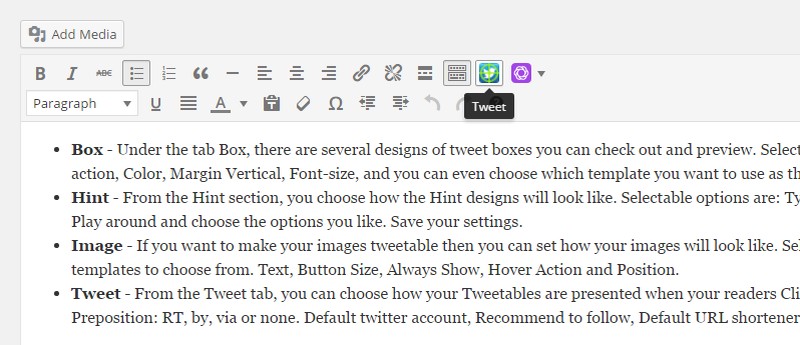 From here you can create attractive quotes and catchy phrases, by highlight a piece of text or image, clicking on TweetDis button and select the design you want to insert.
So let's take a look at some examples of how it might look like. I added some Tweetable phrases to the post and here are some examples of different designs in TweetDis.
Box Designs

 Image Designs
Hint Designs

Tweet Designs
This was just a few options that you can choose from. TweetDis comes with a lot of settings to configure every aspect of your tweetable quote such as:
Mention your twitter username in every tweet? – Check!
Add custom text/hashtags to the tweets? – Check!
Shorten links via Bit.ly? – Check!
Make the quote float to the side and wrap it with text? – Check!
If you are still uncertain and some issues and questions might pop up, such as:
Will tweetable quotes slow down my page load time? – No, they won't.
Is TweetDis mobile-friendly? – Absolutely!
Does it shorten the links automatically? – Yes!
Can I add custom hashtags to the tweetable quotes?  – Yes!
Can I attach images to content that is tweeted? – Yes!
Over to you guys! I leave it to you to creatively design your own Tweetable quotes, phrases and images in the best possible and awesome ways.
Wrapping up
TweetDis is really a WordPress plugin of my kind. This is a very simple tool to create different variants of Tweetable quotes, phrases and images. It is a premium plugin, but with a very affordable price that you pay only once. And I recommend TweetDis because it serves as an effective plugin to increase traffic from Twitter. People really love sharing smart quotes on social media – it makes us all look good!
Regarding the use of TweetDis, I might add that it is a very easy-to-use WordPress plugin that works right out of the box. But to boost the look and feel a bit more I'm sure you want to check out and play around with all the great looking templates and design that are accessible in the plugin. The TweetDis plugin simply provides great options for creating tweetable quotes on your blog?
For a one-time payment starting from $37 you can purchase the TweetDis WordPress plugin with lifetime updates and 24/7 support.
Have you tried TweetDis WordPress Plugin on your website?  If so we would love to hear your thoughts in the comments below!
Latest posts by Artem Pavlov
(see all)