Adding photos to your WordPress website has many benefits such as breaking up blocks of text, adding a professional look to products or services you may be providing your customers, or even just enhancing your website to look more visually appealing. After all, while crafting great content is important for your website, including high-quality images to pair with that content, really makes your site stand out amongst your competition.
However, finding the right pictures to use for you website can be inconvenient as it is often time-consuming and frustrating. Another issue that tends to develop is whether the images you have found are being used according to their proper copyright licenses.
Being tempted to use Googles Images, or other internet image sources, to find an image can get you into some hot water should the copyright not allow for royalty free usage.
Today I will show you some WordPress photo plugins that not only make it easier to source great images for your blog posts, but will provide royalty free images that are safe to use on your blog without any legal issues.
Creative Commons
Creative Commons is an organization that gives artists of all kinds the ability to allow people such as yourself the right to share, use, and even build upon the work they have created within your website content. This creates an environment of free sharing and legal use of any image found under a Creative Commons license. Each artist designates how their creative work can be shared and whether attribution is required.
As a blogger, you should aim to find images that are free to use with the consent of the image owner. As there are many variations to Creative Commons licensing, it is best to use ones labeled as free to "distribute, remix, tweak, and build upon your work, even commercially, as long as they credit you for the original creation." This is the most accommodating of the Creative Common licenses and will prevent any copyright issues.
Pixabay Images Gallery
Pixabay Images Gallery, an original plugin by Pixabay, taps into the collection of free to use, non-copyrighted, Creative Commons licensed images Pixabay has to offer the public domain. This means you are free to use these images as you see fit without attribution to the artist providing the image.
This plugin provides you the option to search for both photos and clipart and allows you to designate whether the images should be horizontal or vertical. In addition, while attribution is not required as the images provided in this plugin are strictly CC0 in the Public Domain, there is the option to provide credit to the artist should you want to.
To find an image to use on your website simply look next to the Add Media button in your post's editor toolbar. There you will find a new button labeled "Pixabay" that is clicked on to begin an image search. From there you can search by search term, image type, or even author.  Once you have chosen the image to use, you select it and edit it just as you would any image in your media library. The image is then saved in your media library where it can be inserted into your post at any time.
Pixabay Images Gallery is a fast, lightweight plugin with a responsive image gallery. It is sure to provide you great images needed for your website without all the hassle of using basic internet image searches.
ImageInject
Previously called WP Inject, this free WordPress plugin boasts easy installation with as little as 3 clicks. After installing ImageInject, you are free to start searching for images right away as there is no additional setup required.
This plugin adds a simple search metabox near the end of your post where you can locate thousands of Creative Commons images (tapping into both Flickr and Pixabay galleries) and quickly add them to your media library for later use.
Upon choosing you images you then have the choice to save the S, M, or L image. You can also set the image as your featured image which is a nice additional feature.
ImageInject also offers some other really great features such as:
Ability to insert multiple images at once and create whole galleries.
Modify the templates to change how images get displayed in your posts.
Automatically populate ALT and title tags of the image for search engine optimization.
Search for many different keywords and compare the results to find the best matches.
Use and insert your focus keyword set in WordPress SEO by Yoast for easier image search optimization.
Compfight

Compfight is brought to you by compfight.com, this plugin basically takes images from Flickr and makes them available via search on your WordPress website.
Adding a new button on your post editor called Compfight, accessing this image search tool is simple and easy to use. One positive note is the detail this plugin allows you to give your images before inserting them into your post. Additionally, should attribution be required (as is the case with all Flickr pictures) this plugin automatically inserts the proper credit into you post after inserting the photo.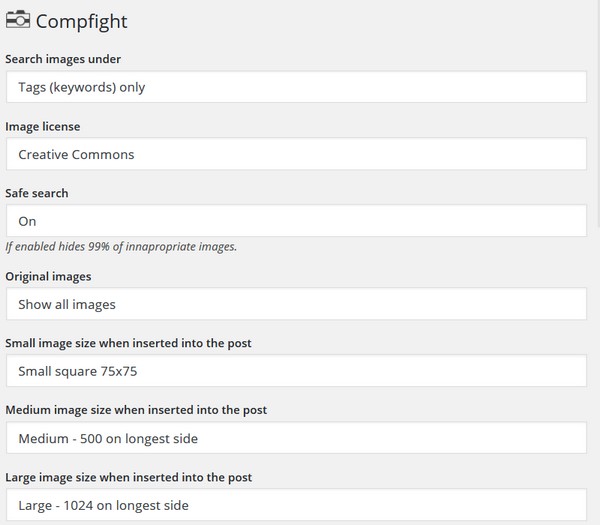 There are, however, some downfalls to this plugin that must be considered. Sometimes while inserting an attribution the plugin misaligns it and places it in an odd place ruining your text. Unfortunately, the attributions are not placed in the caption area of the images. It is also important to know that the images you insert onto your website are not saved in your media library for later use.
All in all this plugin is fairly adequate when it comes to sourcing images for your website, although there are some more efficient plugins available.
Flickr Pick a Picture
Another useful, and again free, WordPress plugin for sourcing images is Flickr Pick a Picture. Scrolling through the thousands of available Creative Commons images Flickr has stored on its database, this plugin has several features to help you get the best image possible for your website.
You have the option to choose an image size, decide which type of Creative Commons licenses you want to use, and whether or not to automatically add attribution to the images you insert onto your website.
Using the icon located in your post editor, you can search for the image of your choice and easily save it to your media library. What's better, Flickr Pick a Picture is compatible with WordPress' built-in photo editor so you can edit things such as image alignment, crop, resize, and even flip images to your liking. You can also edit the caption or set the image as your featured image.
Dreamstime Stock Photos

Dreamstime Stock Photos is another WordPress plugin pulling from millions of royalty-free, properly attributed images throughout the internet. The interesting thing about this plugin is that if you are currently a Dreamstime user, the downloaded plugin can link to your account. That means any premium images you previously purchased are also linked to your blog and are readily usable again without another purchase. It is worth mentioning that this plugin also allows users access to free, non-premium images, should you not want to purchase any.
Website owners can also contribute their own premium images to their websites without having to purchase them. Plus, if you are interested in their referral program you can use referral links to receive 10% of all sales and uploads made within the first 3 years for each user you refer.
Notables
Getty Images
This plugin allows you to embed images from over 50 million images Getty has stored for your editorial use.
– Download, insert, and publish any array of images according to Getty Images terms of use.
– Images save to your media library for later use.
– Note that is for NON-COMMERCIAL use only as Getty has very strict copyright laws regarding their images.
– The images must lie on their own line meaning you cannot wrap text around any of the images inserted into your posts.
PhotoDropper
Clicking on the little balloon icon in your post editor will allow you to take advantage of PhotoDropper. Having access to nearly 250 million Creative Commons images and 10 million premium images, there is seemingly no way not to find a suitable image for your website.
Free Stock Photos Foter
If you need a quick and easy way to get images onto your website consider this free WordPress plugin. With a few simple clicks, you can insert images sourced from all over the internet onto your website. Attribution is automatically added to each image so you don't have to do it manually. You even have the option to search their website foter.com for images should you forego the plugin.
Conclusion
Adding relevant images to your website can really help draw the reader's attention to your content and encourage them to continuing reading. It can help make your website look professional and visually appealing, all while enforcing the point you are making within your post content. Although finding the perfect graphic to go with your blog posts is not always the easiest thing to do, if you take advantage of one or more of the above-mentioned WordPress photo plugins, sourcing images for your website will become easy and much more enjoyable.
Have you used any of the above WordPress photo plugins? We would love to hear your thoughts on them and which ones you feel are the most beneficial in the comments below.
Latest posts by Lindsay Liedke
(see all)