MilesWeb is an Indian web hosting service provider. The company is offering web hosting services since 2012 and has the best plans and support team. MilesWeb is known as an affordable and feature-rich web host in the industry.
MilesWeb's Most Affordable WordPress Hosting Plans: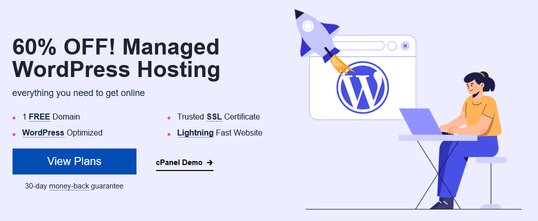 MilesWeb's cheap WordPress hosting options include Beginner, Geek, and Techy, which are managed by the expert team. On a three-year subscription, you get a 50% discount on all the WordPress hosting plans.
The Beginner plan costs $1.75per month and includes 1 website hosting, 30GB SSD disk space, free SSL (worth $ 13/yr), free site backup (worth $ 21/yr), Control Panel + 1 Click Installer, WordPress Optimized, website builder, 10 email accounts, unlimited bandwidth and 3 MySQL databases.
On a three-year plan subscription, the Prime plan costs $ 4per month and includes 3 website hosting, unlimited SSD disk space, free domain (worth $12.5), free SSL (worth $13/yr),
Free site backup (worth $42/yr), cPanel + 1 Click Installer, WordPress Optimized, unlimited bandwidth, website Builder, unlimited email accounts and unlimited MySQL DB's
On a three-year plan subscription, the high-end and the best-seller plan Techy costs $ 5.20/mo. The package includes unlimited resources like unlimited websites hosting, free domain (worth $12.5), free SSL (worth $13/yr), free site backup (worth $57/yr), cPanel + 1 Click Installer, WordPress Optimized, unlimited bandwidth, website builder, unlimited email accounts and unlimited MySQL DB's.
The Geek and Techy plan come with a free domain. When you sign up for a Geek or Techy plan, you get free .COM domain. MilesWeb is the best value on the internet for getting your website up and running. To benefit from this, you must purchase these web hosting plans for a minimum period of one or three years. The domain name is free for the first year, but you must pay for renewal charges of Rs. $14/yr after that.
MilesWeb offers you the liberty of selecting the data center of your choice. They have data centers in India, the USA, the UK, Canada, Australia, and Singapore. You can select one that is closer to your target audience.

MilesWeb offers free website migration. To make the transfer you can connect to MilesWeb's support specialist. All of your data from your existing provider is moved to the MilesWeb server for free. MilesWeb's skilled team ensures that no data is lost during the migration, allowing you to continue working uninterrupted.
Data migration is a difficult task, especially if you lack technological knowledge because there is a significant risk of data hijacking during the process. However, by simply switching to MilesWeb's low-cost hosting options, you may move your website without delay.
MilesWeb offers automatic WordPress updates on all the plans. You don't have to manually check for and install updates using MilesWeb's WordPress hosting & WordPress cloud hosting platform. The program at the backend of your site updates WordPress to the most recent version automatically. Furthermore, the technical experts keep track of new releases and ensure that crucial WordPress platforms, plugins, and other site-specific upgrades are loaded on your site as soon as they are available.
MilesWeb pre-configures WordPress for you to make managing your site simple. Every MilesWeb site comes with a WordPress installation that includes a variety of certified themes and plugins. This drastically reduces the time and effort required to set up and configure WordPress for best performance.
All the solutions/plans from MilesWeb include enough storage to meet your site's needs. In comparison to traditional hard drives or so-called "spinning rust" drives, the company provides high-performance solid-state drive storage that can help you gain up to 200 percent greater performance.
On all the WordPress hosting plans, MilesWeb offers 24x7x365 days customer support. The best thing is they believe in bot-free support and offer human support to any query related to WordPress. The company provides support through email, live chats, and tickets.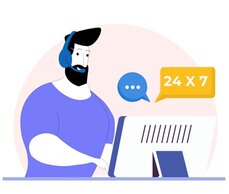 In case you are not sure about the plans or the service offered by MilesWeb, you get a refund. To get the refund, you can contact the customer support team within 30-day of the plan subscription.
MilesWeb has Tier-3 and Tier-4 data centers that offer highest performance and availability to your website. The company guarantees a 99.95% uptime guarantee with WordPress hosting plans.
MilesWeb is the company offering best-in-class exclusive WordPress hosting features.
With all the WordPress hosting plans the company offers:
Railgun is a Cloudflare wide area network (WAN) optimization technique that improves the performance of non-cached web pages. Railgun offers the fastest possible connection between your web hosting server and the Cloudflare CDN.
HTTPS is a crucial indicator of whether or not your website is secure. Don't worry about your WordPress website's security while it's hosted with MilesWeb because all MilesWeb sites are automatically configured with HTTPS. With their HTTPS feature addition, they help encrypt traffic between your site and its visitors (while also improving your SEO).
SFTP allows for secure file transfer between networked hosts. As a result, at MilesWeb, they choose SFTP over FTP, a fresh take on the old file transmission method. You may also manage the remote file system by allowing apps to resume halted file transfers, view the contents of remote directories, and remove distant files.
They provide a CDN service that is fully integrated. It aids in the global expansion of your site's reach and performance to improve the experience of your visitors. Their CDN prioritizes factors such as load time overtime to the first byte. Furthermore, CDN uses gzip compression to reduce data size, lower bandwidth costs, provide high availability, and enable rapid page loading.
It's essential to clear your cache in WordPress frequently. Only when a website is cached properly can its load times be decreased. MilesWeb's caching solution accomplishes this by identifying data that is frequently requested and keeping it ready to go as soon as the page is accessed.
Finally, if you're looking for a web host that offers the best WordPress hosting plans at the lowest price, MilesWeb is the place to go. VPS, cloud, dedicated and managed WordPress hosting solutions are also available from the company. When your website requires an upgrade, you can upgrade to higher-level plans.
Latest posts by Artem Pavlov
(see all)